Do you want to know about a Zero Frame Monitor? Acer VG220Q is the best zero frame IPS gaming monitor with AMD Radeon FreeSync technology. Acer Nitro VG220Q Review discusses this zero frame gaming monitor in detail, and we have our opinions about the monitor, which will give you a complete idea about this monitor.
Is the Acer Nitro VG220Q bmiix monitor good? We know that in competitive games, any advantage in frames is welcome. Check out in this evaluation if it is worth choosing it as your next gamer monitor.
We advance that this is a PC monitor with great cost-benefit for those looking for performance.
Offers up to 75hz refresh rate, AMD FreeSync, and 1ms response time ( with Visual Response Boost active ).
Because it has Full HD resolution ( 1920x1080p ) and 16:9 aspect ratio, it is excellent for competitive players, especially those who play FPS like CS: GO or others like FortNite, Free Fire, etc.
Check now our review of the Acer Nitro VG220Q bmiix ( or XV240YP ), which should not be confused with the VG220Q bmiix ( ZeroFrame and 0.5ms ) or Acer RG241Y Pbiipx ( inlet and without height adjustments ).
We have separated the main information, pros, cons you need to know to decide if it meets your expectations. In the end, we separated some reliable stores with offers of this model.
Acer Nitro VG220Q Technical Specifications
Acer Nitro VG220Q bmiix 21.5″ Full HD (1920 x 1080) Zero Frame IPS Gaming Monitor with AMD Radeon FREESYNC Technology

Among its main Features, We find
Model: Acer Nitro VG220Q bmiix
Screen Size: 21.5 inches
Panel Type: Widescreen IPS Panel
Display Type: LED-backlit LCD monitor / TFT active matrix
Refresh Rate: 75 hertz – Using HDMI Port
Technology: AMD Radeon FreeSync Technology
Resolution: FullHD 1080p (1920 x 1080p)
Contrast: 1000:1/100M: 1 (Dynamic)
Response time: 1ms
Aspect Ratio: 16:9
Connection: Ports: 2 x HDMI 1.4 Ports & 1 x VGA
VESA: 100 × 100
Weight: 7.17 pounds
Speakers: 2 speakers, 2 watts per speaker
Dimensions: 19.3 x 8.7 x 15.1 inches
Mounting Type: Table
Cable Included: VGA
Color: Black
Acer Nitro VG220Q Review Image quality as described
Acer Nitro VG220Q Review Image quality, the Acer Nitro VG220Q monitor offers excellent image quality on its 21.5″ screen. The IPS panel used in the model is produced by PANDA and uses the IGZO ( zinc-indium-gallium oxide) transistor in the TFT layer.
Compared with other TFT technologies, this transistor is more energy efficient while maintaining the color accuracy level and 178 ° wide viewing angles of the IPS panels.
Usually, they are more expensive panels, and because it is present in the VG220Q, it shows that Acer is raising the bar of its gamers' monitors.
One of the characteristics of the In-Plane Switching panels is the IPS Glow, a slight light leak at the ends of the screen. Visible mainly in dark areas of games or software. In this model, it is not at all exaggerated as in the older monitors.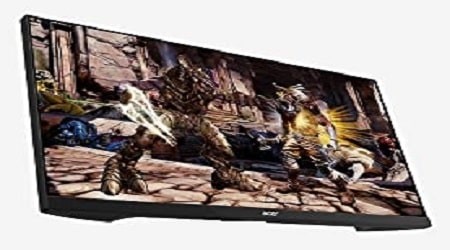 The colors on this monitor are vibrant, expected in IPS technology, covering 99% of the sRGB color range with 8-bit color depth, resulting in 16.7 million colors.
Despite having support for High Dynamic Range, it does not offer real HDR10, as it has a maximum brightness of 250 nits, below the minimum 450 nits of real HDR. It features 1000: 1 contrast, which makes blacks a bit grayish, a characteristic of IPS panels.
The 1080p resolution on this 21.5″ screen offers a pixel density per inch of 92.56. The images are sharp and well defined, without pixelation in texts; besides that, images are not blurred.
In conclusion, the VG220Q has excellent image quality, with very few complaints about burnt pixels or light leaks.
It is a versatile monitor due to the IPS panel, serving to play, study and work with video and image editing.
Features and performance
What is most expected from a gaming monitor is its performance and compatibility with new technologies that improve your game.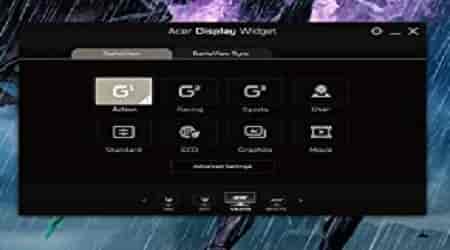 Acer did not skimp on this, offering a panel with a native response time of 1ms (VRB) and reaching up to Refresh Rate: 75Hz – Using HDMI Port.
With adaptive sync technology ( Adaptive-Sync Technology ) AMD FreeSync, owners of cards from AMD ( and new ones from Nvidia via DisplayPort ) will enjoy more fluid games without screen cuts (Screen-tearing) and reduced ghosting.
It is worth remembering that the Acer Nitro VG220Q monitor does not have G-Sync CompatibleCertification. However, it is possible to use adaptive technology using DisplayPort cable on the new Nvidia RTX (and GTX 16X0 series) cards.
In this case, FreeSync works with a refresh rate 75Hz. This way, it synchronizes well with compatible video cards, significantly reducing lag and screen cuts without compromising input lag.
The default response time of 4ms can be reduced to up to 1ms ( MPRT ) when activating Visual Response Boost (VRB). The information we have is that the GtG ( Gray-to-Gray ) response time is 1ms, which is excellent.
The cost of activating VRB mode is the maximum brightness, which is reduced to less than 250cd/m2. As most gamers play in a darker environment, this reduction will not make much difference.
However, the problem is that we cannot use another more useful feature in conjunction with VRB, FreeSync (or HDR). However, the difference of 1ms only makes a difference for enthusiastic gamers; if it is your case, we recommend other faster gamers monitors.
As with other Acer monitors, it is not advisable to use the Extreme response time mode in the OverDrive option. Since it tends to cause inverse ghosting, the Normal mode is already sufficient for good performance.
This monitor has some pre-programmed image modes such as; action, running, sports, economy, movies, reading, etc. In addition to clear gamers functionalities such as Aim Point( sight on the screen ) and Black Boost to improve visibility in dark areas.
It has an anti-reflective coating on the screen, which facilitates visibility in well-lit areas. Technology Acer Bluelight Shield for ocular comfort ( reduces the emission of blue light ) and Flicker-less to avoid irritation caused by the oscillation of the panel.
In conclusion, it is a monitor that delivers many features and great performance for the price. There are no negative points other than those already known and mentioned, resulting in a safe purchase.
Construction and durability
The Acer Nitro VG220Q has plastic construction, with a gamer look and a stable base. If you have support with a VESA 100 × 100 mm hole, you can mount your monitor on it.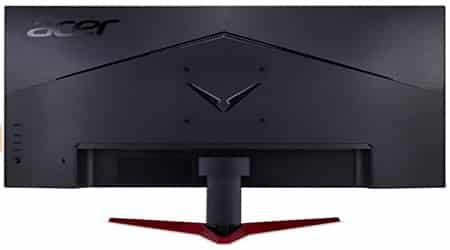 However, its round-shaped base is stable and allows you to adjust the inclination (-5º to + 20º) height (12cm), pivot (+/- 90º), and 360º rotation.
The front has thin edges, increasing the immersion in games, and helps by being matte, avoiding reflections.
The video inputs are located at the rear, where there are 2 x HDMI 1.4 Ports and 1 x VGA, plus a headphone jack.
The on/off button is at the back, and access the OSD ( On-screen Display ) menu. There are 4 buttons on the back plus a joystick that makes it easy to select options and change them. These are easily accessible and easy to use, point for Acer.
At the bottom of the chassis, there is a speaker on each side ( right and left ) with a power of 2W. It is not a sound that will surprise you, but they do the job in the absence of desktop speakers.
In summary, when it comes to construction and connectivity, there is nothing to complain about the VG220Q. It has a good level of construction and finishes, with a matte texture and pleasant to the touch. It's not like a premium gaming monitor, but it doesn't disappoint.
Opinions
After all, in our opinion, is it worth choosing the Acer Nitro VG220Q? With everything explained during this review, we can say that it is a good gamer monitor.
The price range competes directly with the AOC Hero G2, having the advantage of not having so many problems with dead pixels.
If you doubt which one to buy, opt for the VG220Q for the possibility of Overclocking with DisplayPort cable to 75Hz.
The experience is very fluid, and since using a high-frequency monitor like this, you will hardly ever use the 60Hz ones again.
As an IPS panel, the black ones are not so deep, sacrificing a little contrast.
It is not so remarkable during the day or in bright scenes, but if you play in dark environments, you will notice that the black is more grayish.
Some solve this problem with biased lighting, which is nothing more than using an RGB LED strip behind the monitor. That way, you will feel that the black is deeper.
Although it does not have official support for cards with G-Sync, Adaptive-Sync works with new Nvidia cards using the DisplayPort input.
The HDR10 ( High Dynamic Range ) software will not give that sensation of colors that catch the incompatible eye content ( games, series, and films ). In any case, the brightness of 250 nits is not insufficient to watch content in the dark.
Thus, we recommend this monitor even with its " negative points. "
Most will be very happy with the monitor because it is versatile, with excellent gaming performance, but with colors and sharpness worthy of a great IPS panel.
If you have 1ms of response time bothers you, pay a little more for the VG220Q model, which has as the main differential the ZeroFrame edges ( ultrafine ) and even smaller input lag. For the rest, they are practically the same monitor.
Advantage
Excellent value for money
AMD FreeSync and Adaptive-Sync (G-Sync)
Great quality IPS panel
Vibrant colors and sRGB mode (99% accuracy)
Easy-to-use settings menu with the Joystick
Built-in speakers
Compatible with VESA drilling (100 mm)
Stable base with ergonomic adjustments
Disadvantages
Enabling VRB (1ms) disables AMD FreeSync, HDR and darkens the screen
Extreme Overdrive mode causes inverse-ghosting
Construction with simple materials
We hope this review of the Acer Nitro VG220Q has helped you make the best decision. Check out other reviews of the best computer monitors, consoles for the most diverse uses and needs.
---
Click here for details about: Best 4K Monitor for Programming.
And more visit our analysis of the: LG 34GL750-B Review and Opinions.