Want to know more about the best gaming monitor? Asus TUF Gaming VG27AQ is the best quality HDMI gaming monitor.
In our Asus TUF Gaming VG27AQ Review, you can find out more about this monitor, which will help you decide on the best gaming monitor.
This Asus TUF Gaming VG27AQ monitor was presented at Computex 2019, and we finally have it with us to analyze it thoroughly.
We hope to confirm the good feelings it left us at the foot of a sneak peek, with an impressive technical section that highlights its 165 Hz, new generation ELMB SYNC refresh technology, supports HDR10 on a 27-inch IPS panel at 2K with only one more response.
In addition, it is packed with Asus' gaming technology that, of course, we will see during the review, and we will analyze how calibrated this TUF seal is.
Asus TUF Gaming VG27AQ technical characteristics
Asus TUF Best HDMI Gaming Monitor

Among its main features, We find
Display Type: LED
Screen Size: 27 inches
Contrast Ratio: 1,000:1
Brightness: 350 nits
Aspect ratio:  16:9
Resolution: 2560 x 1440 pixels
Refresh Rate: 165 hertz
Response Time: 1ms
Color: Black
Weight: 17.7 pounds
Unboxing
We start as always by Unboxing our analysis product. Asus TUF Gaming VG27AQ comes in a small and quite manageable box because it is quite well adjusted to the screen's dimensions.
Being only 27 inches, the transport and unpacking is a delight. We then find a completely painted box in black, with a huge photograph of the monitor on the two main faces and a good amount of specifications in the rest of the space.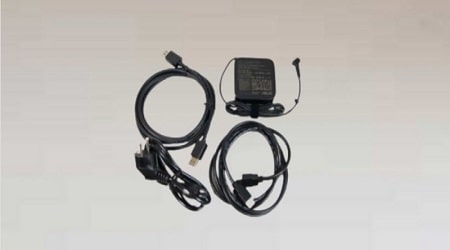 The purchase bundle must bring us the following elements:
Monitor Asus TUF Gaming VG27AQ
Support foot
Cable and external power supply (19V to 3.42A)
HDMI video cable
Video DisplayPort Cable
Installation guide and features
In this case, we see that the item count is not too extensive, as it does not have USB connections and comes practically mounted; everything is simplified a lot.
Design
Asus has chosen this time to provide its monitor with a full rectangular foot instead of the typical legs in its larger models.
It is exactly what a monitor of only 27 inches needs, strong and secure support, as well as small and discreet.
To install on the support arm, we will only have to manually join both elements with the screw pre-installed on the support itself. By the way, this foot is metallic with a plastic shell on top.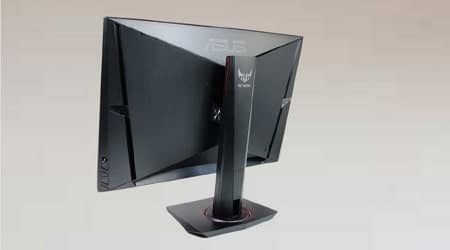 If we continue up, we find a support arm that fortunately comes pre-installed. It is built in metal, and the vertical movement system is, of course, hydraulic and of very good quality.
The mechanism that holds the screen itself is the same as that used in other models, wide and rigid enough to prevent the best monitor from wobbling when moved.
The monitor stand is compatible with the VESA 100 × 100mm standard; in fact, the stand is a variant of this.
Expanding on some details, both the arm and the foot are articulated to allow movement in the three axes of space, as we will see later.
We also have a small opening to pass cables through the arm, and the OSD control panel on the far right could not be missing.
In this model, we have the navigation joystick and three quick-access buttons and turn off the equipment.
We do not have any monitor curvature, nor do we have an integrated RGB lighting system; it is only a hard plastic case that includes the screen frames.
Frames thin around the periphery, less than 1 cm on the sides and top, and just over 1.5 cm on the bottom.
The Asus TUF Gaming VG27AQ is prepared to be used by the multiscreen system; its GamePlus technology allows us to simultaneously adjust and align several Asus monitors.
Ergonomics
Well, as you can see in these screenshots, this Asus TUF Gaming VG27AQ undoubtedly presents magnificent ergonomics in all axes of space.
What's more, its 27-inch panel will allow us to rotate it through a 90 ° angle and place it in completely vertical reading mode.
Continuing with its support system, with a simple touch screen up or down, we can move it to a range of 130 mm.
The highest position will reach 507mm, while the lowest position will only be 307mm high. Almost skimming the ground and removing from our view any element that distracts us in the back.
With the base mechanism, we can rotate it to the right or left (Z-axis), a maximum of 90 ° on both sides.
Read Also: Best Monitor for Color Grading.
This is much more than practically any monitor on the market. And finally, we can modify its frontal orientation to a maximum of + 33 ° upwards or -5 ° downwards. Not bad at all, right ?, so great work from Asus.
Ports and Connections
In the external aspect, we only have to learn which are the connection ports of the Asus TUF Gaming VG27AQ :
Power Jack connector
2x HDMI 2.0
1x DisplayPort 1.2
3.5mm jack as audio output
In this case, we do not have any USB connector, and, consequently, we will not have management applications in Windows or anything like that.
Something important as always will be which port to use to connect our monitor to our equipment. 
The HDMI ports support a maximum frequency of 144 Hz @ 2560 × 1440, while the DisplayPort supports those 155Hz completely, so this will be the star option.
Screen and Features
We now come to the most important section of the Asus TUF Gaming VG27AQ review, which could not be other than commenting in detail on all the Asus TUF Gaming VG27AQ monitor specifications.
And we will start with the basic characteristics of its panel, one with a 27-inch diagonal, without curvature, and with a 16: 9 aspect ratio.
This model has a WQHD resolution of 2560 × 1440 pixels, or what is the same 2K of a lifetime.
Note that all manufacturers have recently submitted their proposals for e-sports in this resolution and size; we are mainly talking about MSI and AORUS.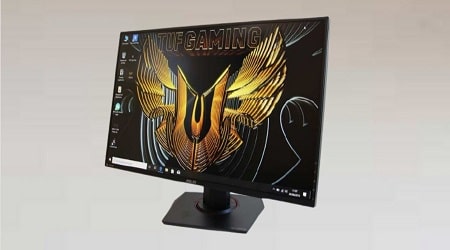 The technology used by the panel is IPS type, with a 1,000: 1 contrast ratio and a maximum brightness of 350 nits (cd / m 2 ). 
It is not reaching a DisplayHDR certification. However, it supports the HDR10 standard and also has several configurable modes from the OSD panel.
It is striking that Asus opts for an IPS panel for an e-sport, but its frequency has been raised to 155 Hz through overclocking, being 144 Hz in normal mode.
It also boasts just a 1ms MPRT response speed, getting the most out of this panel.
One of this monitor's greatest novelties comes in its dynamic refresh technology since we do not have the two best-known technologies from Nvidia or AMD.
This time it is typical of Asus and combines Motion Blur Reduction with Adaptive Sync.
Thus was born the Asus extreme Low Motion Blur Sync, for friends, ELMB-Sync, which combines the best of removing blurry images at high speed with a gaming monitor's dynamic refreshment.
The Asus TUF Gaming VG27AQ is certified by Nvidia G-Sync, so we will have absolute compatibility. It's certainly the nice thing about having an open VESA standard to work on, thus enhancing FreeSync.
In addition to this technology to make the image sharper Adaptive Sync, it has also been implemented:
Blue light filter with up to 5 different levels to protect our eyes from the blue light generated by the LED monitor panel.
GamePlus is a series of options and modes oriented to gaming, such as crosshairs, timers, automatic alignment, etc.
GameVisual is another option that allows us to select up to 7 different image modes.
Shadow Boost intelligently brightens especially dark areas in games without overexposing the brightest areas.
Of course, Flicker-Free to reduce image flicker while we play, also with TÜVRheinlandquality certification.
Finally, GameFast Input, which is nothing more than a technology that avoids the Lag between the monitor and the GPU's communication.
We haven't talked about the depth and color space of this Asus TUF Gaming VG27AQ monitor yet.
We do not find great news since it uses an 8-bit color depth or the same, representing 16.7 million colors.
And the manufacturer registers that it will comply with 99% in the sRGB space, which we will see later in the calibration section.
There is no pronouncement on specific Delta E calibration or other color spaces. Finally, the viewing angles are simply 178 degrees, both vertically and horizontally.
Let's mention that on both sides, we have two internal 2W RMS speakers that sound decently good, at least to hear voices.
They are not designed for music, as they have very little bass and sound details. The volume is more or less standard, similar to that of a normal laptop.
Here: Asus TUF Gaming VG279QM Review and Full Analysis.
Color Testing and Calibration
We continue with the calibration section for this Asus TUF Gaming VG27AQ. We will see the color characteristics of the monitor, evaluating the calibration available from the factory and the brightness capacity.
To do this, we are going to use the X-Rite Colormunki Display colorimeter together with our calibration software for its adjustment and the free HCFR software to monitor the color characteristics.
This time, we will divide the process into two sections, one for evaluating the sRGB color space, the other for DCI-P3.
Brightness and Contrast
We have first proceeded to measure the actual brightness and contrast characteristics of the monitor.
Due to its large size, we have divided the panel into a 3 × 3 grid to see its maximum brightness and with HDR activated.
Asus specifies in its datasheet a contrast of 1,000: 1, but we are going to even exceed it, up to 1231: 1, which is not bad for an IPS panel.
Similarly, we have raised the brightness to the maximum, and we have captured the values ​​in a 3 × 3 matrix.
Here: Best Monitor Calibrator.
As before, in many cases, we hit the promised 350 nits and even surpassed them, which is perfect, fully meeting expectations.
DCI-P3 color space
Asus TUF Gaming VG27AQ Review states that this monitor's DCI-P3 color space, This time we have kept the factory settings, and we have only modified the brightness level until reaching the best possible value of Delta E. 
This value is 50%, while at the factory, the monitor comes to 80%, like this that you take it into account.
As we see in the results, the comparative color palette shows an average Delta of 3.83, which is quite good, and we are approaching some useful figures for graphic design, where a Delta E close to 2 would be ideal.
In any case, it is not the objective of the monitor, nor does the manufacturer provide extra information on the calibration carried out.
Likewise, all the graphs' fit is quite good except for the Gamma curve, which looks more like a roller coaster.
The color temperature is correct, and the color space is more than worthy for such a monitor.
SRGB color space
The conditions for sRGB value measurement will be the same. GameVisual has a specific mode for sRGB, but the results it gives us are quite bad compared to a simple brightness adjustment, so we discard its usefulness.
The new reference curves mostly fit very well, with the variations we saw earlier in Gamma and the black and white plot.
In this case, the Delta E has risen to 4.55, a bit far from the good results, even further than the DCI-P3.
As far as the CIE diagram is concerned, we find just looking at that 99% sRGB that the manufacturer promises.
It just needs to fill the gap between blues and greens a little while in the warm range; it even exceeds this space's records.
Use Experience
After a few days of intensively testing this monitor to play different games and watch the odd movie, we have a clear idea of ​​the experience it gives us.
Multimedia and cinema
The monitor itself has good characteristics for content playback, such as HDR10 or a 2K resolution, creating a good image in upscaling for both Full HD and 4K movies.
Although not impressive for the simple fact of being a panel with a 27-inch diagonal and without an ultra-wide or curved design, the behavior is good, which would allow us more immersion.
It is worth remembering that we have a pair of speakers that at least to hear the voices will go well enough, at the end of a laptop, as we have already said.
This allows versatility and not being forced to use headphones or external speakers, although if we want a good experience in OST, these speakers are not up to the task.
Gaming
Again, this monitor is a thoroughbred made primarily for gaming. The technology behind its IPS panel is not only for decoration, but it will be quite useful, especially for professional gamers.
We are not saying that a normal user does not take advantage of it, but it is true that many options will never touch them or will pass them.
HDR has appreciated once again, and especially the different image modes that we can load. 
GamePlus is perhaps more intended for those e-sports, where we will take advantage of the FPS counter or the crosshairs.
Another positive aspect is that its resolution and panel are indicated for new generation gaming equipment, although that 155 Hz will only be used in Full HD resolution.
Technologies such as Flickr free are noticeable when playing games and even simply working, since, in dark tones, that annoying flickering that some monitors have is avoided.
Similarly, in certain games, we can be grateful for this intelligent lightening of the darkest areas, although it does not make a big difference. From the factory, it is a monitor that comes quite dark.
Design
The calibration values ​​are acceptable, and the panel is IPS, which gives great hope to obtain even better values ​​if we perform a calibration ourselves.
Discarding the sRGB mode of Game Visual, and considering that its resolution is 2K, it could be a pretty decent monitor for non-professional and not too demanding users.
OSD Panel
This section of Asus TUF Gaming VG27AQ Review discusses the monitor's OSD panel. Asus monitors are usually characterized by navigation and selection joystick and three buttons for quick access to dedicated menus.
This happened, for example, in the Asus ROG Swift PG35QV. With only the joystick, you can cover the functions of these buttons, and a clear example is the OSD of AORUS monitors, for me the best and most complete of all.
The first button is responsible for turning the monitor off and on, while the fourth from the bottom is used to cancel changes or close the OSD. A function that is already redundant because it can be done with the joystick. 
With the two central buttons, we will take out the GamePlus menu and the GameVisual menu. 
The first has the crosshair functions, FPS counter, timer, automatic alignment for multiscreen, and a secondary crosshair.
We have already commented on the second personalized image mode for each situation.
The main OSD menu has, as always, 7 configuration options and an octave to load profiles that we have previously saved. 
The menus are quite concise and easy to configure, and the most interesting options will be in the third section, such as ELMB SYNC, overclocking, or HDR.
During the capture of the images, we were connected through an HDMI to a laptop with a double screen, and that is why some options are disabled.
With normal use, all of this will be activated if we use DisplayPort, and with HDMI, we will only be limited in overclocking.
Final Words of Asus TUF Gaming VG27AQ Review
As a final assessment, we think that this monitor's main weapons are in the excellent technical characteristics of its IPS panel.
Manufacturers are increasingly betting on this technology, although Asus has brutal monitors with VA panels for gaming equipment.
And we have only 1 ms of response at a frequency of 155 Hz in overclocking mode.
Thanks to a 2K resolution, the Asus TUF Gaming VG27AQ will work perfectly in e-sports, both in its native resolution and in 1080p, thus taking advantage of the full potential of your soft drink. 
We do miss, yes, USB connectivity and some software management functionalities.
It has a lot of technology behind it, and a clear example is the innovative ELMB-Sync function, combining Motion Blur Reduction with Adaptive Sync.
Let's say it's like the next-gen FreeSync, albeit typical of Asus. The only small drawback that we see is that it modifies the contrast of the monitor, and it gets darker, but it can be corrected by touching the calibration bars.
We also have HDR10, GamePlus, anti-flicker technology, and intelligent exposure to dark areas.
---
Advantage
Fast and high-performance IPS Panel
 Own brand ELBM-Sync refreshing technology
Quality/Price ratio
Recommended for E-sports at the enthusiastic level
Very accurate design, and great ergonomics 
Disadvantages
It does not have USB ports or software management
To be IPS, calibration could be better
---