Would you like to know more about the best 144Hz Curved Gaming Monitor? BenQ EX3203R is a best quality Curved Gaming Monitor.
BenQ EX3203R Review discusses this monitor in detail, which will give you an accurate idea of the best 144Hz Curved Gaming Monitor.
Many professional gamers consider benQ as the best monitor manufacturer, not in vain its models are the most used in most e-Sports events.
Today we have in hand the new BenQ EX3203R, a model that mounts a large 31.5-inch curved panel with a resolution of 2560 x 1440 pixels and VA technology to offer sensational image quality and the best immersion in games.
If you are looking for a new gaming monitor, do not miss this analysis, it may be the product you were waiting to find.
We are always grateful to BenQ for the trust placed in providing us with the product for analysis.
BenQ EX3203R technical characteristics
BenQ EX3203R Best 144Hz Curved Gaming Monitor

Among its main features, We find
Display Type: LED
Screen Size: 31.5 Inches
Contrast Ratio: 3000:1 (static)
Brightness: 400 nits
Aspect ratio:  16:9
Resolution: 2560 x 1440 pixels
Refresh Rate: 144 hertz
Response Time: 4ms (GtG)
Weight: 18.00 lbs
Unboxing and Design
The BenQ EX3203R monitor comes with a luxurious presentation in which every detail has been taken care of, including what may seem the most insignificant. The monitor arrives in a large, colorful cardboard box.
The entire surface is finished with printing the best quality, which shows us a great image of the product on the front. At the same time, on the back, all its most important characteristics are detailed in several languages.
We open the box and see that the interior has been cared for even more so that the product does not suffer any damage until it arrives at the end user's home.
The monitor and accessories are perfectly arranged in two cork pieces to prevent them from moving during transport.
With this, the manufacturer ensures that everything will reach our hands in the best possible condition.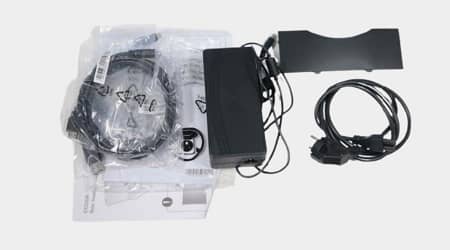 In total, we find the following bundle:
BenQ EX3203R Monitor
Audio cable
Power cord
Power adapter
DisplayPort cable
HDMI cable
Documentation
BenQ EX3203R is an impressive monitor with a 32-inch curved panel, which makes it reach dimensions of 536 mm x712.69 mm x 223.87 mm along with a weight of 18.00 lbs.
It is not a large monitor for its panel size, something that has been possible by opting for a design with very thin frames, which allows a very large panel to be integrated while the size and final weight of the product is kept tight.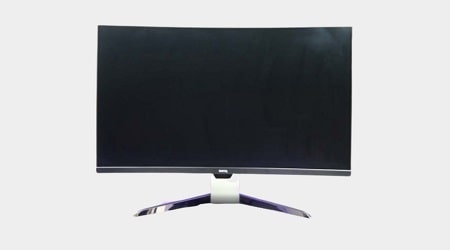 Its panel has a 1800R curvature and reaches an exact size of 31.5 inches, with a resolution of 2560 x 1440 pixels and V.A. technology to offer a great image quality, with colors that are on the same level as IPS panels and some deeper blacks, as V.A. technology offers higher contrast.
The base has a brutal aesthetic. His style and grip are perfect. However, we miss that it allows us to turn it sideways and monitor portrait mode.
In its favor, it must be said that this restriction makes sense as it is a curved monitor.
Another advantage of V.A. panels is that they have a slower response time to avoid annoying ghosting. We continue to see the panel's characteristics with spectacular brightness, a contrast of 3000: 1, a response time of 4 ms, and viewing angles of 178º in both planes.
They deserve a special mention for their brightness of 400 nits and the refresh rate of 144 Hz. The first guarantees the Display HDR 400 certificate, which translates into better color reproduction and higher contrast, improving the image's overall quality. To user.
This will allow you to enjoy more vivid and realistic colors in all multimedia content types, as long as it is adapted to this technology.
The Brightness Intelligence Plus (B.I. +) technology, BenQ, further improved the monitor's image quality to the combined with HDR will allow you to enjoy a greater contrast between the lightest and darkest areas.
Its 144Hz refresh rate ensures a smooth gaming experience and reduces eye strain by eliminating the annoying blur effect.
Added to this is the technology Thanks to AMD FreeSync 2, thanks to which we will obtain the best fluidity in games together with AMD Radeon graphics cards.
This technology is responsible for adjusting the monitor's refresh rate to the number of images per second sent by the graphics card, thereby achieving perfect fluidity while avoiding tearing and stutter defects.
Its VA panel is of the highest quality, offering color reproduction covering 90% of the DCI-P3 color space.
This is especially important for imaging professionals as they will have higher color fidelity when working. Of course, players will also enjoy it in the beautiful landscapes of games like Far Cry 5.
Anti-flicker and blue light reduction technologies have also been integrated to take care of users' eye health who need to spend many hours each day in front of the P.C.
BenQ EX3203R includes several pre-loaded image profiles, thanks to which we can optimize the performance of the monitor to get the most out of all usage scenarios, from movies to sports, video games, and much more.
We can also adjust the color temperature in Reddish / Normal / Bluish / User mode.
We now turn to see the connections of the BenQ EX3203R monitor; this model includes video inputs in the form of 2 HDMI ports, a DisplayPort 1.2 port, and a USB Type-C port.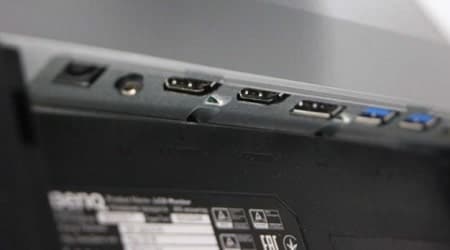 The latter also can offer up to 10W of electrical power to the device that we connect to it. Next to them, we find a 3.5 mm jack connector for audio.
Finally, its base has been designed to offer great ergonomics for use; it allows you to adjust the inclination by + 20 ° -5 ° and the height by 60 mm to achieve the best comfort when using the monitor for long sessions very important for players and professionals.
Read Here: Best Monitor for SIM Racing.
---
OSD menu
The OSD menu of the BenQ EX3203R  is quite complete and allows us to configure a wide variety of options.
It allows us to select the screen mode (standard, HDR, cinema, sRGB, Gaming…), screen type, brightness, contrast, gamma, color temperature, advanced screen settings, sound, and general system settings.
As usual with BenQ monitors, everything is very intuitive and super easy to apply. Nice job!
---
Final Words of BenQ EX3203R Review
The BenQ EX3203R is a 32-inch monitor with 2560 x 1440 pixel resolution, 1800R curved VA panel, 144 Hz refresh rate time, 4 ms gray to gray, and FreeSync technology.
BenQ has been doing very well for a few years in its line of peripherals and monitors. This new ultra-panoramic monitor allows us to have one of the best gaming experiences in 2.5K resolution.
The immersion, while you play, is incredible and its 32 inches helps a lot in that.
We recommend the best monitors on the market.
It is a monitor designed for gaming, but it is also worth it if we want to use it sporadically for graphic design. But remember that an IPS panel is better than a VA for these purposes.
Its price in-store is affordable. We think it is an excellent price for its features and size. And we consider it a highly recommended monitor to play for many hours.
If you had to buy a best 2k monitor to play in large format, it would top position number 1.
Advantage
Design
Screen goes
Gaming performance
FreeSync 2 HDR
144Hz and 4ms
---