As if the work already done by the AORUS gaming division were not enough, Gigabyte has also launched the new Gigabyte G32QC gaming monitor.
In the Gigabyte G32QC Review section, we can find out more about it.
This model is the one with the manufacturer's highest performance, gathering all the technology behind a 1500R QHD curved VA panel with 165 Hz and 1 ms response.
The manufacturer has opted for the complete package of AORUS firmware functionalities in this panel of no less than 32 inches, such as Game Assist, Black Equalizer, or support for AMD FreeSync Premium Pro compatible with G-Sync.
In short, everything you need for a competitive player, so let's see how this monitor performs on the battlefield; let's get started!
But first, we thank Gigabyte for their trust in us by temporarily lending us this monitor for in-depth analysis.
Gigabyte G32QC technical characteristics
Gigabyte G32QC freeSync Gaming Monitor

Among its main features, We find
Display Type: LED
Screen Size: 32 inches
Contrast Ratio: 3000:1 (static)
Brightness: 400 nits in HDR mode
Aspect ratio: 16:9 (Widescreen)
Resolution: QHD Wide 1440p
Refresh Rate: 165 Hz
Response Time: 1ms
Color: Black
Weight: 24.2 pounds
Unboxing
The manufacturer has prepared us for a packaging in the form of a large thick cardboard box without any ara to carry.
Of course, to improve the transport protection of the Gigabyte G32QC monitor, a second box has been used, also made of neutral cardboard as the inner layer packaging.
The latter is the original of the product, which provides an image in the form of a sketch of the monitor and its main characteristics.
After opening it at the top, it is time to lay it out and properly remove the monitor broken down into pieces.
Together with the accessories, all of them are perfectly arranged in a double sandwich-type expanded polystyrene cork mold.
It is better to do it with the box stretched out since removing the vertical content may open this mold and cause the monitor to break.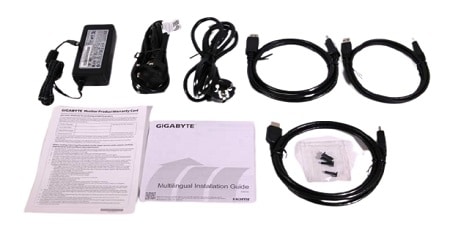 The final bundle contains the following elements:
Gigabyte G32QC display
Support arm
Support base
External power supply
Cables with European and British plug adapter
HDMI cable
DisplayPort cable
4x Mounting Screws
USB Type-B cable for data
Instruction manual and warranty
Of course, we cannot complain since it is a complete bundle in which there is no lack of video cables of both types to enjoy the monitor.
It can also be noticed that the power supply has been taken outside; this will be an advantage in the weight and heating of the monitor, although we will have a flask lying on the ground.
Any type of previous calibration report has not accompanied the monitor.
Read Here: What is a Portable Monitor?
---
Bracket Design and Mounting
This time the Gigabyte G32QC monitor will arrive disassembled in three different elements, which of course will be the base, the support, and the screen.
To carry out the assembly, the only thing we will need is a star screwdriver.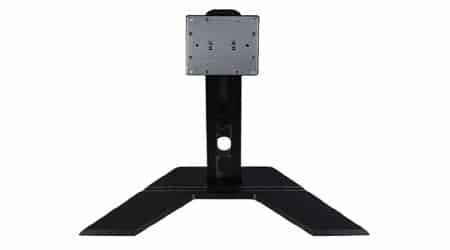 Being a relatively large monitor with 32 inches, the manufacturer has provided a considerable size base and in the shape of a "V."
Its construction is based on an inner metal chassis that we can see if we turn it around, and a rough black plastic upper case divided into two parts.
The finish is relatively standard and is not, for example, at the AORUS support level, but at least it is a stable, wide base that provides security.
The support's fixing element has four coupling tabs and the typical screw that we can tighten directly with our fingers.
This support arm follows the base's trend, with a metal chassis and a relatively simple and not flashy plastic casing.
At the bottom, it has a hole to pass the cables of the Gigabyte G32QC, which is appreciated.
Even with its simple design, the bracket offers up and down movement using a hydraulic system that works quite well, relatively smooth, and with good travel.
Finally, we have a standard 100 × 100 mm VESA support for fixing the image panel that can be replaced whenever we want with universal multi-screen supports or any other.
For fixing, we will use the four screws included in the bundle. We would have liked the native support to have quick fixation like most gaming monitors, although at least that way, it won't have any slack.
---
The Final Appearance and Screen Design
After mounting, this will be the final appearance of the Gigabyte G32QC. The manufacturer has done a good job in general, but it is a little step behind high-performance AORUS best monitors in both design and finishes.
In addition to this 32-inch version, Gigabyte has a total of four models offering gaming features in all of them in 27-inch flat and curved formats.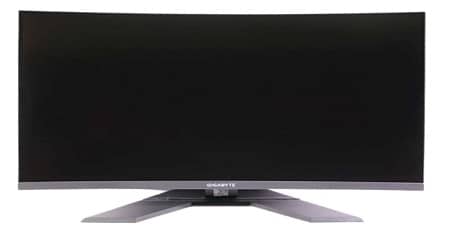 As we mentioned, it is a 32-inch monitor in curved format, which generates dimensions with an included stand of 71 cm wide, 55 cm high in the lowest position, and 24.5 cm deep.
The absence of an integrated power supply and plastic use generates a fairly low weight of only 24.2 pounds, although later you will see that this time the weight does not mean poor performance.
In the general view, we must emphasize that the support base protrudes a lot from the monitor, something that many will cause discomfort formats or keyboards.
The required depth will inevitably be wide since the curvature, in this case, is not typical of 1800R but more closed to achieve greater immersion.
Something that does stand out about the Gigabyte G32QC is the large usable surface that we have on the screen since the frames have been reduced as much as possible.
The main and holding panel housing has been constructed of plastic in the same main color, and its physical frames are only 3mm thick on the sides and top.
To this is added, the frame is directly integrated into the panel that adds 8 mm in thickness. Finally, the lower frame, also in plastic, will be 2 cm thick.
They are the thicknesses of a 27″ monitor, so Gigabyte has done a great job of optimization in this section.
On this occasion, we do not have a lighting system integrated into the support or the monitor's back. It would have been a nice touch to have backlighting being a 32-inch screen, so we would have to use external strips to create this setting.
This rear part's design is quite optimized, in general very thin and some aesthetic elements as a mere anecdote. Perhaps the most relevant is the low weight of the set.
Like the rest of the manufacturer's equipment, the OSD control has been simplified as much as possible with the mere use of a joystick.
With its movement in the four directions and central pulsation, we will obtain all the functions intuitively and very simply, and a separate power button has not even been needed. Then we will see the OSD in more detail.
---
Acceptable Ergonomics
In this way, we come to the ergonomics section of the Gigabyte G32QC, which is going to be quite concise as a good large monitor.
The equipment is compatible with 100 × 100 mm VESA mounts, which will be great for universal multi-screen mounts, such as simulators with multiple monitors.
But the benefits of the native support will give us vertical movement in a range of 10 cm thanks to the hydraulic system integrated into it.
Although we understand that it is not a very wide range in itself, it is a fairly long arm, and there are not many 32-inch monitors that include one of these.
It will also allow you to adjust its vertical orientation; that is, it has free movement in the Y-axis with 5 or down or 20 or up. In this way, we can adjust the panel's orientation depending on the relative height of our head in it.
To make the complete pack, we have lacked the possibility of turning its base to the sides, which would have been quite useful in this large wide monitor. We can't ask for much more, and it's pretty cool for this format.
Connectivity
We are still at the back of the Gigabyte G32QC to learn more about the ports and connections that we have on the monitor. These are located in the central part and looking down, as usual. We find the following:
1x Display Port 1.2
2x HDMI 2.0
1x 3.5mm jack for audio output
1x USB 3.2 Gen1 Type-B for data and software
2x USB 3.2 Gen1 Type-A
DC-IN power jack at 19V @ 4.74A
Kensington slot for universal lock (on the outside)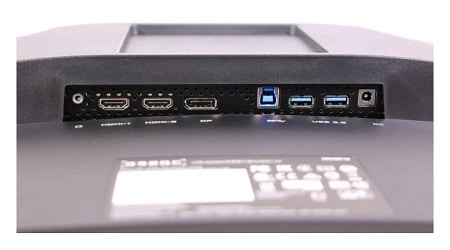 We have quite a wide connectivity in this monitor with up to 3 video outputs and two USB ports to connect peripherals, USB flash, or even wireless headphones.
Data will travel from the monitor to the PC over the USB-B cable, so you will need to be connected to get it to work.
Regarding the video inputs, both will fully support the power of the monitor. HDMI 2.0 and DisplayPort 1.2 will support resolution 2560x1440p @ 240 Hz, so with 165 Hz, in this case, they will be leftover.
Likewise, they support HDR content and AMD FreeSync refresh technology, and finally, the color depth will not be a problem as it is 8-bit.
Screen Features
We've finally reached the Features section of the Gigabyte G32QC Review, where we'll go into as much detail as possible to show us this monitor.
We will also review the major technologies that apply Gigabyte / AORUS to the firmware available to the player.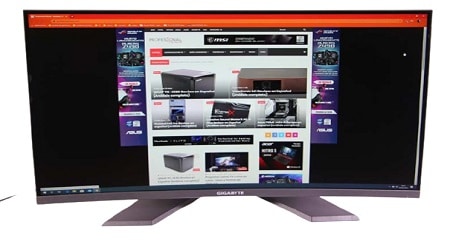 This monitor has a panel of exactly 31.5 inches capable of offering us a native QHD resolution at 2560x1440p (2k) in a standard 16: 9 format.
For this, it uses LCD VA technology, one of the still key options for curved monitors, which will be 1500R. It is a somewhat more closed curvature than usual, used by some 27 "models, but we still know none of 32" like this.
This allows more immersion for the user and will come in handy for two or three monitor setups for racing simulators.
With these measurements, the pixel pitch of the Gigabyte G 32QC will be 0.2724 × 0.2724 mm, thus giving a fairly good average density, close to 100 dpi, to create a fairly sharp and defined image.
This panel delivers an excellent contrast of 3000: 1 typical and 12M: 1 dynamic, delivering a typical brightness of 350 nits with peaks of 400 nits by having DisplayHDR 400 certification.
As a starter, it is not bad at all, but let's go a little further by citing its more gaming-oriented features.
It is not just any VA since it has implemented the AMD FreeSync Premium PROdynamic refresh technology, currently the highest performance and compatible with Nvidia G-Sync as shown by the control panel of our GPU.
This time the refresh rate rises to 165 Hz, while the response speed is only 1 ms MPRT, with three different Overdrive modes with which we will later evaluate if there is ghosting on the screen.
We cannot forget that it is Flicker-Free and Anti-Glare to ensure a smooth image and eliminate the maximum possible reflections on the panel's outer surface.
Along with these specifications, we also have some others related to color quality, and even though it is a gaming monitor, it doesn't look bad.
The 8-bit color depth panel will offer maximum coverage of 95% DCI-P3, a demanding and multimedia-oriented color space. Thus, the absolute color coverage in sRGB should be around 124%.
Finally, its viewing angles will reach 178 or vertically and horizontally, and in the captures, we can see that it has behaved quite well, although it has a slight loss of brightness in the side angles.
Other advanced features of the Gigabyte G32QC that we can cite is its support for PiP (picture-in-picture) and PbP (picture-by-picture) modes to be able to view different video sources simultaneously on the same monitor.
This can be useful both in gaming, design, and work, in case we have a camera or capturer or other equipment also connected, and we want to see the two image signals at the same time.
And to this, we add the characteristics that other monitors of the manufacturer specialized in gaming have:
OSD Sidekick: the software that extends the monitor's properties to manage it from the operating system.
AORUS Aim Stabilicer – Reduces motion blur for sniper action and FPS games.
Dashboard: which will be able to monitor the properties and status of our CPU, GPU, and DPI of our mouse, as long as we have the USB-B connector installed and the driver.
Black Equalizer: is a system by which the monitor detects the darkest areas on the screen and automatically brightens them during the game.
Game Assist: a utility that allows you to place a minute hand on the screen for the elapsed time and an advanced adjustment in the image's position.
Overdrive: It is not its function, but it will be important to adjust the image speed and eliminate ghosting.
---
Color Testing and Calibration
We will analyze the calibration characteristics of the Gigabyte G32QC, verifying that the manufacturer's technical parameters are met.
Read Here: Best Monitor Calibrator.
For this, we will use the X-Rite Colormunki Display colorimeter and the free programs HCFR and DisplayCal III. Likewise, we will verify these properties with the sRGB and DCI-P3 color space, finally performing a calibration.
Flickering, Ghosting and Other Artifacts
We have used all the functions that this Gigabyte G32QC includes evaluating the panel's performance by looking for image artifacts with TestUFO.
We have configured the test at 960 pixels per second and separated 240 pixels between the UFOs, always with a Cyan background.
The images taken have been made with UFO tracking at the same speed as they appear on the screen to capture the ghosting trail they may leave behind.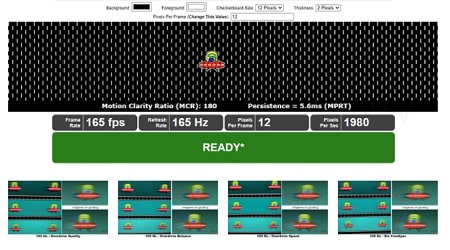 The camera also introduces some blur, so we should not take what the sensor picks up at face value, but much more what our eyes perceive.
All the tests carried out have been carried out at 165 Hz, alternating between the three Overdrive modes and with FreeSync deactivated in the last one.
The first two captures where we see more GhostingGhosting, an undoubted black trail corresponding to the image quality and standard mode.
In the third mode, we see the least trail, which would be the Overdrive in speed mode; some ghosting appears with a white trail behind the UFO in the bottom row.
When we deactivate FreeSync, we will get a trial similar to the previous one.
In this sense, it is noted that it is a VA panel, making the appearance of the slight wake inevitable, which does not occur in high-performance IPS panels.
As for the rest of the phenomena, such as flickering or tearing, we have not noticed anything during the tests, and it should be noted that GhostingGhosting during games we have not noticed it either.
With the TestUFO response time test, a response of approximately 5 ms MPRT has been measured, which is higher than what is shown in the specifications.
---
Contrast and Brightness
In this Gigabyte G32QC review, Contrast and brightness can be said that for the brightness tests of the Gigabyte G32QC, we have used 100% brightness in standard image mode.
Here it does demonstrate what a great panel it is, with an impressive contrast greater than 5000: 1 delivering brightness greater than 400 nits and a spectacular interior black depth at 0.1 nits.
Finally, the gamma value revolves around the 2.2 considered ideal in CRT, and the color temperature is well balanced near the D65 point.
We have measured the color uniformity by opting for a 5 × 3 grid in which we have obtained great power in all regions of the panel.
The highest sample capacity in the panel control, and the lowest value, is found in the lower-left corner, close to 400 nits. We can see that the Delta UL remains below 2 in all regions.
SRGB Color Space
Focusing on the sRGB color space, expectations are being met by delivering a relative coverage of practically 100% and complete coverage of 124%, just as mentioned in the specifications.
Looking at the color palette of the space, it can be seen that the calibration is quite good, with a Delta E <2 but not meeting the ideal parameters of the program.
In the graphs recorded by HCFR, a somewhat distant luminance curve is seen in the central part that will indeed be refined with a calibration. On the other hand, the black and white adjustment and the color temperature are very well optimized.
DCI-P3 Color Space
As for DCI-P3, this analysis unit is not reaching the promised 95% coverage, remaining at a good 87.5%, both relative and absolute.
This is mainly due to the fact that the green saturation can be improved in the panel. In Adobe, RGB coverage is touching 80%, which is not bad, although far from the panels built, especially for design.
The color palette is a bit more off-set in this space, as might be expected, delivering a Delta E of 2.08 that is still very good for a gamer. In any case, it is information not so relevant for gamers, and for a curved panel VA of 165 Hz, they are more than worthy features.
Calibration
Finally, we have performed profiling and calibration of the Gigabyte G32QC to see if we improve those results in the color spaces. These are the new values.
We have certainly improved, with a Delta E in sRGB of 0.5 with all the perfect bars and program parameters in green.
Much the same has happened in DCI-P3; although there are still colors that lag a bit in saturation, it is normal in 8-bit depth without an FRC palette to extend coverage.
---
OSD Menu
As is common with all Gigabyte / AORUS monitors, the Gigabyte G32QC has a complete OSD that can be extended with the Sidekick OSD software.
So we see its most interesting options through its 4-way joystick.
We have four quick menus that will be activated with the four main directions of space:
Above: Black equalizer for setting overexposure in excessively dark games
Bottom: Image mode selection with 7 presets and three others customizable by the user.
Left: Headphone output audio volume, as we don't have built-in speakers and no noise-canceling mic input like AORUS monitors
Right: Video input selection, between HDMI and DisplayPort
If we press inwards, we will have four other menus in the corresponding directions:
Up: in the main menu of monitor settings
Down: turn off the monitor
Left: Dashboard activation and configuration
Right: Game Assist menu with game-oriented solutions, align the image, activate a timer, refresh rates, crosshairs, and more.
The main menu consists of 8 sections, although the last one is simply to reset and return to the factory options.
The first section will be quite important since we will have the possibility to touch the basic parameters oriented to gaming, such as Overdrive, FreeSync, or the Black Equalizer.
From the second, we will extend the image configuration to a total of 9 modes in which we can customize its basic parameters such as contrast, brightness, color temperature, and more.
The third and fourth sections have to do with the video source and the PIP and PBP modes available on this monitor.
The remaining two contain basic parameters such as audio volume level, OSD customization, language, and a directory to load user-defined presets.
Going to the OSD Sidekick program, this form of image management through profiles is even clearer.
We have a total of 7 modes, the same as in the OSD, to modify all the image aspects seen before in a more direct way. From here, we can also control in Dashboard, PIP / PBP, and other parameters.
We will even have hotkeys to control the monitor, general settings such as video input or activation of the RGB Fusion program for peripherals with lighting.
It is possible to modify the shortcuts of the joystick to our liking and finally update the firmware.
Read Also About: Wimaxit Portable Touch Monitor Review.
---
Use Experience
After a few days of using this Gigabyte G32QC monitor for our work, playing multimedia content, and testing it in games, we will tell you more or less our experience.
Multimedia
Let's quickly start with the multimedia experience, in which we highlight above all this remarkable 1500R curvature that undoubtedly allows us a greater immersion.
It happens especially when we have the monitor relatively close (although it is not the healthiest) of us less than 60 cm when we submerge completely and occupy our entire field of vision.
The 32 inches are also very appreciated in this regard, since the bigger, the better the experience, and here it will be a delight.
Having a 2K resolution also makes it easy to have good scaling whether we watch movies in 4K or Full HD.
We connect a headset jack or directly by a USB headset wireless to the count USB port compatible peripherals. This will give a lot of play, and being 3.0, we will not have problems in the real-time image.
Games
Its main strength will be the games, as we can understand with its 165 Hz and, again, the curvature. But we believe that not for all games or rather, not for all scenarios.
The reason is simple, for competitive gaming or e-sports FPS, a 27-inch Full HD resolution is normally used to better control the entire screen without turning the head, and this is not entirely possible here.
The curvature helps, but 32 inches is too wide to improve the player's reaction speed, and we will find that we are continually moving our heads towards the corners of the screen.
On the other hand, it will be a great option for simulators, and with two or three of these monitors, we will have a super cockpit for vehicles or aviation games.
The 165 Hz will play in our favor, although we will need powerful hardware to smoothly move three 2K screens.
And of course, where we will most enjoy this monitor will be in games whose main quality is graphic quality, slower such as RPG or ROL type, taking advantage of the large diagonal.
I usually use a 32-inch monitor, so this curved model only increases the experience in every way by having more fluidity and curvature. Although, of course, the step from 4K to 2K is noticeable in certain games.
Design
And finally, the design section is not its great quality. However, the standard calibration and color coverage are valid for amateurs as long as they are not dedicated to the professional-level layout.
In my opinion, the curvature here has a negative effect, especially if we are dedicated to creating architectural models or work in DAC and BIM.
The distortion that the panel generates in the vision can affect the proportions and the images, so it is not a feasible option.
---
Final Words of Gigabyte G32QC Review
We come to the end of this new Gigabyte monitor analysis, which is not far from what its AORUS brothers offer.
Perhaps as the main difference, we could comment on the design section, notably more essential in this model, using plastic as a source visually in all its parts.
Despite being a 32″ monitor, a hydraulic arm and high screen use have been maintained as the frames are very thin.
This undoubtedly adds integers, although it would have been rounded by adding turning ability to the support.
As for the panel's gaming performance, we have Freesync Premium Pro compatible with G-Sync, 165 Hz, a response of 1 ms (which in the end is a bit more), 2K, and 1500R curvature.
This is all highly versatile for many types of monitors, especially for multi-screen simulators and solo games.
In all sections, it meets expectations, although it is true that some ghosting has appeared in the tests, which then does not seem to have been reproduced in the tested titles.
The section related to image performance has not disappointed us either, and the VA panel offers us good color coverage with 100% sRGB, excellent brightness uniformity, and more than 400 nits on the entire surface.
Even the calibration is very good in the tested spaces, where a sharp image due to its good pixel density. To be a gaming monitor, we have no complaints; it is also certified with DisplayHDR 400.
The OSD section, functions, and integration with Sidekick are also at the level of the manufacturer's best monitors.
Its USB connectivity offers great versatility and the different image modes, and the multitude of functions oriented to gaming.
In this aspect, it looks like its brothers, and it is almost the maximum that a monitor of these characteristics can give.
The  Gigabyte G32QC  is currently available for a reasonable price, as the 27″ curved and 2K AORUSs far outperform it, as well as other competing monitors.
It is a good option to enjoy wide diagonal games with the versatility of 2K resolution.
We hope you find everything about Gigabyte G32QC monitors. If you have any feedback, let us know in the comments below. Thank you for reading our Gigabyte G32QC review.
---
Advantage
Good gaming performance pack.
Thin frames and solid options for multi-screen and simulators.
Curved design and very wide 32″ panel.
Complete OSD, with USB and software connections.
Calibration, HDR, and 100 sRGB adjustments.
Disadvantages
Something basic design and a lot of plastic.
No integrated speakers.
---
Read Here Also About: AORUS CV27F Review.