An external monitor would be the first option if you've lots of tasks to do simultaneously, especially while traveling. In this case, you need a portable screen estate instead of getting a big and bold one.
However, finding an affordable portable monitor with minimal required features is challenging. The ASUS ZenScreen MB16AMT is here to help you out from hassles whether you're doing your job on the go, office, or at home.
This ultraslim monitor brings you tons of features and benefits one after another. Today, we will say a few words throughout the ASUS ZenScreen MB16AMT review article.
You'll also find the analysis of the features, advantages, drawbacks, and comparisons to the competitors from our user experience.
So, let's start the review from the specification.
ASUS ZenScreen MB16AMT Portable Monitor
Portable FHD IPS USB Type-C monitor with hybrid signal solution to support both USB Type-C and Type-A sources.
This device comes with two integrated speakers and a 7800mAh battery that makes it ideal for on-the-go usage.
Intelligent pen hole and smart cover allow landscape and portrait orientations to be easily adapted.
Blu-light filter and flicker-free backlighting from Asus Eye Care technology minimize eye fatigue
ASUS ZenScreen MB16AMT Specifications
This is the specification and technical details of the Asus Zenscreen MB16AMT LCD touchscreen monitor. The ASUS ZenScreen MB16AMT review discusses the specification of the monitor in detail here.
It's a blueprint of this specific product, so you can decide by seeing what significant elements and functions it offers.
| | |
| --- | --- |
| Product Name | : ASUS ZenScreen Touch MB16AMT Portable Monitor. |
| Monitor Dimension | : 19.1×12.01×2.99 inches |
| Item Weight | : 1.98(2) pounds |
| Screen Size | : 15.6 inches |
| Screen Type | : IPS non-glare full HD LCD |
| Touch Feature | : 10-point multi-touch function |
| Display Resolution(max) | : 1920×1080 pixels |
| Aspect Ratio | : 16:9 |
| Hotkeys | : 5-way OSD(on screen display) navigation joystick and power button |
| I/O Ports and Inputs | : USB Type-C, Micro HDMI |
| Video Presets | : 8-Modes: sRGB, Scenery, Theater, Standard, Night View. Game, Reading, and Darkroom Modes. |
| Special features | : Blue light filter, Touch screen, EYE CARE mechanism, Built-in speakers |
| Refresh Rate | : 60 Hz |
| Contrast Ratio | : 700:1 maximum |
| Brightness | : 250 cd/m2 maximum |
| Voltage | : 9 volts |
| Power Consumption | : <12W (typical*) |
| Battery | : Lithium polymer battery (7800mAh) |
| Sound System | : Two(2) stereo speakers 1W RMS audio quality |
| OS Compatibility | : Microsoft Windows 7 or above, Android 6.0 or above, Chrome OS, Linux, Mac OS 10.15 or older, and Thunderbolt 3 |
| What's in the package: | : Asus Zenscreen Touch MB16AMT monitor, ASUS Smart Case, ZenScreen pen, Warranty Card, Quick setup guide, Display port: USB-C cable (USB-C to USB-C) HDMI to micro HDMI cable USB Type-C to A adapter Power/Charging adapter |
ASUS ZenScreen MB16AMT Monitor Analysis
In the Asus Zenscreen MB16AMT review section, we shared every essential feature and how they impact your working environment.
Besides, an area telling our user experience, opinion, or feedback will take place where needed.
Portable Design
Portable devices are getting more popular worldwide, especially when you're a traveler. The monitors were bulkier in the early days and used to complete home and office work, including gaming setup.
However, the ASUS MB16AMT touch monitor offers a compact and lightweight carryover option. This ultra-slim Zenscreen comes with only 19.1 by 12.01 by 2.99 inches dimensions and 1.98 pounds weight. So, you can take it easily from one place to another.
It's an award-winning device for its ultra-portable design; this is to say. You can fit it comfortably inside your book, laptop bag, or backpack without taking space and hassle.
Larger Display Estate
Apart from the resolution, you're getting a large screen estate for small devices, including smartphones, notebooks, tablets, etc.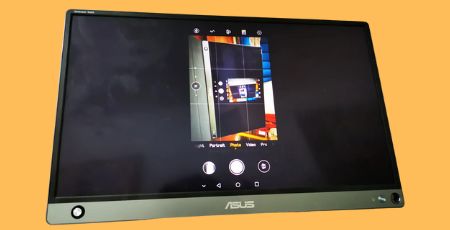 All you need to connect them with your 15.6-inch touch Zenscreen display with a cable. You might use a laptop while traveling or working in the office.
It'll help to keep two screens side by side while working in an office or traveling. For example, the first one is for the presentation and another for taking notes or making something crucial.
You can use a secondary monitor screen as a reference when typing on a word processing document.
Touchscreen Display
The asus zenscreen touch mb16amt USB portable monitor has a configuration that supports the user's finger touch instead of using a physical device like a mouse.
Its 10-point touch screen offers an accurate, responsive, and seamless access. Thus, it allows you to enjoy documents, pictures, and videos.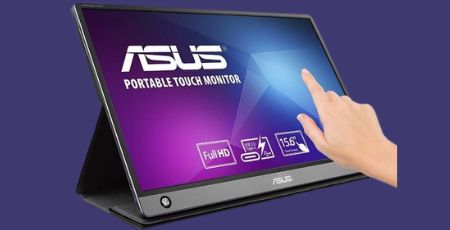 You have nothing to worry about touch function compatibility, whether using Windows 10 or macOS Sierra.
It offers the perfect optional screen for almost every operating system, including Android smartphones. Hence, you can perform any complex and large-scale document, such as viewing or editing HD pictures.
And when it's about usability, it comes with a 5-way navigator joystick so you can achieve the highest accessibility. Of course, it was an OSD(on-screen display) at the bottom left side.
Display Resolution & Image Quality
This section of ASUS ZenScreen MB16AMT Review discusses Display Resolution & Image Quality of the monitor. Asus never compromises the quality in display resolution. This Zenscreen mb16amt touch monitor offers 1920 by 1080 pixel high-resolution display screen that delivers crisp and clear images.
Another reason you should buy this HD monitor is that the resolution provides a video watching and gaming experience better.
The display it offers is the 15.6-inch anti-glare HD IPS panel. Therefore, you'll never miss a bit of an image and video while watching a high-definition movie.
It would be an ideal travel screen estate for expanding your laptops or mobile phone screen. Thus, it enhances your productivity.
We should inform you that IPS is a type of LCD, besides TN and VA. Most LCS manufacturers choose the IPS one as the best overall performance in content creation, gaming, or business.
Even under pressure, the display also has a wide viewing angle, color accuracy, and faster response time.
Gaming Features
Apart from the battery, speaker, and case, it comes with a few impressive gaming features. This zenscreen mb16amt usb powered display an ideal refresh rate, resolution, vibrant colors, etc.
You'll experience smooth and sharp resolution while playing games because of the 60Hz refresh frame update rate.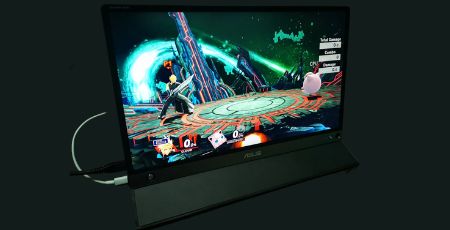 Asus also cares about your eyes, so it features an advanced Eye Care filter technology that protects your eyes from blue light. Thus, the minimal eye strain delivers a comfortable viewing experience.
Connectivity Ports
You'll have multiple connectivity ports in the asus zenscreen mb16amt 15.6 full hd monitor. It features a hybrid signal USB Type-C and micro HDMI port that helps to connect a variety of display devices.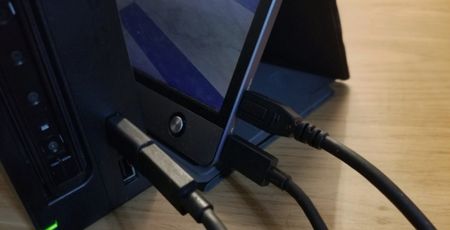 The Micro-HDMI allows connecting android phones and Type-c, and HDMI for other peripherals, including Nintendo Switch, Play Station, and iOS devices.
Built-in Battery
The ZenScreen Touch MB16AMT external monitor runs a 7800mAh built-in durable battery to take your productivity to a new height.
You don't have to worry about power backup while traveling since the battery lasts for around 3.6 to 4 hours on a single charge.
Thus, it doesn't need to drain the charges of the devices you connected with it.
Integrated Speaker
You don't need an external sound device since this Asus secondary display features two integrated speakers. It made this model stand out from other competitors.
Plus, they save you from the hassle of carrying an extra speaker, especially while you're a frequent traveler.
The speakers deliver calm, descent, and sound if you compare with other models Asus MB16 series. You'll also love sound during watching movies and playing hi-end games.
Foldable Case
You're getting a foldable and handy smart case with the asus zenscreen touch mb16amt 15.6 monitor to protect it from dust and scratches.
There is also a pen hole at the bottom area. It's beneficial to carry the Zenscreen with hand, suitcase, or luggage.
Read here- Best Portable Monitor for MacBook Pro.
Compared To Other Models and Brands
The Asus Xenscreen MB16AMT portable monitor matches several features to its almost similar models and competitors.
Here, we will mention the similarities and differences between them briefly. The discussion also will have up and downsides sometimes.
Screen Size
First thing first, the touch screen it offers with an interactive pen display is similar to the Wacom Cintiq 16 screen. Secondly, the display size.
It has another similar display to the ZenScreen Go and Asus ZenScreen MB16ACE. Alternatively,
you'll find a match to the AOC I1601FWUX and Lepow 15.6-Inch portable monitor. We cross-matched almost all their key features.
Read here- G-STORY GS156UR Monitor Review.
Touch Support
Although you can connect this monitor to the Apple iDevices with a USB-c port, it doesn't support the touch input controls of tablets. As it works better with Android devices with multiple touch functionality.
OSD Features
If we compare it with the on-screen display(OSD) settings, it offers only one controller. However, the Zenscreen MB16ACE and Zenscreen Go offer TWO(2) navigational control as OSD controllers.
Display Orientation
The excellent thing is that the above Zenscreen models have screen orientation features, portrait orientation, and landscape(horizontal and vertical).
So, you're getting maximum comfort at screen rotation when needed.
Here – ASUS ZenScreen MB16AHP Review.
Brightness and Color
After the color and brightness test, we found an almost similar color coverage between Zenscreen Touch and Go display.
This Zen Touch MB16AMT covers 72.5% and Go MB16AHP 70.2% of sRGB colors. We think they deliver color and brightness more than AOC I1601FWUX, which covers 61.8% only.
Helpful Tips and Resource
Will ZenScreen Touch MB16AMT work on a Macbook Air 2018?
Yes, it works great with a MacBook Air 2018. You need to connect the included USB-C, and you've nothing to worry about installing the driver.
However, you need to install the driver if you want to use the hybrid adapter, like USB C to A, especially when using an older Mac/Windows OS. Visit the Asus website to download the driver.
There is a downside when using Mac: it goes to sleep; you've to wake up. To fix this issue, all you've to do is disconnect and reconnect to the Asus Touch.
Although it's a very minor and silly issue apart from its handy and comfortable experience.
Read also here- AOC I1601FWUX Review.
How does ZenScreen MB16AMT compare to the AOC E1649FWU USB-powered portable monitor?
The Asus ZenScreen MB16AMT provides better picture and streaming quality than the AOC E1649FWU monitor.
The results came from s side by side feature experience. Editing slight photos, videos, youtube, and word processing is fine for this screen.
AOC is an excellent external display but slim and smooth as the ASUS Zenscreens. Though, you can expect much more from this affordable price range for portable display.
Here details about- AOC I1659FWUX Portable Monitor.
Are three any screen protector options in the ZenScreen MB16AMT touch display?
Unfortunately, no. But ZenScreen MB16AMT features an innovative smart protective case that works as a screen protector to prevent scratch.
It also works as a cover and stands, but it won't protect the display from a drop or other physical damage.
In addition, you can put the monitor in a vertical or horizontal(portrait mode and landscape) screen auto rotation.
However, we found the smart case unstable in the upright rotating position. We suggest improving the grip or attaching something inside the case.
Does the ZenScreen MB16AMT 15.6-inch monitor offers speakers and an internal battery?
Yes, it provides a built-in lithium polymer battery with 7800mAh power that runs your device for up to 4 hours. It also features an integrated dual stereo speaker as a sound system.
So, you don't need any other soundbox on the go, especially while traveling. The sound quality is clear and good.
The battery life and speakers make this unit stand out from similar models and other brands. However, if you do a rough and tough job like video or photo editing, it might last around 2.5-3 hours at a single recharge.
Read here- ASUS MB168B Review.
Can this Touch MB16AMT be used for gaming?
You can use it as a second monitor for mid to high-end level gaming. This ASUS ZenScreen MB16AMT offers a gaming environment throughout its functions.
First, it provides FHD IPS anti-glare screen, viewing angle, and fast response time in a video frame. Hence you can play games and render video editing smoothly.
Besides, you'll have a reasonable refresh rate of up to 60Hz, enough for gaming. The Eye Care technology will be a plus that protects your eyes using TUV Rhineland flicker-free and Bluelight filter mechanics.
Reasons To Buy
Compact and ultra-lightweight to take anywhere.
Ideal refresh rate and response time.
Brightness and contrast ratios are good enough.
Support gesture-based multi-touch and pen.
Integrated battery and speaker enhance productivity.
Easy to connect and use.
Accessible design and navigation panel.
Reasons To Avoid
You can't use Thunderbolt-3 and the charger simultaneously.
The foldable smart case it offers isn't so soft.
The sRGB colors look average or a bit dull.
We hope you got an overall idea in the ASUS ZenScreen MB16AMT review after analyzing the features, advantages, and drawbacks.
The comparison between its similar model form own and other brands also took place to make a better decision about the product.
If you've still any questions or queries about specific features, please feel free to contact us. Our team will help you out from it with a promising answer and solution. We're here to make your knowledge better.
---