Who wouldn't love to have a portable screen while on the go? That will also help to increase productivity by multitasking in your workspace.
Yes! The G-STORY made it possible with the GS156UR UHD portable monitor. No matter what's your job is.
You would need a compact and portable screen while traveling, playing games, or doing office work together.
Therefore, the GS156UR features a 15.6-inch travel monitor compatible with multiple gaming interfaces. Besides, its Type-C USB makes it more flexible and accessible for photos and videos.
In this G-STORY GS156UR Review article, we'll discuss its features, benefits, and drawbacks in detail from our personal user experience.
Our technical team uses a product and tries to write beyond what the manufacturer says about the product. So, without any ado, let's get started!
G-STORY GS156UR Portable Monitor
G-story monitors feature a light, portable, convenient design, and a patent exterior
GS156UR has a 15.6-inch ultra HD 4k display with a (2160p)3840×2160 resolution, 16:9 aspect ratio, and "1300:1" contrast ratio.
IPS technology ensures rich colors and picture quality on the G-STORY portable gaming monitor.
The FPS/FTS GamePlus function improves frame and color accuracy on this VESA-compatible portable monitor.
Advantages of G-STORY GS156UR Monitor
The GS156UR high-quality monitor offers excellent features one after another successively. So, in this G-STORY GS156UR review, We'll describe our experience of the features with their benefits and drawbacks(where applicable).
Here they're:
Compact and Portable Design
It lets you enjoy games and every moment at your desk or on the go. If you ask us about the G-STORY GS156UR monitor, we'd first say a few words about the design.
This g-story portable monitor features a light, portable, convenient, and patent exterior design. So, you can carry it from one place to another.
The GS156UR 15.6-inch portable LED display comes with 15.55×9.84×1.02 inches(LHW) compact dimensions and 5.59 pounds weight.
So, you can easily keep it on your pump-top while walking or delivering a presentation. Besides, it has a hard-wearing folio PU-leather cover that works as a monitor stand.
However, the quality of the edge could be a bit improved rather than making it a jazzy pattern. We personally didn't like that finish and polish.
Look and Feel
You've some buttons to control settings, brightness, balance, etc., at the right-back portion. It's pretty easy to use this display with the help of these control.
You'll find different patterns around the LED edge to provide a gaming monitor-like vibe, feel and look. We must say that its classic appearance makes it a perfect and professional gaming monitor.
Display Resolution & Graphics
This GS156UR model offers a 15.6-inch ultra HD 4k display resolution with a (2160p)3840×2160, 16:9, and "1300:1" contrast ratio.
Therefore, you'll get breathtaking display clarity and 4x times better lighting effects than Full HD. In this manner, it delivers realistic visuals and an excellent gaming experience.
FreeSync Function & FPS/FTS GamePlus Technology
Are you looking for smooth pictures? Here is another crucial technology FreeSync function from AMD. It eliminates tearing and stuttering of graphics.
The refresh rate is 60-hertz within 8-10ms response times. Thus, it improves your overall gaming experience with this G-story monitor.
Do you want more accurate graphics and colors in gaming mode? Worry no more! This VESA-compatible portable monitor is designed with the FPS/FTS GamePlus function for more frame and color accuracy.
You'll also find red toggleable crosshairs red in a bright place and yellow in the dark. So, you can target your enemy with less effort while playing games.
Here we also found some frame-related issues, especially while playing modern and end-end games. Still, you can overlook this tiny thing if you look at the other positive graphics and frame quality.
Eye Care HD IPS Technology
Is it screen perfect? This G-STORY portable gaming monitor runs an IPS screen that ensures rich colors and picture quality.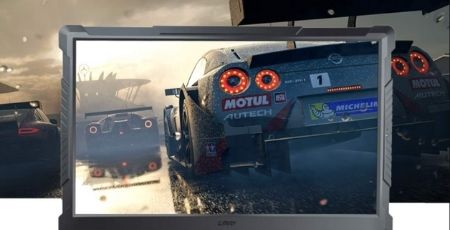 It also comes with a 178-degree viewing angle and perfect visuals from any angle. No matter what you're doing! Play games, watch movies, or work for your company.
Compatibility and Versatility
It's one of the best portable gaming monitor for versatility with plenty of USB connection port(s). Yes! This classic portable monitor comes with multi-platform compatibility ports such as HDMI, USB, and Type-C.
You can use a unit for your gaming environment compatible with computers, laptops, and smartphones. Alternatively, gaming platforms are playing Xbox One S/X, PS5, PS4, Nintendo Switch, Raspberry Pi, etc.
Remember one thing, you've to connect the power supply of this external monitor and device together to avoid(black screen) standby mode. We, personally like the area where you can go beyond the boundary.
Read Also Here- ASUS ZenScreen MB16AMT Review.
Usability & Accessibility
Unlike the earlier legacy portable monitors, the GS156UR is very straightforward and convenient to use. You'll find back buttons to control several function settings for that.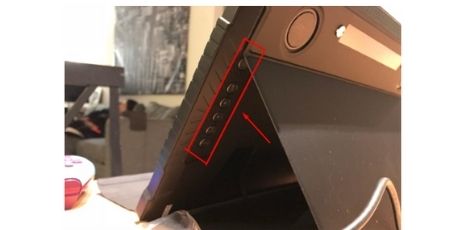 Plus, the remote controller is also pretty easy to navigate the menu when it's about usability, accessibility, or operability.
We tested the monitor back buttons and remote control by FIVE(5) non-technical people. They found almost similar user experience and usability likewise we did.
Audio Headset & Built-in Speakers
The G-STORY 15.6 Inch portable monitor features dual 3.5mm stereo headphone jacks(audio port), and you won't hear any interference in two/multiplayer mode.
Apart from that, it also offers built-in dual stereo speakers to enjoy the music behind visuals.
The sound quality and audio experience were good(mid-grade) but not that extraordinary. They are rear-facing so it's not pointed at you while you play.
We suggest using headset and external speakers to get better audio and music.
Read and find here- Best Portable Monitor for MacBook Pro.
G-STORY GS156UR Specifications
If you hate to read all the features of the product so, read the specifications and technical details. They'll give you a brief idea about the whole product.
Besides, you can read the pros and cons of knowing the advantages and disadvantages in short.
| | |
| --- | --- |
| Monitor Dimensions | : 15.55 x 9.84 x 1.02 inches |
| Portable Weight | : 5.59 pounds |
| Screen Size | : 15.6'' inches |
| Screen Resolution and Aspect ratio | : 2160P(3840X2160) and 16:9 |
| Contrast Ratio | : 1300:1 standard |
| Display Type | : IPS LED: UHD 4K display, Multiplatform |
| Visual Technology | : FreeSync Technology, FPS/FTS Game Plus Technology |
| Mounting Type | : VESA Mount |
| Device Compatible | : Multi-device: PS4, PS5, Xbox Series X/S, NS, Raspberry pi, Vesa, etc. |
| Available Ports | : Full-featured USB-C port (USB port), HDMI, and Type-C /USB-C and HDMI input ports |
| Refresh Rate | : 60-hertz with 8-10ms response time/refresh times |
| Audio System | : 2x Integrated Stereo Speakers, Dual 3.5mm stereo jack |
| Remote Batteries | : 2x AAA battery required (includes) |
| Package Included | : 1x Monitor, 1x Bracket, 1x Power Adapter, 1x Remote Control, 1x HDMI Cable, and 1x User Manual |
Pros and Cons of G-story GS156UR
These are another key decision-making factors telling you why you should buy the product or not. We pointed them out briefly instead of writing in detail.
Here are the pros and cons of the G-story GS156UR portable gaming monitor:
Reasons To Buy
Portable and compact shape.
Professional gaming monitor-like look.
Easy to use and navigate rear-menu and remote control.
Ultra HD display resolution IPS display.
FreeSync and FPS/FTS graphic technology.
Versatile with multiple platform compatibility.
Integrated dual speakers and headset port for sound and music.
Reasons To Avoid
The plastic edge pattern around the screen looks normal.
No screen rotation facility as a secondary monitor.
The speaker produces a comparatively lower sound.
Frequently Asked Question – FAQ
Does G-STORY GS156UR work with Xbox one x?
Yes, definitely. it works with Xbox one x and almost all the latest versions of it. As the G-STORY GS156UR is a platform-independent monitor to support other interfaces too like Xbox Series X/S, NS, Raspberry pi, PS3, PS4, PS5, Vesa, etc.
Read here another review of Asus Zenscreen MB16AHP Portable Monitor.
Does G-STORY GS156UR have a built-in speaker?
Yes, of course. It comes with integrated dual stereo speakers at the rear position to listen to clear audio.
However, as built-in speakers, they produce enough sound quality. Another cause could be its rear-mounted position.
Can I connect the G-STORY GS156UR monitor to an external battery?
You can connect the G-STORY GS156UR monitor to an external battery as it matches the power output.
However, we don't suggest doing that because there're some issues related to the external battery and overpowering.
Here- AOC I1601FWUX Review.
Does the G-STORY GS156UR monitor work with ps4 pro?
Yes, definitely it works. You can use PS4 with the G-STORY GS156UR portable gaming monitor. Besides, this display is also compatible with PS3, PS5, Xbox studio series X/S, NS, VESA, Raspberry pi, etc with multiple ports.
Does this work on a regular Xbox One? Also does this portable monitor support 720 or 1080p?
Yes, it supports. Because it's like a mini TV without an antenna. All you need to have is a regular HDMI to work fine with Xbox studio One. And when it's to the resolution albeit it supports 720p(half HD) and (HD)1080p.
Read also- AOC I1659FWUX Review.
Will this work with a usb-c gen 1 port? And Can this play media files from an external usb/sd?
Yes, this portable screen works with a USB-C port. Besides, it is compatible with mini HDMI and regular USB 2.0 interfaces. You can play the media files by connecting the USB-C port.
Read another portable review- ASUS MB168B Monitor.
Last Words of G-STORY GS156UR Review
So, if you're looking for a portable travel monitor for PS4, PS5, Xbox Series X/S, NS get this GS156UR one.
In this G-STORY GS156UR Review, We've tried to show the specifications and features with their benefits and drawbacks here. It's difficult to say that this is the best one we have ever reviewed.
However, except for some common issues, we found all the features pretty excellent and helpful. So, the decision is yours.
---