Successful photography needs more than just composition, light, settings, and skills since the final output image is post-processed & transmitted using a computer or a tablet with a display.
If the monitor's colors aren't calibrated correctly, the output won't be accurate, meaning the true and accurate colors won't be replicated when sharing or printing photographs.
It takes a lot to obtain a flawless photo; therefore, a miscalibrated display should not be a deterrent to generating a stunning image with accurate colors.
Monitors must be calibrated in order to have the correct colors, and there are a variety of colorimeters on the market, including Datacolor's SpyderX Pro.
In this Datacolor SpyderX Pro review, we'll go through a full overview of the Datacolor SpyderX Pro, including how to use it to calibrate displays and its advantages and disadvantages rapidly.
Using SpyderX, you can measure colors more accurately.

SpyderX Pro offers two calibration modes, One-click Calibration and Step-by-Step Assistant, and interactive help throughout the process.

Using SpyderX, you can calibrate multiple laptops and desktop monitors simultaneously and use the latest display technologies,

Integrated into SpyderX, you can measure the ambient light in your room throughout the day and adjust display brightness and contrast to your preferences.
Datacolor was created in 1970 and offers customers color management solutions for materials, goods, and pictures.
They assist customers in a variety of industries, including photography and design, textiles and apparel, paint and coatings, and many more, in delivering the correct color experience. Their goods are high-quality, quick, precise, and cost-effective.
One of Datacolor's products is the SpyderX Pro, a colorimeter that can be used to calibrate displays so they may be trusted for post-processing work.
SpyderX employs a brand-new lens-based color engine technology that improves color accurateness of screen color, shadow nuances, as well as white balance.
SpyderX Pro comes with easy-to-use software that contains basic and advanced calibration options, so you don't have to be an expert to calibrate your monitor.
Specifications Of Datacolor SpyderX Pro
| | |
| --- | --- |
| Compatible Devices | : Desktop |
| Brand | : Datacolor |
| Display Dimensions | : 4 x 3 inches |
| Unit Count | : 1.0 Count |
| Model Name | : SpyderX Pro |
| Package Type | : Standard Packaging |
| Dimensions | : (LxWxH)3 x 3 x 1.75 inches |
| Weight | : 0.634 ounces |
| Model number | : SXP100 |
| Batteries | : 1 Lithium ion batteries required. |
| Supported Languages | : English, French, Italian, German, Spanish, Russian, Japanese, Simplified Chinese, Traditional Chinese, Korean |
What Exactly is SpyderX Pro?
SpyderX Pro is a device that can accurately measure the color response of a display screen and build a color profile based on universal standards for use by the operating system and other color-controlled apps.
It's the result of years of study, and the technology is brand new, allowing for precise color measurement.
The lens-based color engine technology has great light sensitivity and powerful sensors, resulting in the perfect screen color and white balance, including shadow details after the monitor is calibrated.
You may undertake a fast color calibration or work on creating a customizedcolor profile using SpyderX Pro.
It includes features such as one-click calibration, step-by-step helper modes, and interactive guidance at every step of the calibration process.
Read and find here- Best Monitor Calibrator.
The SpyderX Pro comes up in a little box with the SpyderX sensor, that's also small, and a greeting card with reference to software downloads as well as warranty information inside.
It also has connections to an online demo, a user guide, and customer assistance.
The device comes with a lens cover and a USB connection for connecting to your laptop or desktop.The program will require a unique serial number for each unit to be activated.
Read here- Best Anti Glare Screen Protector For Computer Monitor.
Other Advantages Of Datacolor SpyderX Pro
Now that you have studied the specification of Datacolor SpyderX Proyet, there are some other benefits of using this which we have mentioned below so kindly have a look:
Quality of Construction and Handling
The SpyderX has a better construction than the Spyder5. Simply said, the quality of the material has improved, as has the polish, and the new glossy white provides the new gadget a fantastic appearance.
The edges have been softened ergonomically, and the gadget now appears a little trendier and up to current.
Initially, place the device on the desk to read the room's ambient light, then move it over to the monitor to read the illumination.
Colorimeters with Superior Technology
High light sensitivity and sophisticated sensors are used in groundbreaking lens-based color engine technology, resulting in substantially more exact screen color, white balance, and shadow depth.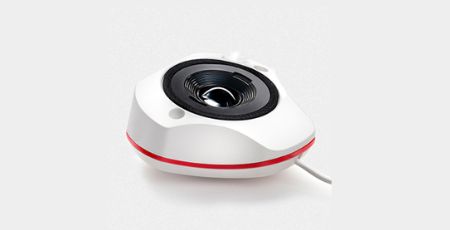 Software that is Easy to Use
Calibration with a single click and step-by-step helper modes, as well as interactive guidance at every stage
Support For Multiple Monitors
Calibrates several laptops and desktop monitors so you can be sure your colors are always accurate, regardless of whatever computer or display you're using.
Before and After of SpyderProof
You may compare your display colors before and after calibration and discover the details that matter the most with one-click capability.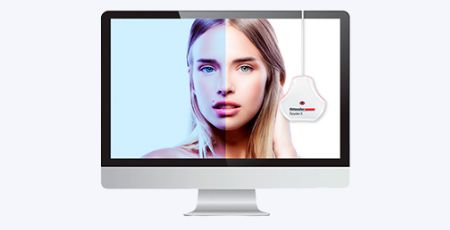 Controlling Room Lighting
Throughout the day, the embedded ambient light sensor monitors the light in your space, allowing you to change the brightness and contrast of your display to appropriate levels.
Monitor and Analyses Performance
You may use the display analysis option to discover more about the color, luminance, contrasting, spectrum, tonal responsiveness, as well as white point of your displays.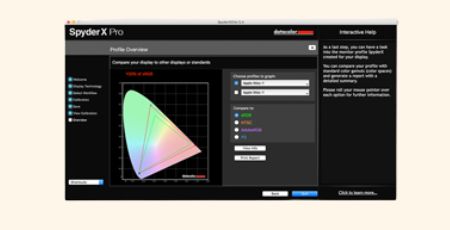 Compatibility
The SpyderX Pro Colorimeter is not compatible with the 14″ and 16″ 2021 MacBook Pro Liquid Retina XDR displays while being compatible with other screens and monitors.
Performance
This is where Datacolor SpyderX really shines. The program is well-organized, with on-screen instructions that are simple to follow.
The newest version of the program may be acquired by following the instructions provided in the box for initial setup.
After the download is complete, you may begin the installation procedure, which concludes with you inputting the serial number printed on the inside of the box, which you should keep safe.
In fact, if you misplace it or throw it away, you can always track out your serial number using your online account.
Read also here- Datacolor SpyderX Elite Review.
Compared Datacolor SpyderX Proto Others
We have compared the specifications of Datacolor SpyderX Pro with other entities; below are the findings of our research:
Product
SpyderX Device
Single Click & Wizard Calibration Capability
Single Click & Wizard Calibration Capability
✔
✔
Multiple Monitor Support
Multiple Monitor Support
✔
✔
Ambient Light Monitoring & Profile Switching
Ambient Light Monitoring & Profile Switching
✔
✔
Before and After Calibration Review
Before and After Calibration Review
✔
✔
Display Mapping & Analysis Tools
Display Mapping & Analysis Tools
Basic
Advanced
Calibration Setting Choices
Calibration Setting Choices
12
Unlimited
Expert Console Calibration
Expert Console Calibration
–
✔
Video & Cinema Calibration Targets
Video & Cinema Calibration Targets
–
✔
Soft Proof of Print Results
Soft Proof of Print Results
–
✔
Projector Calibration
Display Matching in Studio
Display Matching in Studio
–
✔
Visual Fine-Tuning for Side-by-Side Display Match
Visual Fine-Tuning for Side-by-Side Display Match
–
✔
User Experience of Datacolor SpyderX Pro
The SpyderX Pro is designed for professional photographers who wish to achieve precise color reproduction in their final images and control and maintain color correctness even when the ambient light changes.
It will also be handy for designers who want to manage their colors and have more control over them in their daily processes.
You may see the display gamut, which is your profile overview, once the display screen has been calibrated. You also have the option of selecting a color space to work with.
In our view and according to the generic User Experience of Datacolor SpyderX Pro, it is suggested to buy this product because it has several benefits for the users for taking good quality photographs.
Real Customer Reviews of Datacolor SpyderX Pro
There are several individuals who have purchased and reviewed the Brother PJ773. Many of them appear to be delighted with this printer, although there are those who have noticed issues with it.
One of the delighted consumers stated :
This product performed just as expected. It was simple to set up and adjust my laptop and desktop monitors. Despite the fact that the screens are different, the colors are comparable, if not identical.
On both PCs, the procedure took less than 5 minutes, and all I can say is that I'll never use an uncalibrated display again.
The hues were distinct enough that I noticed the change immediately away. This product is for folks who perform print or any sort of commercial work.
You'll probably be alright without this program if you mostly work with shoot-and-burn clients who merely want something for social media.
Alternately an Unhappy consumer stated that:
I was incredibly excited to have my screen calibrated for picture editing. Unfortunately, the SpyderX Pro colored the screen far too warmly; the "white" it landed on was cream-colored, and the brightness was reduced, making the screen darker overall.
I tried it a dozen times with various settings, lighting in various places, and anything else I could think of. I wasted three hours of my afternoon, and all I got was a yellow screen.
Evaluation of Datacolor SpyderX Pro
After going into a detailed review, it's time that we evaluate the overall performance of Datacolor SpyderX Pro.
The SpyderX Pro is one of those tools that is easy to use and works right away. Its purpose is to calibrate your monitor, and it succeeds. It's as simple as downloading the program, running all, and that's it.
It also has a frequent reminder, so you can stay on top of monitor calibration at all times. The fact that it now just takes a few minutes removes any justification for a lengthy lunch.
The ambient monitoring feature is also very useful since it assures that even if the light in your workplace changes, the SpyderX program will make the required adjustments.
The reality that the calibration works with multiple monitor configurations is also a huge plus. Monitor calibration is necessary if you're a serious photographer.
The brilliance of the SpyderX Pro technology is that calibration is only necessary once you've bought it. It will handle the rest once you've finished that and set it up.
The SpyderX Pro is a fine choice if you're a single-system photographer; but, if you have a multi-machine facility or other photographer who really need to use the calibrator, the Elite edition is a better alternative.
In overall, the SpyderX Pro is an excellent monitor calibrator. It's easy to use and ensures that your monitor's colors are always true.
For any photographer processing and improving their photographs at home, the SpyderX Pro is a must-have.
Reasons To Buy
Color engine technology based on lenses.
Increased light sensitivity and precision.
The software includes a step-by-step wizard and instructions.
Ambient light sensor built-in.
Profile maintenance is simple, and calibrations may be turned on and off quickly.
The SpyderX device's ambient light sensor monitors the room light during the day and uses the profile switching capability to change the brightness and contrast on your display to suitable levels.
Multiple computers and desktop displays can be calibrated.
Comparison of before and after using the SpyderProof feature.
12 calibration setting options, 12 display analysis as well, and mapping tools to let you examine the quality of your display.
Reasons To Avoid
According to what we've read about the SpyderX Pro in comparison to other devices available, the low light accuracy may lag behind other colorimeters with similar characteristics and prices.
According to some user input, it appears that the software cannot be upgraded for future display kinds.
What's the distinction between a Datacolor SpyderX Elite & a Datacolor SpyderX pro?
SpyderX Pro has two calibration modes: one-click calibration as well as step-by-step assistance. These modes, as well as an Expert Terminal mode with infinite calibration options, are included in SpyderX Elite.
When using SpyderX Pro, how do I calibrate my monitor?
In this section of Datacolor SpyderX Pro Review we will now see how do you calibrate your monitor?Select Desktop or Laptop and make sure the SpyderX is connected. Indicate if you were able to alter the brightness and/or color temperature of your display by entering the manufacturer and model.
The backlighting technique for your display can be selected.
Is SpyderX reliable?
SpyderX is an entirely new, more precise approach to measuring color, founded upon years of study. With increased light sensitivity and more sophisticated sensors, the breakthrough lens-based color engine technology provides substantially more exact screen color, white balance, and shadow detail.
Final words of Datacolor SpyderX Pro review
So this is all from us about the Datacolor SpyderX Pro review. The hues in the pictures seem richer, and the skin tones are natural after using the SpyderX Pro to calibrate the display.
We would suggest the SpyderX to anyone whose profession requires post-processing, as well as serious photographers who want to ensure that their final image has the correct colors.
Thank you for spending your precious time reading our Datacolor SpyderX Pro review.
---