Want to know more about Best Curved Gaming Monitor? The design is frameless; the response time is 1ms. AORUS CV27F is the best frameless Curved Gaming Monitor.
Here is a detailed analysis of this monitor in the AORUS CV27F Review, which will give you a clear idea about this monitor.
As AORUS continues like this, it will plant itself at the top of the gaming monitor market. The Gigabyte gaming division does not stop.
Today we review the AORUS CV27F, a monitor presented during Computex 2019 together with the KD25F. Its AD27QD also received the Computex d & I award, one of the best from the manufacturer.
In this case, we have a team that deserves another podium because its 27 inches with 1500D curvature offers us AMD FreeSync 2 HDR with no less than 165 Hz and 1 ms response.
An e-Sports gaming monitor that promises a lot, with a spectacular price of 370 euros, and that we will see immediately here,
But first, we must thank AORUS for temporarily providing us with this product for this analysis.
AORUS CV27F technical characteristics
AORUS CV27F 27″ Frameless Curved 1500R Gaming Monitor, FHD 1080p, 90% DCI-P3 Color Accurate VA Panel, 1ms 165 Hz

Among its main features, We find
Display Type: LED
Screen Size: 27 inches
Color: Black
Brightness: 400 nits
Aspect ratio:  16:9
Resolution: FHD 1080p
Refresh Rate: 165Hz
Response Time: 1ms
Weight: 13.82 lbs
Dimensions: 24.17 x 14.54 x 2.89 inches
Mounting Type: Wall Mount
 Viewing Angles: 178° wide 
AORUS CV27F Review about Unboxing
This AORUS CV27F has come to us in a spectacular rigid cardboard box completely painted in the distinctive colors of the brand, along with large photos of the product.
To open it, we recommend laying it out and carefully removing the double expanded polystyrene mold that stores all the monitor elements.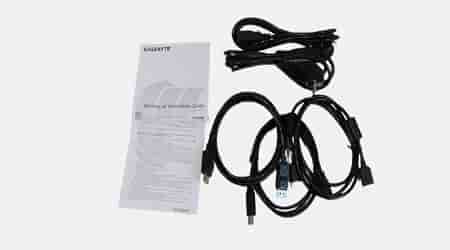 In this bundle, we will have the following elements:
AORUS CV27F Monitor
Metal foot
Support column
European and British type power cord
USB Type-B – Type-A cable for data connection
User manual
HDMI cable
DisplayPort cable
In this way, we have everything we need to connect the monitor to our equipment. We do not have an external power supply as it is included in the monitor itself.
Also, it comes completely disassembled into three pieces, so you have to do a little work.
Here Details About: MSI Optix MPG341CQR Review.
---
Design
Like all the elements taken abroad, the first thing we will do is analyze your foot a bit, taking advantage of the fact that we have it disassembled.
To mount the legs on the support arm, we will only have to couple the two elements together as seen in the image, turn, and then tighten the manual screw.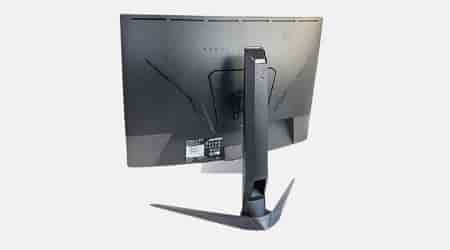 The legs have a relatively closed "V" configuration to ensure the stability of the assembly. It is designed so that it does not protrude at any time from the plane that the screen will occupy once mounted. 
They are completely metallic, with a gray anti-scratch paint coating.
With the mount mounted, we see that it is quite different from those mounted, for example, by the AD series. In this case, the design is much simpler, with fewer aggressive lines and no lighting.
It is also true that it takes up less space at the table, which is an important advantage. AORUS has had the detail of including a central hole to pass the connection cables, 3 in total.
The support offers a mounting system customized by the brand, where we only have to put the screen in the two upper tabs and snap it down with two clicks.
In any case, it is compatible with the VESA 100 x 100 mm standard, even with the screws pre-installed on the screen itself.
Once the monitor is mounted, we have an occupied depth space of about 26 cm, which is not enough for curvatures of 1500R and 27 inches.
Notice then that its curve is significantly tighter than usual due to the smaller radius used to compensate for not having a 21: 9 format, adjusting, in theory, to human vision.
The support system that has been used is somewhat more basic in mobility than, for example, the one used by the AD27QD since, for obvious reasons, it does not allow the screen to be rotated.
The positive aspect of this is that we found a much more stable monitor and resistance to swaying. Finally, we must look at the two elements on the support sides, which have lighting, and now a little later, we will see them activated.
Already located in the front area, we have a screen with very good anti-glare protection and practically non-existent frames.
At least the physical ones, since in the panel itself, we have a minimal presence of them with approximately 8 mm thick and about 22 mm at the bottom.
This design is geared towards gaming, to place up to three monitors on the battery, for example, for simulators and AAA.
The entire outer casing of the monitor is made of hard plastic of considerable thickness and quality.
This is seen as soon as you touch the monitor, in the same way, its finishes are very good in general, although it is true that it is much simpler than the KD and AD range equipment.
From somewhere you have to save to adjust the price, friends.
If we look at the lower area, we find the joystick for controlling the OSD panel of the AORUS CV27F there.
This situation identifies the brand and is very comfortable if we do not want to look away from the screen while interacting with the system.
It offers movement in the four planes of space and a button in the centre to confirm the modifications or turn the monitor on or off.
Here Details About: Wimaxit Portable Touch Monitor.
This monitor has a passive cooling system and an integrated power supply, so ease of use and silence will be absolute. We only have an average weight of 7 kg, so the set is quite easy to handle.
Ergonomics
After this brief external description of the AORUS CV27F, let's see what options we have in ergonomics.
In the first place, the clamping arm is hydraulic, and it will allow us a vertical movement of 130 mm, being able to place the monitor practically close to the ground or quite high in height.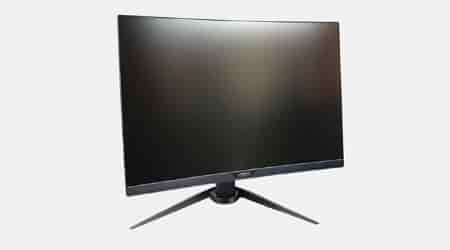 The next possible movement is the rotation on its Z-axis, that is, to the right or the left. The total range of motion will be 40 degrees, 20 ° to one side and another 20 ° to the other, easy.
Finally, we will have the possibility to rotate it on the X-axis or in orientation. We can do it upwards with up to 21 °, or downwards, with 5 °. 
The truth is that the monitor's capacity is not bad; we cannot complain about seeing the image badly.
Ports and Connections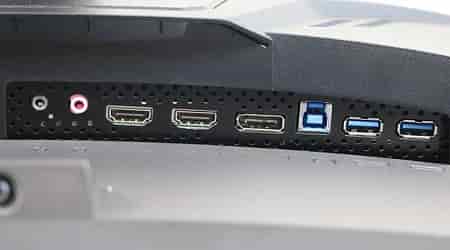 We now continue with the connection panel of the AORUS CV27F, which is located entirely in the lower area of ​​the monitor. The following is a list of Ports and connections in the AORUS CV27F Review
3-pin 230V power connector
2x HDMI 2.0
1x DisplayPort 1.2
2x Jack 3.5 mm audio and independent microphone
USB 3.0 Type-B
2x USB 3.0 Type-A
The monitor does not integrate speakers, but it does have the possibility of connecting sound peripherals.
In fact, we have a noise cancellation system (ANC) built into the monitor to be heard perfectly during games. This is geared towards competitive gaming and e-sports.
Both standards support Full HD resolution at the maximum 165 Hz that the monitor can reach regarding the video ports.
Similarly, both ports support AMD FreeSync 2 HDR, so we will not have any problems with their connectivity. I like using DisplayPort better.
Finally, a possible disadvantage that we have is that the USB ports are also located down here, so it is quite difficult to use them comfortably, for example, to put flash drives.
We will need to have the monitor connected via USB for these ports to work.
What is a Portable Monitor and What Does it Do? – Here.
---
RGB Fusion 2.0 Lighting
AORUS CV27F features RGB Fusion 2.0 lighting in the rear area of ​​the image panel. It is quite dim and inconspicuous, but there it is, for our use and enjoyment.
With the USB connection to our equipment, we can perfectly access the different customization options through the brand's software.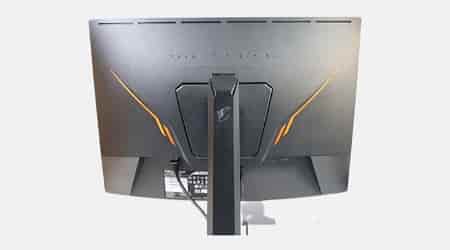 We will have a wide range of effects as always and fairly simple and intuitive management. The best of all is that we will not need to install any monitor driver since the program automatically detects it.
Screen and Features
We've come to the part of AORUS CV27F Review where we have to talk about everything this AORUS CV27F can bring us, and the truth is that it is a lot, as much as the AORUS AD27QD and other equipment that a priori are higher-end. You are going to be surprised.
This monitor has a very good quality 27-inch VA-type panel, as we will see later in the calibration. We used LED technology to illuminate the pixels that generate a native resolution of 1920x1080p in 16: 9 format.
With this size, we have a pixel pitch of 0.3114 × 0.3114 mm, which will be perfectly visible if we stand very close to the monitor.
Being a panel of this type, its contrast ratio is quite high, 3,000: 1, while the dynamic contrast is 12M: 1.
Best of all, we have HDR technology in place, with DisplayHDR 400 certification, thanks to that maximum brightness of 400 nits.
It's the lowest certification available, but at least we have one of them and not at an excellent level. Now let's go further and see the benefits we have from a gaming point of view.
The wise choice of this panel allows us a maximum refresh rate of 165 Hz, which is increasingly emerging as the favourite option for e-Sports.
We have 1 ms of MPRT (Moving Picture Response Time) response and AMD FreeSync 2 HDR technology, an evolution of traditional FreeSync.
And we already know that the monitor will be perfectly compatible with Nvidia G-Sync so that no user will have problems with image fluency.
We are in the colour section to know that this panel is 8 bits and offers a maximum of 16.7 million colours.
Similarly, AORUS ensures 90% in the DCI-P3 colour space, so we will comfortably exceed the sRGB space.
Nor do we forget its TÜV Low Blue Light certification, which reduces blue light to protect our eyesight. 
We do not have any Pantone or X-Rite certification, nor do we have a Delta E calibration that ensures a value less than 2. Relax, we will see all this now in a practical way.
But of course, we said that this panel had a lot of gaming technology behind it, so we are going to see all or almost all of them in this list:
AORUS Aim Stabiliser to reduce motion blur for sniper action and FPS games.
A dashboard that will monitor the properties and status of our CPU, GPU, and DPI of our mouse.
Black Equalizer is a dynamic black adjustment to lighten dark areas and improve vision in games.
GameAssist, a utility that allows you to place a minute hand on the screen for the time elapsed in the game. It also offers us an alignment system for multiscreen, and of course, the personalized crosshairs for the shutters.
Flicker-Free, this technology is practically in all gaming monitors to help eliminate flicker in the image and make the eyes less tiring.
ANC for noise cancellation in the microphone that we connect to the monitor.
As you can see, it is not bad at all, equaling and increasing the options regarding emblematic models and that today are still more expensive than this AORUS CV27F.
We can only review the monitor's viewing angles, which are, as always, 178 ° vertically and horizontally.
And in this case, it practically behaves like an IPS panel; there is hardly any distortion in colours or brightness, as we see in the captures made.
---
Color Testing and Calibration
We continue with the calibration section for this AORUS CV27F. We will see the colour characteristics of the monitor, evaluating the calibration available from the factory and the brightness capacity.
To do this, we are going to use the X-Rite Colormunki Display calorimeter together with the free HCFR software to monitor the colour characteristics.
We have kept the settings exactly as they came from the factory, with a standard image and 80% brightness.
Brightness and Contrast
For this case, we have activated HDR on the monitor, and we have set the brightness to the maximum so that we can see how far the panel is capable of reaching.
Similarly, we have created a 3 × 4 cell matrix to show the brightness uniformity of the panel.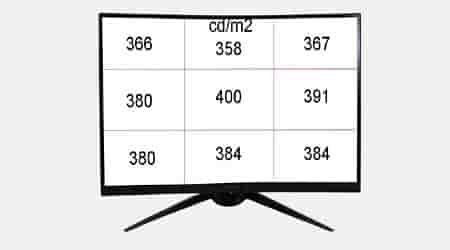 We see that the brightness level is very close to those 400 nits promised for HDR certification, although we have only reached them in the screen centre.
In any case, the delta is quite acceptable, and the uniformity is very good for a 27-inch curved panel.
The maximum contrast we have measured is 2721: 1, not reaching the 3000: 1 specified. It is a pretty good value, but it denotes that the benefits are not as successful and ample as those in the AORUS AD27QD.
SRGB Color Space
Despite not having a certified Delta E calibration, we see a very good value of 3.25 on average. But the most important thing is that the grey and black tones are very well achieved, to which the human eye is especially sensitive.
The quality that these panels are taking is getting better, as we saw in the spectacular Asus ROG Swift PG35VQ.
We also see a near-ideal fit in the luminance curve, RGB levels, and colour temperature, with a D65 point almost centred at the origin.
And here, we can see that we are effectively covering the entire triangle corresponding to the sRGB colour space, exceeding it in all its vertices and that it will be around 110%.
DCI-P3 Color Space
AORUS was betting on DCI-P3 in its specifications, and we must give it the complete reason. This AORUS CV27F has a Delta E = 1.78 calibration, which is simply superb and at the level of designer monitors.
It is almost identical to the Asus discussed in SDR mode, which we put very upward as a claim for designers.
And you can already see the rest of the graphs, with an almost perfect fit to what the program considers ideal or at least as a reference.
In the colour space, we also see that 90% is almost certainly fulfilled, with the two lower vertices centred on the origin and that we only require a better level of greens to achieve it.
A good panel on this monitor, AORUS is doing an excellent job on its latest models. It is also very interesting in feedback from users and the media to further improve its product.
In this case, they must be more than satisfied.
---
Use Experience
Multimedia and Cinema
Great quality in this area of ​​the monitor supports HDR content; with this, we already have almost everything we need to have a great movie experience.
Another point in its favour has curvature, to immerse ourselves more in what we see.
The only limitation in this aspect will be not having a 2K or 4K resolution, seeing the content in maximum resolution, and a 21: 9 format.
These are details that should not even contemplate in a monitor like this since we have other superior models.
Gaming
This is certainly your playground, with a ton of tech behind this 165Hz 1ms response VA panel. AORUS knows that a professional gamer wants a monitor that is not too big but big enough not to lose detail.
The result is these 27 inches, and also with added curvature. As we said during the analysis of the MSI Optix MPG27CQ2, manufacturers want to bet on this curvature so that it becomes the e-sport standard.
And the truth is that, with panels with the quality of this monitor, we have assured success. Very well-calibrated colours, and of course with next-gen AMD FreeSync under the hood. 
It almost mandatory equipment for a Gamer.
Design
Here too, the AORUS CV27F has a lot to say, as shown in our calibration tests. A colour space that is widely compared to sRGB and 90% DCI-P3 is a very good starting level, especially considering that it is not designed for that purpose.
Perhaps against it is having a somewhat more limited Full HD resolution or a fairly closed curvature that can be confusing when we work with plans and 3D figures.
---
OSD Panel and OSD Sidekick
We like the OSD panel that AORUS puts in its monitors, one of the most complete and versatile on the market. 
Of course, you should consider the possibility of managing the monitor properties from your Smartphone, just as MSI is doing on your computers.
This would give added value for the user and the interaction.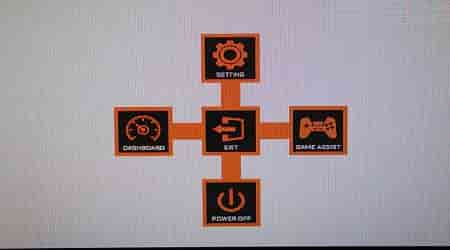 As quick menus, we will have four different ones, an image mode with 6 different profiles that we can configure to our liking, selection of the video input, configuration of the black equalizer, and finally, the volume for the audio output. Everything fast and intuitive.
Pressing the central button will bring up the functions menu that also has four available options.
In the left option, we will have all the options related to the Dashboard, where we can choose what information to show and were on the screen.
On the right, we will have the Game Assist to customize options for the monitor's gaming. Below we can turn off the monitor, and above we will remove the main OSD.
In this main panel, we will have 7 sections, although the PIP / PBP is deactivated for this monitor as it does not support this possibility.
For the rest, we find the typical image profile options with custom settings for each of them and other options such as lighting, black balance, HDR, AMD FreeSync, etc.
Sidekick is a complete OSD in the form of an application. We can create image profiles for every occasion and modify almost all the values that we have available in the original OSD. Options like the black equalizer, blue filter, anti-flicker, FreeSync, and Dashboard are some of these features.
We will customize each available image profile to leave them all to our liking and macros and hotkeys, and the configuration of the integrated ANC.
---
Final Words of AORUS CV27F Review 
At the end of the AORUS CV27F Review: If we talk about quality, AORUS is a manufacturer that is launching excellent gaming market monitors and some pretty good prices and attractive even for non – professional users.
In this case, we have a somewhat more conservative and basic design than the KD and AD range but never giving up RGB Fusion lighting on the back.
This VA panel gives us sensational features suitable for e-sports. And it is that its curvature 1500R, 165 Hz, 1ms, and AMD FreeSync 2 HDR is the package that a suitable gamer needs, of course in a Full HD resolution where current graphics cards can give the maximum FPS are LAG or obstacles.
It is also worth mentioning the technology pack that AORUS puts in its new models, the AORUS AD27QD opened the bottle of essences, and the rest of the models are still becoming almost a standard in the brand.
We have the helpful Game Assist, Aim Stabiliser, Flicker Free, and a Dashboard to control our hardware well.
The factory calibration has also left us an excellent experience, with a really good Delta E in DCI-P3 and sRGB fulfilling the full-colour space and 90% in DCI-P3.
We would almost speak of a monitor suitable for design if it weren't for its limited resolution and lack of certification.
We finish with the price of this AORUS CV27F, which today stands at an attractive price, which is not bad for everything it offers us.
In my opinion, it will be an excellent buy with permission of the AD27QD, ideal for e-sports and players who want something cheap and on the same level as much more expensive equipment.
Advantage
The complete gaming E-sports pack.
Full Aorus tactical features
Great calibration of your panel goes.
Quality/Price ratio.
Elegant design and good construction. 
Disadvantages
Its price
HDR is really discreet
---
Read Also: Best 4K Monitor for Programming