Want to know everything about a Best Esports Monitor? AORUS KD25F is a Frameless Esports Grade Gaming Monitor.
This monitor is discussed in detail in our AORUS KD25F Review, which will give you a detailed idea about this monitor.
Finally, it came to us; the AORUS KD25F gaming monitor was a reality at the Computex 2019 event in which we were.
This monitor is built for gaming, offering spectacular speed performance, with a 240 Hz refresh rate with FreeSync and just 0.5 ms response on a TN panel with good color space. And what about the design? Minimal frames, RGB lighting, and an impressive stand base.
We will see all this in our review, but not before thanking AORUS for their trust in us and for the temporary transfer of the product to carry out this in-depth analysis.
AORUS KD25F technical characteristics
AORUS KD25F Best Esports Monitor

Among its main features, We find
Display Type: LED
Screen Size: 25 inches
Color: Black
Brightness: 400 nits
Aspect ratio:  16:9
Resolution: FHD 1080p
Refresh Rate: 240Hz
Response Time: 0. 5ms
Weight: 10.14 lbs
Dimensions: 21.97 x 13.11 x 2.48 inches
Mounting Type: Wall Mount
Hardware Interface: DisplayPort, HDMI, USB 3.0
AORUS KD25F Review about Unboxing
AORUS always accustoms us to giving us impressive presentations, and this case is no exception. We have a monitor inside a suitcase-type cardboard box inside another neutral cardboard box.
This main case is fully printed in the brand's gray and black colors, along with two huge front and back pictures of the monitor showing all its external design features.
Inside, we find a monitor disassembled into three pieces, the base, the support arm, and the monitor, along with a lot of accessories in the form of cables.
But the main elements such as stand and monitor are neatly packaged in a sandwich of two giant expanded polystyrene corks that keep it safe.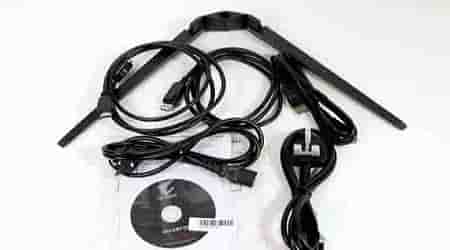 Evaluating accessories and components, we have a bundle with the following:
AORUS KD25F monitor
VESA support arm 100 × 100 mm
Legs
HDMI cable
DisplayPort cable
USB Type-B – Type-A data cable
European and British power connectors
User manual
CD with drivers
And it would be, everything we have, we can mount it just using a screwdriver. The bundle is complete, and we don't need any extra cables to start using this AORUS KD25F.
Mount and stand design
In AORUS KD25F Review, we will now discuss the mount and stand design of this monitor. And as we have already advanced, we will have to dedicate a few seconds to DIY and assemble this monitor.
We start by looking at the legs, which are an element of built-in solid metal with a distribution of two V legs of approximately 120 degrees of opening. We have a star / flat head screw in the central area to fix it to the support arm.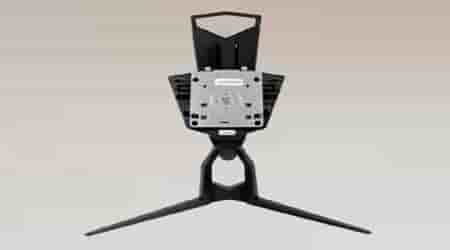 This arm is also made practically entirely of metal, except for certain beautification elements in the rear and support area.
Be very careful when handling it because the vertical movement system is hydraulic, and you already know that without weight, it will always tend to go up with great force.
Initially, it comes with a plastic brake to keep it in a low position to fit into the cork mold. Do not remove this brake until you have the monitor installed.
Looking closely at the anchoring system, we see a variant of the standard VESA 100 x 100 mm. 
Following the manufacturer's product line, mounting the AORUS KD25F monitor on the bracket will be as easy as hooking the two upper tabs on the bracket and then attaching it to the two locks below.
In the back area, there is a button to uninstall the monitor again if we wish.
Let's finally look at the four-pin connector below; you will understand then that the arm has built-in RGB lighting.
This lighting is located at the rear, right on the falcon's AOURS logo, and on the two sides just below. You will see later the impressive result.
And right from the start, the support has very aggressive and sharp lines, in my opinion, one of the most beautiful that we can find in the gaming monitor market.
It takes up a lot of space, yes, but the result and ergonomics are magnificent. In the upper part, we have the corresponding handle to transport the equipment from the place.
And elements in glossy black plastic that give it a refined and highly worked appearance.
Monitor design and measurements
After making the "titanic" effort to mount AORUS KD25F, we have this result that we see in the photo. 
A relatively small monitor in extension due to its 24.5 inches and a fairly large stand. It's the same size as the 27-inch AD27QD. I see it as a success due to its high quality.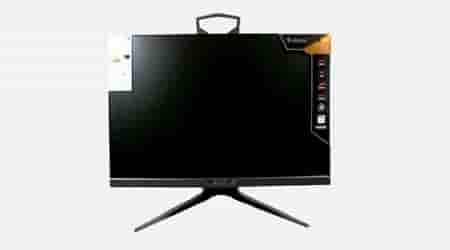 Around the panel, we have the typical informative feature stickers. We do not see it necessary to stop at them because we will see them in their corresponding section.
The energy category is type B; we already know that TN panels consume a lot of energy. In this case, about 46 Wh in normal mode and a maximum of 60W according to the manufacturer.
Without a doubt, the most remarkable thing about this panel is its excellent anti-glare finish, completely blurring them, and also the very small frames that we have.
The entire casing is made of hard plastic, and on the sides and top, these frames are practically non-existent, although, of course, later we will see that the screen itself has little ones.
The only one larger is the lower one, which barely exceeds 20 mm thick. But a very interesting detail of the AORUS KD25F logo area is that a microphone is also included; we will notice it by the small hole installed in the central part.
And that we will later verify due to a Jack connector on the back. It would have been exciting to also have a webcam to close the loop.
Let's review the measurements of this monitor to see the useful surface that we have in hand. The mink area is 573.7 x 302.6mm, while the monitor area is 558 x 333mm.
Doing some small area calculations, we will have a useful surface of 93.4%, which is simply spectacular—a great job from AORUS.
Ergonomics
The monitor support arm consists of a ball joint capable of moving the monitor in the three directions of space thanks to incorporating the ability to rotate in a clockwise direction.
In this way, we can place the monitor vertically in the reading configuration.
In addition to this, it is possible to configure its height using the hydraulic articulation of the main support.
It supports a range of no less than 130 mm, from the lowest position almost touching the ground and occupying a space of 485 mm to the highest position, occupying 548 mm.
We can also orient it on the Y-axis (from the front) at an angle of + 21 ° (up) and -5 ° (down).
Finally, it is possible to move it concerning the Z-axis in lateral orientation at an angle of 20 ° to the right or the left. If someone does not see the perfect image and their liking, they do not want to since they have options.
And the support system is still as good as in the previous model since it does not cause any wobble when we hit or move the table, facilitating image quality.
Also, we must consider that it is a small monitor, thus reducing the vertical forces due to the weight, which is about 6.8 Kg.
Connectivity
In the AORUS KD25F review, we now turn to see the connectivity, which has not changed too much compared to other previous models, and it is complete. 
It will be entirely located at the back, which on the one hand is good because it does not leave anything given to the user, but on the other hand, it isn't good since the USB ports are a bit out of hand.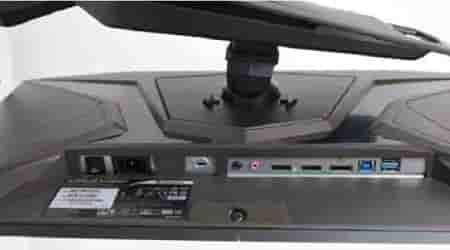 In total, we will have the following ports:
2x USB 3.1 Gen1 Type-A
USB 3.1 Gen1 Type-B (for data and configuration)
1x Display Port 1.2
2x HDMI 2.0
2x 3.5mm Mini Jacks for headphone and microphone
Kensington slot for universal lock
Three-pin 230V power connector
Button for off and on
Not bad at all, right? You will already know that we will have to connect the USB-B if we want to use the normal USB ports to connect flash drives and manage the lighting through RGB Fusion and the configuration through OSD Sidekick.
It is also important to know that both the HDMI port and the Display Port will support connections at Full HD resolution and 240 Hz to choose the interface that we deem appropriate. Remember to choose the ADM FreeSync option in the OSD menu and 240 Hz to take advantage of them.
And finally, realize that we have the power supply inserted inside the monitor itself and a button to disconnect it completely. 
Perhaps it would have been interesting to have the two USBs in the lateral area more at the user's hand.
Lighting system
AORUS KD25F has a complete lighting system with RGB Fusion technology that can manage directly from the integrated OSD panel or through the Gigabyte RGB Fusion software.
We can install it with the CD-ROM or download it from the support section of the monitor file on the website.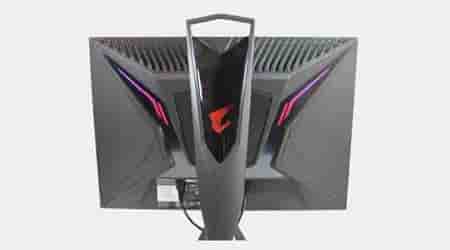 We have a total of three lighting zones, one integrated into the screen and another two integrated into the support arm. We will have the possibility to choose between a few animations or fixed color settings.
We must consider that the power of this lighting will not be enough to illuminate the wall that we have behind the monitor, so we do not expect to create a high-power ambient frame.
Screen and features
It is already good of so much design, so now it is time to analyze the most important, the performance of the AORUS KD25F screen and its image quality.
Well, you know that we are facing a 24.5-inch panel capable of offering us a Full HD native resolution (1920 × 1080 pixels).
We also know that the usable area is 93%, and we add that the pixel size is 0.283 x 0.280 mm, or what is the same, 90 pixels per inch.
The panel is made of TN technology with a WLED lamp for lighting, the most used for E-Sports gaming monitors, as is the case.
The reason? It can offer a refresh rate of 240 Hz with AMD FreeSync technology for dynamic refreshment and a response speed of no less than 0.5 ms MPRT (Moving Picture Response Time), one of the fastest on the market.
Regarding the panel's capabilities in image quality, the manufacturer ensures an ANSI contrast ratio of 1000: 1 and a maximum brightness of 400 nits.
Of course, we must know that the capacity for HDR, inherent properties of IPS panels in general, is not certified.
But we do have solutions such as anti-flicker technology (Flicker-free) and, of course, a blue light filter with TÜV Rheinland certification to protect our eyes from hours of use.
Finally, the color space where this AORUS KD25F works is 100% sRGB.
Looking at the images, we can already notice that the viewing angles are not comparable to those of an IPS panel; it is one of TN technology's disadvantages.
AORUS provides information from a maximum angle of 160 degrees vertically and 170 degrees horizontally.
Although it is true that even at these angles, the image is acceptable, the chromatic variation occurs well before reaching them, especially in the vertical, with the whites increased a lot upwards and the blacks increased a lot downwards.
Also, we will have the typical AORUS monitor technologies such as PiP (picture in picture) and PbP (picture by picture) mode to see different video sources simultaneously.
We can do the same with the audio, selecting either the main audio or the second output. And we must not forget the gaming-oriented solutions that the manufacturer classifies as tactics:
AORUS Aim Stabilicer – Reduces motion blur for sniper action and FPS games.
Panel or Dashboard: which will monitor the properties and status of our CPU, GPU, and DPI of our mouse, as long as we have the USB-B connector installed and the driver installed.
Dynamic black adjustment: to brighten dark areas and improve vision in games
Game Assist: a utility that allows you to place a minute hand on the screen for the elapsed time and an advanced adjustment in the position of the image.
OSD Sidekick: the software that extends the monitor's image-oriented properties for games.
Color testing and calibration
We will analyze the characteristics of the AORUS KD25F TN panel to verify its basic characteristics and its calibration.
For this, we will use the X-Rite certified Colormunki Display colourimeter and the HCFR software with its internal colour palette.
Likewise, we will verify these properties with the sRGB colour space and also DCI-P3.
Contrast and maximum brightness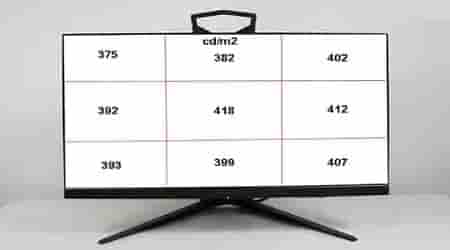 The first characteristic measured is the brightness and contrast of the monitor in practice. Remember, in theory, we had 400 nits (cd / m 2 ) of brightness and a contrast of 1000: 1. In our captures and at the maximum brightness capacity, we have obtained a contrast of 919: 1 ANSI, and a maximum of 418 nits, and a minimum of 375.
The truth is that the brightness distribution on the panel is not bad, we have a maximum delta of 43 nits, and in all cases, we are very close to the promised 400 nits, yes, without reaching or exceeding them in the left zone.
SRGB color space
AORUS KD25F has a 100% sRGB color space , it is time to check if it is fully met.
Delta-E calibration
We indicate that at no time does the manufacturer specify a certified DeltaE> 2 calibrations, so we must be flexible; it is also a TN panel.
And what we see is quite positive because most of the values ​​stay very close to the value of 3, considered the threshold at which the human eye can distinguish between color tones.
The delta level in gray colors to which the human eye is much more sensitive does not exceed 4.5, so we can say that the calibration is quite good, at least in the sRGB color palette.
Color levels and curves
It is turning to check the color curves for this space. Let us remember once again that the dashed lines of the graphs are the ideal reference, while the continuous lines are those thrown by the monitor.
In all the graphs, we see a common tendency to have very light blacks, so to speak, this is also a characteristic of TN panels, and it is not solvable.
Note that there is a greater deviation of the curves in all these graphs concerning the reference and always at a higher level of darkness.
As soon as we get closer to the whites, the matter better enough, having graphics practically perfectly adjusted to the reference.
If we move to the DIE diagram of the sRGB color space, we observe a slight shift to the right, leading to a red and green reference color different from that of the palette.
If we ignore this shift, we would be practically 100% compliant with sRGB.
DCI-P3 color space
We must understand that AORUS KD25F will not meet this color space, much wider than sRGB. But, being oriented to video editing and design, let's see what measurements we get.
And the truth is that, first, the DeltaE calibration for this color palette is very good, even better than in sRGB. And ignoring a smaller color space, we also see that the black adjustment is of better quality in this space, which coincides with a better adjustment in the graphs obtained.
So we can determine that the color fidelity of this TN panel is even better than we expected. It is a great leap in quality improvement for a panel that is entirely geared towards gaming and e-Sports.
Calibration
We have not resisted performing a calibration with our colourimeter to achieve a slightly warmer colour setting with better contrast.
Let's see how this translates in terms of colour checking in the sRGB palette.
Luckily, we see interesting improvements in almost all the colours compared. For example, the grey palette has now improved to values ​​close to 3 instead of the 4.4 that we had initially.
USE experience
As it could not be otherwise, in a review, we must tell our experience of using this AORUS KD25F, and as always, we can divide it into several sections.
Games
It is undoubtedly a monitor aimed at use in e-Sport, or better known as competitive games, in which the most important thing is pure speed and the low latency of all our hardware.
In this monitor, of course, all this is not going to be a problem since that 0.5 ms of response and 240 Hz far exceed the reaction speed of our sight or body.
The human eye is not able to differentiate 144 or 240 Hz, but our graphics card can. And to achieve those impressive refresh rates, we will need a high-end card like the Nvidia RTX 2080 or similar.
The experience will be perfect if we seek that performance. But if we are looking for high quality in the textures, enjoy the RPG calmly, and the graphic quality, it is better to go to something more "normal" and with a 2K or 4K resolution. AORUS KD25F is for racing, not riding in the field.
Films
In this case, we can extend what has been said above. It is not a monitor aimed at watching movies. We can do it, but in 24.5 inches, we will not get the maximum quality from a 4K movie, for example.
Also, the viewing angles are limited, and we do not have support for HDR either, although we do have quite a few image modes and about 400 nits of brightness that may well provide us with a good multimedia experience.
Design
A TN panel is not technically conceived to carry out content creation or graphic design work for the simple fact of not having 100% true to life colours.
However, we have seen that in the calibration process, the DeltaE levels are quite good and show colours quite faithful to the reference palette.
So the biggest handicap we see here is having a small diagonal, 24.5 inches, and a full HD resolution that limits the size of the work desk for UHD textures.
OSD panel and Sidekick
This AORUS KD25F does not disappoint in this regard and incorporates an OSD panel as complete as, for example, the AD27QD, and without a doubt, one of the best that we can find in current gaming monitors. 
The control is carried out entirely by a joystick located in the lower area of ​​the screen and right in the centre, with very manageable and convenient access.
In the first place, we will have a total of four quick menus that will act with the four directions of space. These menus will be the following:
Selecting the picture mode from a large number of preset colour settings
Black equalizer to set overexposure in excessively dark games
Headphone out the audio volume, as we don't have built-in speakers
Video input selection, between HDMI and DisplayPort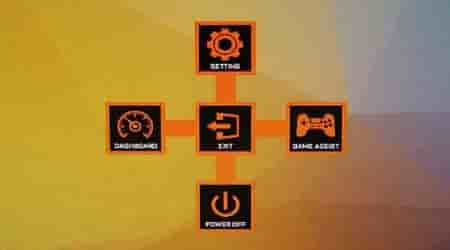 And with a simple press, we will take out the access graph to the different functions. We will have a total of four accesses in the four directions of space; only by orienting the controller towards the side in question we will access the options.
Again, in these four directions, we will have:
Up: in the main menu of monitor settings
Down: turn off the monitor
Left: activation and configuration of the Dashboard or monitoring panel of our basic hardware
Right: Game Assist menu that configures an advanced interface for when we are playing, align the image, activate a timer, crosshairs, and other options.
And after a good while browsing, we come to the main menu with a total of 6 sections and a list of upper options that shows us the status of the main tactical characteristics of the monitor.
From this panel, we can configure everything related to the monitor hardware, such as AMD FreeSync, gaming technology, output performance, colour balance and brightness, and the backlighting with RGB Fusion technology monitor.
Regarding the OSD Sidekick program, we will not stop seeing its configuration since it is the same as what we saw in the AORUS AD27QD monitor. We have a series of sections corresponding to the image modes for different uses. Within each one, several configuration options to customize the output and performance of the monitor.
The same happens with the RGB Fusion software; the use is the same; download, install and make sure that we always have the monitor connected to the USB port of our motherboard to manage it.
Final words and conclusion about AORUS KD25F
We hope this review has been productive and long, but we are already at the end. AORUS KD25F is an impressive machine built by and for video games, as reflected by its Full HD TN panel with 240 Hz and 0.5 ms response. Complaining about lag and jerky image on this monitor is not an option, and we also have AMD FreeSync compatible with G-Sync, as it should be in an e-Sport.
In terms of design, we see that it is at the level of the best of the brand; I see it very successful in having that beautiful and aggressive metal support that extends the rear RGB lighting of the monitor—also providing it with complete ergonomics in height, rotation and orientation. We add a functional surface greater than 93%, with almost Smartphone frames and a built-in microphone.
The implemented gaming solutions are also a great claim; elements such as GameAssist, black equalizer or the hardware Dashboard are interesting solutions incorporated in the AD27QD and that, luckily, we also have here. And what about one of the complete OSD menus on the market? Well, that same huge amount of options and functions, also extendable with OSD Sidekick.
About the calibration, I must admit that it is better than expected for a TN panel. Far are those excessively saturated colours because it has a good factory calibration and good colour fidelity in the sRGB and DCI-P3 palettes, although with a slight displacement in the sRGB space that does not enforce it at 100%. Brightness and contrast also mark practically what was promised, although a little extra would not hurt without exceeding the theoretical level.
Finally, it is a monitor oriented to e-sports, for users who do not seek UHD texture quality and a large screen to immerse themselves in, but pure performance and speed with gaming technology. We will find AORUS KD25F on the market for a reasonable price, one of the first to have a 0.5 ms response.
Advantage
240HZ PANEL + AMD FREESYNC AND 0.5MS RESPONSE
SPECTACULAR DESIGN AND MINIMUM FRAMES
 OUTSTANDING OSD PANEL
SURPRISINGLY GOOD CALIBRATION
RECOMMENDED FOR E-SPORTS AND COMPETITIVE
PERFECT ERGONOMICS
Disadvantages
TYPICAL LIMITATIONS OF A TN PANEL: BLACKS AND VIEWING ANGLE
A BETTER LOCATION OF THE USB PORTS
---
Read Also: Best Monitor – Reviews and Buying Guide.