Datacolor SpyderX Elite review: When you operate in a visual industry, you have to rely on monitors heavily these days, from field acquisition through post-production and, finally, display.
You have to understand that there is only so far that you can go in the field to ensure that your on-camera monitor is adjusted; thus, you accept those limits.
And you can't go to everyone's computer or display to make sure their monitor is set up right before they see your productions.
Whether you're just getting started to set up or have been at it for a while, you'll probably start playing your video content on a variety of displays at some point, switching back and forward between reworking the monitors and fine-tuning the color and contrast of your image.
This brings up the need for products like Datacolor SpyderX. You might have never calibrated images before. As a result, this is the opportunity to work with the New SpyderX.
Datacolor SpyderX Elite Monitor Calibrator
The ability to calibrate using a single click and a wizard.
Compatible with multiple monitors.
Monitoring ambient light & switching between profiles.
Calibration before and after using more than one monitor.
Flexible calibration settings.
Precision console calibration.
Analyzing and mapping advanced displays.
SpyderX Elite is a color management system for experienced and professional photographers and motion image-makers that want complete control over their process.
A groundbreaking lens-based color engine improves color accuracy for various monitors. The SpyderX Elite display calibrator is the first Spyder device to have a lens-based color engine.
SpyderX Elite has improved shadow detail, screen color, and white balance, as well as room-light monitoring and automated profile switching.
This product ensures compatibility with the most modern screen types, resolutions, and gamuts. Photographers can be certain that what they see on screen is the most accurate depiction of the image they made and the print they'll receive with SpyderX Elite.
SpyderX Elite satisfies these requirements by providing the most comprehensive color calibration choices available, including pictures, video, and prepress standards, as well as extra options for matching and adjusting numerous displays and projectors.
To be really convinced that their work conveys their vision, photographers require the finest degree of precision on-screen.
It provides photographers with the highest level of assurance and professional control over their creative vision.
Specifications Of Datacolor SpyderX Elite
SB Support
: USB 1.1, USB 2.X, and USB 3.X
: USB Type-A Plug, also Compatible with USB Type-A-to-C Adapters for Use in USB Type-C Ports
System Requirements
: Windows 7 (32- or 64-Bit) and Later
: Mac OS X 10.10 and Later

1280 x 768 Monitor Resolution or Larger
16-Bit Video Card (24-Bit Recommended)
1 GB of RAM
500 MB of Available Disk Space
Internet Connection for Software Download
Language Support
: English, French, Italian, German, Spanish, Russian, Japanese, Simplified Chinese, Traditional Chinese, Korean
Dimensions
: Colorimeter: 3 x 3 x 1.75″ / 7.6 x 7.6 x 4.5 cm
Weight
: Colorimeter: 5.6 oz / 159 g
Other Advantages Of Datacolor SpyderX Elite
Considering the many advantages of Datacolor SpyderX Elite, we will be sharing each of the features below to explain them better.
Performance
Installing SpyderX's relevant software from the URL on the supplied instruction card and providing the serial code printed on the inside of the product box is all it takes to get it up and running.
If you want to go all-in and modify every possible calibration parameter, there's also a full-on Expert Console. The tool is well-suited to users of all skill levels.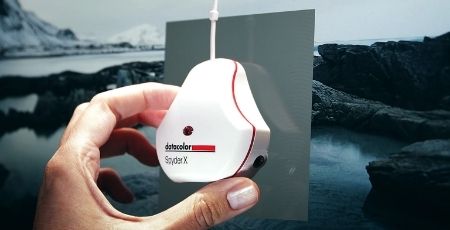 The application manages to combine comprehensive capability and capabilities with plenty of concise overviews and a logical file calibration procedure, even if the interface style is starting to appear a little antiquated.
Although this isn't entirely a bad thing, the calibration software is nearly identical to that of the previous Spyder5 Elite.
Countless Calibration Options
SpyderX Elite offers the most comprehensive set of calibration choices, including pictures, video, prepress, and scientific standards.
You can ensure that all of your displays are always exactly as you need them with an endless number of calibration options.
Analyze Performance Monitoring
It's crucial to understand how your displays perform while working on color-sensitive projects. You can better comprehend the brightness, contrast, gamut, color, tone response, white point, and color accuracy.
The screen brightness and color uniformity of your displays are also adjustable using the SpyderX Elite Display Analysis function.
User-Friendliness
A thorough calibration and a ReCal are two different things. The entire calibration process is quick–in fact, we are happy to report that this is the fastest Spyder we have ever dealt with, and it lives up to the company's boasts.
During the calibration process, you'll be asked to modify items like the display's brightness. To do a calibration, the brightness must be at the level that Datacolor considers optimum.
The Datacolor SpyderX Elite will then calibrate, and you'll be able to see what it accomplished by switching between the uncalibrated and calibrated variants. The display becomes warm and green when you use Datacolor.
Monitoring the Light in the Room
Spyderco has an embedded ambient light sensor that can assess the light in your room throughout the day, allowing you to change the brightness and contrast of your display to optimal settings.
SpyderX Elite comes with five different ambient light settings. The program may either notify you that you need to readjust or do it automatically utilizing preset profiles based on light levels.
Insightful Analysis
The SpyderX Elite is a safe pick to acquire as your first colorimeter if you're an artist or designer. It examines your Adobe RGB output in a flash, and there's a new Before and After feature that lets you compare how a picture looks under different display settings.
If you're only calibrating as part of your workflow and the Elite isn't your first monitor calibrator, you're not losing out on anything.
Photographers, as well as those who operate primarily in print, will benefit from the model's additional advantages.
Ergonomics
When it comes to ergonomics, the SpyderX Elite is largely the same device that many of us are used to.
Although it no longer resembles a spider, the lengthy cable serves to give the impression that it is linked to a silk thread.
This sensor/lens may be found when you open the SpyderX Elite. The lens is a novel addition to the design, and it helps with accuracy and quickness, in our view.
Enhanced Upgrades
You'll notice that the SpyderX Elite feels comparable to many of the prior versions when you handle it. In fact, in a blind test, you probably wouldn't be able to understand the difference between SpyderX Elite and the older Datacolor Spyder5.
Colorimeter Technology That Is Superior
Spyderco is an entirely new, more precise approach to measuring color based on years of study. Because the innovative lens-based color engine technology has stronger light sensitivity, you can get much more screen colors, white balance, and shadow details.
Calibrate Monitors
SpyderX supports the newest display technologies and allows you to calibrate numerous laptops, desktop monitors, and front projectors, so you can be certain that your colors are always correct no matter what equipment you're using.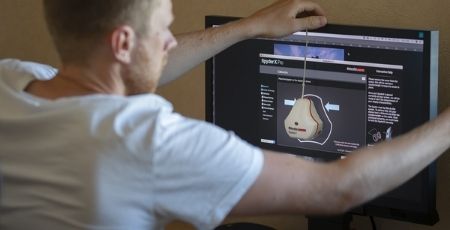 Software That Is Easy To Use
SpyderX provides simple solutions, whether you need a rapid calibration or a customized color profile. It has Step-by-Step Assistant modes, One-Click Calibration, and Expert Console modes, all of which include interactive support.
Compared To Other Products
| | | | |
| --- | --- | --- | --- |
| Feature | SpyderX Pro | SpyderX Elite | Feature Description |
| SpyderX Device | ✓ | ✓ | Colorimeter with the NEW lens-based color engine for fast and accurate calibration |
| Single Click & Wizard Calibration Capability | ✓ | ✓ | Fast & Easy Calibration Modes |
| Multiple Monitor Support | ✓ | ✓ | Supports Calibration of Multiple Displays |
| Ambient Light Monitoring & Profile Switching | ✓ | ✓ | Can Adjust for Room Light Changes |
| Before and After Calibration Review | ✓ | ✓ | Shows before & after comparison of display calibration |
| Display Mapping & Analysis Tools | Basic | Advanced | Offers tools to check the quality of your display |
| Calibration Setting Choices | 12 | Unlimited | Calibration options (combinations of gamma, white point, and brightness) |
| Expert Console Calibration | | ✓ | All-in-one calibration control panel |
| Video & Cinema Calibration Targets | | ✓ | Calibration Targets for Motion Work |
| Soft Proof of Print Results | | ✓ | Soft proofing with print output preview |
| Projector Calibration | | ✓ | Calibrates digital projectors |
| Display Matching in Studio | | ✓ | Defines a studio standard for all displays to be matched (StudioMatch) |
| Visual Fine-Tuning for Side-by-Side Display Match | | ✓ | Precisely tune side-by-side displays. |
User Experience Of Datacolor SpyderX Elite
We managed to test the product by ourselves. We installed the program, connected in the SpyderX, and read the directions to get started.
Except for selecting the initial brightness, there are no knobs or menu options to play around with. Adjusting the brightness on my Mac was the only "tough" portion of the whole procedure.
We are using a 2013 27-inch iMac running Mojave. The entire calibration took less than 90 seconds, including entering the system options and changing the brightness slider.
We have calibrated the monitor a few times, generally with the lights on, so the program defaults to a brightness of 200, despite the fact that 120 is the suggested setting.
We did keep track of the time. That was all; the software generated an ICC profile, installed it in Mac's system, and chose it. We were ready to go.
The Dialog boxes are really useful, and you may adjust a range of settings, like the gamma, white point, and brightness of your display.
Real Customer Reviews of Datacolor SpyderX Elite
We have found a lot of useful user experiences and reviews about the SpyderX elite over the web. There are mixed reviews, and they all share different opinions about this product.
"Because of the Spyder software, my calibration was awful. After reading the We evaluated it in the Datacolor SpyderX Elite review, though, I opted to go with Displaycal, which is wonderful!!!"
Another reviewer left the comment by stating, "The Elite edition costs extra since it has greater software features. The hardware is unaffected. As a result, I don't think it's worth it, given how poor the program is."
"I purchased the Elite, but I'm considering returning it and purchasing the less expensive version. This was bought to calibrate and match the colors of two ASUS monitors that looked the same.
After utilizing the same procedure for both screens, I checked the correctness by cycling a Chrome browser session between the two and verifying the grey tab bar. The display on the left had a green tinge to it."
Read here- Best Monitor Calibrator Reviews and Buying Guides.
Evaluation of The Datacolor SpyderX Elite
We evaluated it in the Datacolor SpyderX Elite review. The SpyderX Elite is an interesting product but still, it might not be for you if you're a creative who works on the go.
If you're like the majority of the editors, who use a laptop on the road and a desktop at home, having it constantly linked to your desktop might be the smartest move you make.
The calibration is quick, pleasant, and will help you get better color results. However, the full impact of those colors will only be felt if the people with whom you're sharing your photographs have their monitors calibrated in the same manner that yours are.
Then there's the lighting and everything else. In the last several years, displays have become better and better, with more and more calibration built-in.
Reasons To Buy
This is the fastest Spyder yet.
Design with lens addition.
Soft proofing and Tablet preview.
ReCalibration is fast.
Reasons To Avoid
No Bluetooth connectivity.
It doesn't have a serious graphical and design update.
Is SpyderX reliable?
Spyderco is an entirely new, more precise approach to measuring color, based on years of study. Because it has innovative lens-based color engine technology, you can get much more exact screen color, white balance, and shadow detail.
Is SpyderX Pro compatible with a laptop?
SpyderX Pro is compatible with any monitor connected to a pc or laptop that allows the user to modify brightness, gamma, and color temperature.
What's the difference between the SpyderX Elite and SpyderX Pro models?
Although it can calibrate numerous displays, the SpyderX Elite has features that ensure the highest consistency across them.
The SpyderX Pro has photographic calibration standards settings as well as basic display analysis capabilities.
Is it worthwhile to invest in Datacolor Spyders?
For the money, the SpyderX is an outstanding monitor calibration tool. A revised lens design allows the device to focus more light on the color sensor, enhancing accuracy while reading dark tones in low light.
Read also here- Datacolor SpyderX Pro Review.
Final words of Datacolor SpyderX Elite review
This was a detailed Datacolor SpyderX Elite review in which we have shared the use of this product and its specifications.
We discussed how it works for color calibration and screen adjustment in different conditions. You might find this product really helpful in your case.
If you don't, you might want to leave your questions for us to ask more about SpyderX from our experts.
---