There are many options to choose from when looking at monitors. It's hard to know which one is best for you. The LG 34WK650-W is a great monitor for gaming, movies, business, and personal use. The LG 34WK650-W review discusses this monitor in detail.
We tried out the LG 34WK650-W, and we found that it was better than other comparable models on the market in terms of viewing angles, display quality, and picture quality.
If you want an excellent monitor with all-around good features that will be perfect for your needs, then this is the right choice for you! You can read our full review here. And if you like what we have to say about it, then go ahead and buy it today!
LG 34WK650-W Specifications
LG 34WK650-W 34″ UltraWide 21:9 IPS Monitor with HDR10 and FreeSync (2018), Black/White

Among its main Features, We find
Screen Size: 34-inch
Resolution: 2560×1080 (UWHD)
Panel Type: IPS
Aspect Ratio: 21:9 (UltraWide)
Refresh Rate: 75Hz
Response Time: 5ms (GtG)
Adaptive Sync: FreeSync (40Hz-75Hz)
Speakers: 2x5W
Ports: DisplayPort, 2x HDMI 2.0
Other Ports: Headphone Jack
Brightness: 300 cd/m2
Contrast Ratio: 1000:1 (static)
Colors: 16.7 million (6-bit + FRC)
VESA: 100x100mm
HDR: Software-enabled HDR10
I/O: 2 x HDMI, 1 x DP, 1 x P2 (3.5mm)
Viewing angle: 178/178º
Features and Performance of LG 34WK650-W
The new LG 34WK650-W is an ultrawide display that delivers the ultimate viewing experience. With IPS technology and a 21:9 aspect ratio, this monitor can show more of your work at once without scrolling side to side.
Its HDR 10 feature allows you to see vibrant colors with lifelike detail even in dark scenes. It also includes AMD-free sync, which eliminates screen tearing so you can play games smoothly with no lag or stuttering. The ergonomic design helps reduce eye strain by making it easier for users to adjust whether they are sitting or standing.
The LG 34″ IPS monitor is a versatile and high-quality display perfect for work or entertainment. With its 99% SRGB color gamut, HDR10 compatibility, the tilt angle of 5 to 15 degrees, and on-screen control with screen split capability, this monitor offers everything you need for an excellent viewing experience.
AMD FreeSync Technology
With the introduction of AMD FreeSync™ technology, gamers can now experience seamless, fluid movement throughout hi-res, fast-paced games.
AMD's groundbreaking new monitor technology virtually eliminates screen tearing and stuttering that can limit a gaming experience.
The 34-inch LG 34WK650-W* has plenty of space for multiple windows and is designed with features like Black Stabilizer, which increases visibility in dark scenes. At the same time, Dynamic Action Sync reduces input lag to provide smoother gameplay. Gamers will no longer have to worry about distracting frames of blurry images with this innovative monitor from LG.
Slim Bezel and MaxxAudio
This model is designed with two 5 Watt stereo speakers with MaxxAudio for an immersive experience. The sleek design offers a thin bezel on three sides which helps reduce distractions from the display and creates more space to enjoy your content.
With this model, you'll also get picture quality that's vivid, lifelike, and precise, thanks to IPS technology.
IPS and 99% sRGB Coverage
If you're a professional photographer, graphic designer, or anyone looking for highly accurate color reproduction, then the new 34-inch LG Monitor is perfect for you. With over 99% of the sRGB spectrum coverage, this monitor offers outstanding performance that can't be beaten.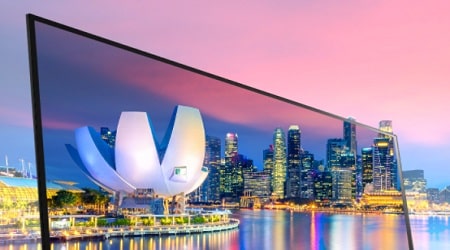 The IPS panel provides 178/178-degree viewing angles from horizontal and vertical perspectives, so no one will miss any detail in your photos or designs.
It also has hardware calibration support, including Gamma adjustment and white point adjustments to ensure even more accuracy in your work. And because it features an anti-glare coating on its display screen, there's less light reflection.
LG 34WK650-W Monitor Offers HDR10 Compatibility
LG 34WK650-W Monitor is compatible with the industry-standard HDR10 high dynamic range. This technology offers color and brightness levels that exceed ordinary monitors and is designed to fully realize content creators' vision.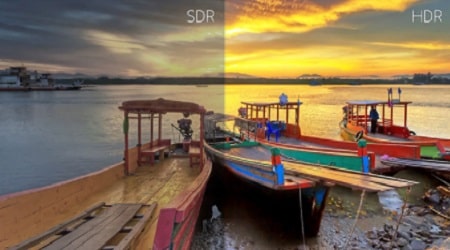 The monitor's compatibility with HDR10 will benefit viewing because it will show images in much greater detail than a regular screen.
When using Windows 10, it is important to note that the default for this type of content on Windows 10 is "On," which may not accurately display HDR content on certain screens.
LG's OnScreen and ScreenSplit software will give you a boost in productivity
The new 34WK650-W monitor from LG is the perfect tool for increased productivity. The company has combined two of their most innovative features, OnScreen and ScreenSplit, to allow people to calibrate the size of the windows on their screen according to what they need at that moment.
This allows them to accumulate several different documents or presentations on one screen without being so cluttered that it becomes difficult to focus on any given task.
When screens are calibrated properly, this can help increase efficiency by up to 30%. This means more time spent focusing on important tasks rather than wasting time scrolling through tabs looking for information!
LG's new wide-screen monitor offers a more immersive experience for the modern office
LG has launched its newest 21:9 UltraWide Full HD (2560×1080) resolution display. The wider screen is designed to give you an even better viewing experience with 33% more screen space than a traditional full HD display.
With this new best monitor, you can have multiple windows open at once and view them in one place without having to toggle back and forth between programs.
This includes Webinars, which will show on a larger scale with more attendees able to see what's going on. It also makes it easier to read textbooks or lectures as they are all displayed in one window instead of flipping through pages or tabs.
Viewing two windows side-by-side will reduce the amount of time you spend alt-tabbing
The LG 34″ WK650-W is a large screen monitor that supports many different viewing modes and has many features designed to make work easier. One of the best features of this monitor is its ability to show two screens side by side at once.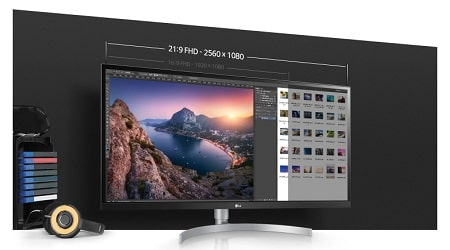 This allows you to have multiple windows open on one display, which can be especially useful for those who need more than just their documents or spreadsheets up at one time, such as web designers or graphic artists.
Another benefit of having two displays next to each other is that it saves space on your desk since you don't need an entirely separate computer setup with a keyboard and mouse for another display.
Comes With On-Screen Control
The latest version of the LG 34WK650-W display has been released with new onscreen Control. This makes it easier than ever to change settings like brightness and volume from one central place.
With just a few clicks of the mouse, you can adjust many things that would otherwise be difficult to reach or find in menus. Onscreen Control puts all these essential monitor settings into an easy window for quick and easy access.
It includes features like Volume, Brightness, Picture Mode Presets, Screen Split 2.0, and Dual Controller, among others, so that adjusting your screen is more accessible than ever before!
LG 34WK650-W Monitor Introduces Flicker Safe and Reader Mode
The LG 34WK650-W monitor was designed to provide a comfortable viewing experience with Flicker Safe and Reader Mode features. With the release of this new monitor, users will enjoy their screens without worrying about invisible flickering or eye strain.
This is possible by using an Anti-Flicker mode that reduces flickers that cause headaches, dry eyes, and fatigue. Aside from reducing eye strain, it also increases productivity by displaying images in their truest colors with True Color Pro technology and creating a screen similar to paper color temperature for reading purposes with Reader Mode.
Dynamic Action Sync for Gamers
The LG 34″ WK650-W is a high definition display that features Dynamic Action Sync. This tech allows for minimal input lag, and gamers can catch every single moment in real-time.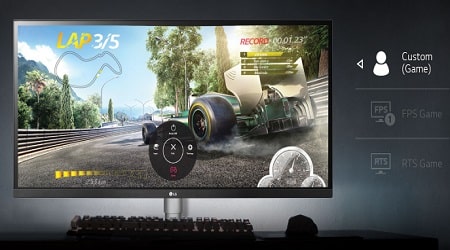 Along with the decrease in input, the monitor also has a peaking color engine which displays saturated colors even more vibrant than before. It also has an anti-glare coating to reduce eye strain while gaming or watching movies for long periods. With this technology, gamers can feel as if they are there and experiencing it all first hand!
Black stabilizer and can be turned on or off
This section of the LG 34WK650-W Review says gamers have searched for a way to spot snipers and avoid getting killed while playing games. LG has come up with the perfect solution by introducing their new 34-inch widescreen monitor designed to enhance gameplay.
The Black Stabilizer feature on this monitor will detect dark areas of the screen, which are usually used for hiding spots during online games, and automatically brighten them so gamers can spot hidden enemies.
It also protects players from being blinded when there is an intense flash or explosion on the screen. This innovative design makes it easier for gamers to play and helps reduce eye strain as they don't need to squint.
Crosshair for enhanced accuracy
LG's new 34″ WK650-W monitor is designed to be an "entry-level gaming monitor," which offers exceptional value. The most standout feature of this particular model is the Crosshair function that allows gamers to focus on their target in the center of the screen while eliminating distractions around them.
This makes it easier to stay focused during intense competition or simply when playing games from your couch with friends at home. With all these unique features combined, we're confident you'll find this is one of the best.
Our Opinion
Here is our opinion on this monitor in LG 34WK650-W review: The LG 34WK650-W is a great 34″ monitor! It offers a wide field of view and a high aspect ratio that makes it great for gamers and professionals.
One of the biggest beneficiaries of this monitor is people who do programming. This means they can see what they are doing very well. Image editing and video programs also need a big space to show, so it's good for them too. But the problem is that if you have this size of the monitor, the resolution would be very high, and your computer might not work with it because then you need more powerful hardware.
This is one of the few monitors in Full HD with HDR10. This technology enhances the brightness and contrast, giving vividness and sharpness to the images. This offers a good experience when you want to consume content (videos or photos) and compatible games on PS4 or Xbox One.
If you are thinking of buying this monitor, know that it is worth the cost. There are monitors on the market that have better features than this one for a similar price, but they cost 2 or 3 times as much.
Advantage
HDR10
IPS 34" UltraWide 21:9 FullHD 2560×1080 Curved LED Display
sRGB 99% – 16.7M colors – 8bit
MAXXAudio (2 speakers of 5W each)
OnScreen Control
Optimized for Games (with AMD FreeSync)
Ergonomic height and tilt adjustment
Perfect for multitasking with Screen Split 2
Low input lag and response time
FlickerSafe
Final Words of LG 34WK650-W Review
The LG 34WK650-W is a 2560×1080 IPS flat ultra-wide gaming monitor that offers all of the features you may be looking for in one screen.
If you're on the hunt for a new display and this model sounds like it could fit your needs, then we hope to have given you enough information to take action! You can learn more about pricing here or click below to see the product page with more details on specs and other important info.
---
More visit our analysis of the: Acer KG241Q Monitor