To enjoy the latest video games in their full splendor, you need a good monitor. However, it is not easy to find one that offers quality at an affordable price.
Before buying a gaming monitor, we advise you to read our comprehensive MSI Optix G241 review. This article will analyze each of its characteristics and compare it with other models from the same category. This way, you can ensure that this model is the best choice for your needs before spending money on it.
The MSI Optix G241 is a great option if you are looking for a high-performance 23-inch Full HD gaming monitor with a 144Hz refresh rate, 1ms response time, and FreeSync technology. It also has Anti-Flicker technology so you can play competitive video games without suffering from eye fatigue or nausea due to flickering screen effects. Its design features black matte plastic bezels and a base made of aluminum alloy, which gives it a solid feel.
The gaming monitor MSI Brand Optix G241 is a good choice for playing video games. This model has a large screen and good color quality. It also has a 1 millisecond response time and can show 144 frames per second. The monitor is compatible with the Free-Sync technology, which helps reduce flickering screens in video games.
At 30% brightness, the contrast reaches 1310. Dark scenes look good and are clear. This is the first smart black tuner in the world. It helps you with dark areas so that things will be brighter. There is an option to make your screen blue-light filtered. This can help with eye strain.
MSI Optix G241 Specifications
| | |
| --- | --- |
| Screen Size | : 23.8″ |
| PANEL TYPE | : IPS |
| WLED | : BACKLIGHT |
| ASPECT RATIO | : 16:19 |
| COLOR DEPTH | : 8 bit |
| COLOR SPACE | : 128% sRGB / 95% DCI-P3 |
| RESOLUTION | : 1080 Full HD |
| PIXEL DENSITY | : 92 ppi (pixels per inch) |
| BRIGHTNESS | : 250 cd /m 2 |
| CONTRAST | : 1000:1 |
| HDR | : NO |
| RESPONSE TIME | : 1MS (GtG) |
| REFRESH FREQUENCY | : 144 Hz |
| WIDTH | : 54.03 cm |
| HEIGHT | : 42.26 cm |
| DEPTH | : 21.96 cm |
| WEIGHT | : 3.3 kg. |
| ANGLE OF VIEW | :178º/178º (horizontal / vertical) |
| HEIGHT ADJUSTMENT | : NO |
| ROTATION ADJUSTMENT | : NO |
| TILT ADJUSTMENT | : YES (20º / 5º) (Up / Down) |
| WALL MOUNT VESA | : 100X100 mm |
Connectivity and Features
| | |
| --- | --- |
| CONNECTIONS | – 2 x HDMI 1.4 – 1 x Display Port 1.2 – 1 x 3.5 mm Audio Out |
| BUILT – IN TECHNOLOGIES | – AMD Freesync Premium – 5-way OSD Navigation joystick – Night Vision – Wide Gamut Color – Anti-Tehft Stand Lock Slot Kensington |
| EYE CARE | – TÜV Flicker-Free Certified (Flicker Free Technology) – TÜV LBL Certified (Low Blue Light) |
| SPEAKERS | NO |
| ACCESSORIES | 1 x HDMI cable |
Other Advantages of MSI Optix G241 Monitor
This manufacturer has a lot of experience in gaming monitors. This model is one of their best because it has a high refresh rate and offers a 1080p resolution.
We will be talking about the advantages that you can get from this G241 model from the Optix series, especially for gamers who do eSport:
Price
The Optix MSI G241series gaming monitor is a cheap option for any demanding gamer who wants to enjoy the performance. It has accessories that other monitors have, like RGB lighting or more sturdy table stands. You can also get a good computer monitor in this price range. You can choose between many brands, including ViewSonic and AOC.
For this reason, the G241 has an amazing value for money because it allows more gamers to enjoy an IPS panel smooth gaming monitor with 144-hertz refreshments and a 1 millisecond response time.
Convenient to Use
When you play, you feel good. The monitor is alive, and it feels like everything is clearer to you. That's because the monitor has a 144 Hz ultra-high refresh rate and 1 ms response time. You can tell that what you are doing on the monitor is happening in real-time to the thousandth degree.
MSI Optix series gaming monitors have a wider range of colors than general monitors do. This means that it does not need to be this way.
It has Free-Sync from AMD, but it also works with G-Sync from Nvidia. This is good if you have a specific graphics card brand because then you can use this monitor no matter what you get in the future.
Image Quality
This gaming monitor has a great screen. It's big. It's sharp. And the colors are accurate. People like it because it is good for playing video games and other things that require sharp images, faithful color representation, and a wide gamut.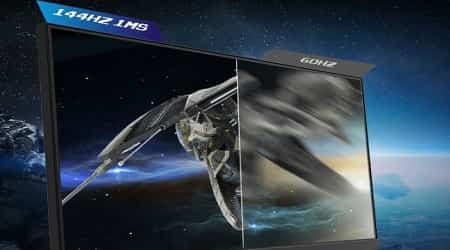 This is thanks to the 128% coverage of sRGB color space and 95% DCI-P3 color space, which is more than enough for most video editors and graphic designers who require accurate color rendering. This monitor will make it easier for you to play games. It has anti-flicker and less blue light. It is also the best monitor for ye strain.
It also has a wide viewing angle, so colors won't change at different angles. This screen is very good because it produces no image distortion and has minimum color changes when looking at the screen from different angles.
Comfort
The monitor is very easy to use. It has an OSD joystick that you can reach from the front of the monitor. Other monitors usually have buttons that are out of reach, but this one does not. Optix G241 BELI DI SINI IPS Panel will make the screen color better.
When you are looking at it, it will be brighter. Wide color gamut – This lets you see more game color on your screen. You will see the gameplay colors of the game better, and it will look more realistic. MSI gaming monitors have good viewing angles.
They are 178 degrees wide, which means that you can put your monitor in different places without having to give up a comfortable viewing experience. Generic monitor displays have a flickering rate of 200 times per second, which is not noticeable to the naked eye. But it can make your eyes tired over time. Anti-flicker technology helps prevent eye fatigue.
Connections
This Optix G241 model offers connectivity options. One of the most important features is that it has HDMI and DisplayPort inputs. These are the interfaces for any new or recently launched equipment that you might buy.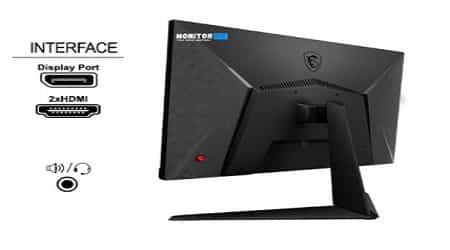 Audio and video content can be sent between the computer or console and the monitor. There are two options for this: HDMI and DVI.
Before Buying the MSI Optix G241 Gaming Monitor, you should know this
I want this MSI Optix G241 review to be as clear as possible and clear all your doubts. This is a nearly perfect monitor, but I want to ensure that you don't have any questions or concerns.
Design
The MSI Optix G241 Review states that this is an MSI Optix gaming monitor that fulfills its main function without going into extras. It has a simple but elegant design with quality materials. The G241 has a sleek black finish without any sides or top. It gives you a very modern look.
It is mainly made of plastic but is still a premium product. Despite this, it has a high-quality feeling to it. MSI went the extra mile to ensure that they didn't have to use cheap materials to make this product affordable.
Brightness and HDR
Something that could help us buy a better monitor is that it doesn't have HDR technology because it only reaches 250 nits of brightness. This is a feature that many high-end monitors already have, but this will make them cost more than you might expect.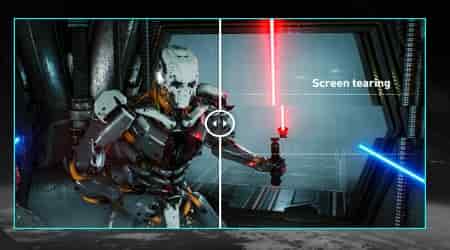 The high resolution makes game titles look even better. The faster the refresh rate, the better. If you get a response time of 1ms or less, there will be no screen tearing and choppy frame rates.
HDR, 360 hertz, and Adobe RGB lights are used for games. Some people do not want these things. But other people like them. These blue light reduction monitors can help you not get tired while gaming for longer periods of time. It reduces the amount of blue light that is on the screen.
Connectivity
If we look at the connections on this monitor, we might not notice that it doesn't have a USB-C. But this is ok because the other connections are more than enough and there is a low price point.
Ergonomics
This monitor has many options for how to make your work comfortable. But this model only has the option to tilt the monitor. It does not have other ergonomic functions like other monitors.
This is because this model is focused on gaming, and we don't need those functions as much when we play games.
MSI Optix G241 Gaming Monitor FAQ and Opinions
Q: Is my Optix G241 monitor going to support 1080p at 120Hz on PS5?
A: Yes. Go to Settings> Game/Application Settings and Saved Data> Game Presets> Performance Mode or Resolution Mode> select "Performance Mode."
Q: Does my MSI Optix G241 monitor support 1080p @ 120Hz on Xbox Series X?
A: Yes. To set the resolution on your Xbox to 1080p, you need to manually change it.
Q: Does this monitor have a cable that will connect it to the soundbar?
A: It does not have USB inputs. It has 2 HDMI, 1 display port, and a mini-jack for headphones.
Q: What connection cables are included in the monitor box?
A: It includes an HDMI cable for connection to the display.
Final Words of MSI Optix G241 Review
MSI has done an excellent job of creating a monitor that fulfills the needs of every gamer. The Optix G241, with its 144Hz refresh rate and 1ms response time monitor, is perfect for gamers who want to play 1080p without any lag or visual distortion.
---
Read Also: ASUS VG248QE Review and Opinions.