If you are thinking of purchase the best monitor at a low price, this Samsung S24F350FHU review will help you find it.
The Samsung S24F350FHU offers us a rather entry-level gaming monitor that still offers interesting performance. With its ultra-thin design, reliability, and image quality, it will appeal to a large number of gamers.
Only its slightly limited connection will be able to slow down some, but with a low price, we can not have everything!
Keep reading our full review to learn more about this monitor.
The Samsung S24F350FHU Monitor

Among its main features, we find
Full HD computer monitor
Very nice panel 
The black color with a glossy effect 
Ideal for those who want to work in comfort
Analog and digital signal Connectivity
SUMMARY
The Samsung S24F350FHU is a good entry-level display. For a very reasonable price, it will offer you great benefits such as a beautiful display, a contrast ratio, and a brightness quite in line with the standards of this type of screen. If it is equipped with Freesync, Flicker-Free, and Eye Saver technologies, we will still regret its too limited connection. But you can not have everything for such a tight price and it will be able to make the happiness of the casual gamers.
Presentation
This Samsung S24F350FHU monitor is positioned at the entry-level but without sacrificing performance. Of course, he's not going to offer you anything extraordinary, but what he does, he does very well. Moreover, when it was released, this monitor was acclaimed by a large number of players because, for a very interesting price for a 24-inch screen, it does not hide any nasty surprises.
Its design is described as ultra-slim by Samsung, and for good reason: at its narrowest point, it is only 10 mm thick. But for all that, we are not here on a borderless type monitor and therefore, if you do dual monitor, you will not be able to really do edge to edge.
But given its price positioning, it can also be the opportunity to enter the world of the dual monitor without breaking the bank.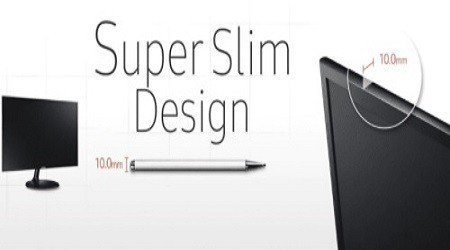 Although equipped with a 24-inch TN panel, it still offers wide viewing angles at 178 ° and WLED technology for the display.
For those who don't know what WLED is, basically, it's Direct LED technology: LEDs provide backlighting and LCD display colors. Being on Full HD, we, therefore, have a resolution of 1920 x1080, which is the standard for playing most games, even if, today, some titles are available in higher resolutions.
For other performances, with a brightness of 250 cd / m² and a contrast ratio of 1000: 1, it is perfectly in the average of what we find on entry-level screens.
Ergonomics
With its ultra-slim design, it is clear that this Samsung S24F350FHU monitor will not take up too much space on your desk.
Rather classic in its design, here no RGB or other gadgets, we go straight to the point but with the quality of finish that we know from Samsung.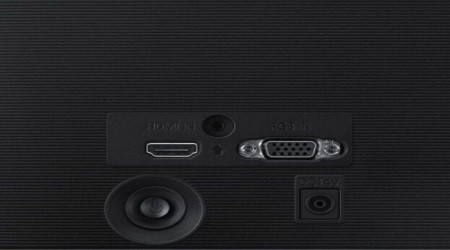 Being on the entry-level, we do not have a cable management system, just as we can not adjust the height. The monitor will not tilt left to right either, it will only tilt from -1 ° to + 22 °.
The connectivity level is very limited! We have an HDMI port, a VGA port, and… that's it! Here, no DisplayPort or even a headphone jack or audio input.
So as this monitor is also devoid of speakers, it will be necessary to go through a headset connected to your PC to have sound.
These two connections take place on the back of the monitor, in the lower right corner, but we would still have liked to find a DisplayPort, especially for those who want to do a dual-monitor.
Next to the connection, there is the button for the settings, and there Samsung had a good idea to use a small joystick, which greatly facilitates navigation in the menus rather than the 3 buttons that are generally found.
The joystick is clickable and will allow, for example, to switch very quickly to game mode since this monitor is equipped with it, which proves that it is intended for gaming!
Among the on-board technologies, there is an Eye Saver mode which reduces blue light emissions in order to limit visual fatigue, and Flicker-Free technology which makes the image more fluid, in order to provide greater visual comfort.
It is also equipped with an automatic brightness adjustment which adjusts that of the monitor according to the ambient brightness.
With a 24-inch panel, this monitor meets current screen size standards for gaming. It also offers very good viewing angles, 178 °, which allows you to watch a video in good conditions even if you are a little sprawled in your favorite chair!
Note that this monitor is PC compatible but also compatible with game consoles.
Read Here About: Best Monitor Calibrator.
Responsiveness, Colors, and Contrast
This monitor is equipped with AMD Freesync technology so that if you are equipped with an AMD card, you will be able to push the refresh rate to 75 Hz, the others will have to be content with 60 Hz because, to have tested the 75 Hz with an Nvidia card, it jerks and forces us to go down to 60 Hz.
For responsiveness, we are completely within the standards with 4 ms in GTG, which is perfect for gaming and especially for FPS, even if today many screens have a response time of the order of 1 ms. But for that, it is necessary to ogle high-end screens and therefore necessarily more expensive!
As for the colors, this Samsung S24F350FHU is rather well-calibrated with its basic settings. With 16.7 million colors, it offers an optimized display quality with a certain visual comfort whether in-game, watching a film, or in-office automation.
Regarding the brightness of 250 cd / m² and its contrast ratio at 1000: 1, we are in the average of what is done for entry-level monitors and it will therefore be a guarantee of comfort provided not to be in a too bright environment. But we rarely play in full sun!
Technical characteristics of the Samsung S24F350FHU monitor
| | |
| --- | --- |
| Model | Samsung S24F350FHU |
| Screen size | 24 Inches |
| Resolution | Full HD in 1920 x 1080p |
| Response time | 4 ms |
| Backlight / Panel | TFT PLS LED |
| Brightness | 250 cd / m2 |
| Native contrast | 1000: 1 |
| Maximum frequency | 60 Hz |
| Vision angle | 178º-178º |
| Display colors | 16.78 million |
| Sound | – |
| Weight (without/with stand) | 7.26 pounds |
| HDMI ports | one |
| USB ports | – |
| Pivoting / Swivel / Height adjustment / Tilt | No / No / No / -1º to 22º |
| Other connectors | VGA D-SubAudio input |
| Contents / Accessories | 1.5m power cord, D-Sub signal cable, quick install guide, installation CD |
Samsung S24F350FHU monitor layout
Taking a quick look at the monitor we see that it is as good an option as any other at the design level. It really is a beautiful device, for which the black color with a glossy effect has been chosen very wisely.
We find some frames that I consider thin, although I would not classify them as slim design. However, there is no question that it has a much slimmer design than any low-end monitor. Although, as we will see later, its specifications are normal, the design is quite successful.
On the back, we also find a fairly clean black plastic casing in which only the screws that anchor the support stand out, the few connections, which are launched near the left side, and the power button, which is right in that area.
Its base is quite beautiful and, most importantly, stable. It is a Y-shaped base that anchors the monitor with a very good grip. It also shares color and finishes with the panel coating.
On the other hand, it should be noted that, in terms of ergonomics, we only work with an incline, which ranges from -1º to 22º.
Samsung S24F350FHU Connectivity
Samsung S24F350FHU has both analog and digital signals. As for the connections, it doesn't go very far either, having only an audio input, VGA D-Sub, an HDMI input, and a power connection.
Image quality of the device
The panel that has been included in this monitor is a TFT PLS LCD measuring 24 inches diagonally. The backlight chosen in this case is a conventional LED. For the resolution, it is chosen to include 1920 x 1080 pixels, a Full HD. The native format is 16: 9.
The frequency of the monitor is also conventional, 60 Hz. This means that we cannot enjoy the best response time, leaving it at 4 ms.
The brightness is not very high, the maximum being 250 cd / m2. The native contrast is also quite normal, 1000: 1, with the minimum being 700: 1. Of course, this is sufficient in normal lighting conditions.
In fact, the monitor offers distortion-free content at 178º top-down and sideways, the current maximum angle. There are 16.78 million colors that we can see perfectly differentiated; vision is clear in any direction.
In addition to these characteristics, the panel has other technologies that will make our image look much better. They are as follows:
MagicUpscale: The technology that ensures that your images do not degrade when enlarged or scaled, maintaining the sharpness and providing clarity with increases.

MagicBright: The brightness is adjusted automatically based on the ambient light and the content. In this way, we manage to reduce energy consumption.

Mega Contrast: It is nothing more than the concept that the firm has considered to speak of a mega-type contrast, which works above other simple technologies.

Game mode: The colors are optimized as well as the contrasts. We find other ways that add different values ​​to the content.

ECO mode: If you want to spend less, the panel works on the values ​​of the images, achieving a balance point between quality and energy savings.

Flicker Free: Flicker disappears, improving both image quality and display.

Eye Saver Mode: The emission of blue colors, which are very stimulating for the retina, is reduced. In this way, the monitor helps reduce eye fatigue while viewing content becomes more comfortable.

FreeSync: The refresh rate has a dynamic synchronization.
Audio Device
Samsung S24F350FHU is a monitor that, unfortunately, does not include the audio output in any way, neither with speakers nor by connecting headphones, as it does not have a 3.5 mm jack.
What it does have, as we have said previously, is audio input.
Advantage
Good quality of finish
Price/image quality ratio
Wide viewing angles
4ms GTG response time
Worked image and versatile options
Disadvantages
No cable management
Connection too limited
No speakers
Conclusion
The Samsung S24F350FHU is a great entry-level monitor that will satisfy any casual gamer. With a very attractive price, it is a good 24-inch monitor in Full HD format, which also offers good image quality thanks to its 16.7 million colors. displayed.
We just regret its very limited connection which may prevent some from doing a dual monitor setup at a lower cost. Especially to put VGA which is hardly used anymore nowadays in the world of gaming.
If you liked this Samsung S24F350FHU Monitor review and have decided that this is the one for you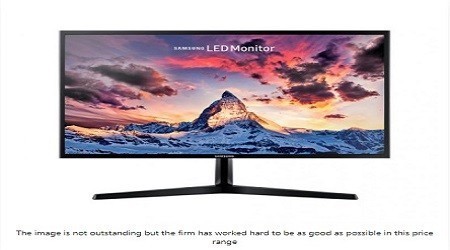 ---