Welcome to the Acer SA240Y Review section. If you're looking for a new monitor, there are plenty of options out there. But it can be hard to know which one is the best fit for your needs.
There's no need to worry, though, because we've done all the research and found that Acer SA240Y Bbmipux 23.8″ Full HD IPS Ultra-Slim Monitor is the perfect choice if you want an affordable monitor with great picture quality and a slim design that will look great on any desk or table in your home or office.
The Acer SA240Y bmipx 23.8″ Full HD IPS Ultra-Slim Monitor has everything you could want from a computer monitor without breaking the bank on features like 4K resolution screens and HDR technology that most people don't even use yet anyway! This 1080p full HD resolution display looks crisp and clear at a 75Hz refresh rate, so movies play smoothly with no stuttering or tearing while playing games.
Technical Specifications Acer SA240Y
Acer SA240Y Bbmipux 23.8″ Full HD (1920 x 1080) IPS Ultra-Slim Edge-to-Edge Monitor with AMD Radeon FreeSync Technology

Among its main Features, We find
Model number: SA240Y
Screen display size: 23.8 inch
Maximum resolution: 1920 x 1080 @75 Hz (Full HD)
Response time: 1ms GTG
Aspect ratio: 16:9
Contrast ratio: 1000:1
Adaptive contrast management: 100,000,000:1
Brightness: 250 cd/m²
Backlight: LED
Viewing angles: 178° Horizontal and Vertical
Panel type: IPS (In-plane Switching)
Stand: tilt (-5°~15°)
Ports and connectors: 1x VGA, 1x HDMI®-in, Audio in, Power in
Power supply: 26 W
Color: Black
Tearing Prevention Technology: AMD Free-Sync
Unboxing of Acer SA240Y Monitor
The bundle will have the following elements:
Acer SA240Y Full HD IPS Panel Widescreen monitor with speakers
Stand base
Stand neck
Power cable
Power brick or adapter
5 mm male to male jack
HDMI Cable and USB Type-C Cable
User manual
Features and Performance
This new 23.8-inch display features a 1920×1080 pixel resolution, and this translates to Full High Definition (HD) video quality for your viewing pleasure. It also has AMD Radeon FreeSync Technology, making the transition between frames smoother with no tearing that you might experience on other monitors without it in use!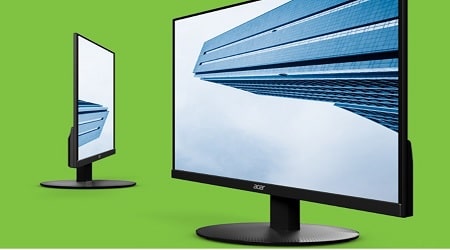 This brand-new best monitor offers Widescreen HD (1920 x 1080 pixels), giving you an unparalleled view of all those beautiful videos or photos from Facebook, Instagram, Snapchat – whatever social media platform suits your fancy as well as movies & TV shows available at Netflix or Hulu Plus! This is even better than what we've seen before, thanks to its AMD Radeon FreeSync technology, ensuring seamless transitions between frames, so there's no tearing.
Acer's new SA240Y monitor is a great option for people looking to upgrade their computer monitors. The response time of 1ms and refresh rate of 75Hz make this monitor perfect for gamers, graphic designers, or anyone who needs a fast-paced display.
The SA240Y can be connected via Display Port or HDMI ports, making it easy to use with any PC system. In addition, the brightness level of 250 nits provides bright colors that are sure not to distort your screen as you play games or work on projects. If you're interested in upgrading your old computer monitor without breaking the bank, then check out Acer's newest offering! The SA240Y.
For those looking for a budget monitor that doesn't take up too much space and provides an edge-to-edge viewing experience, this new SA240Y budget Monitor might be your perfect work companion. The sleek design features zero frame edges to provide maximum visibility of the screen from all angles. It also has built-in speakers for seamless integration into any office environment. If these qualities sound like they would fit your workspace needs, check out our website today!
It features a USB Type-C port for seamless connectivity and has one DisplayPort and HDMI video port. This budget monitor also offers an IPS display panel which provides exceptional color reproduction from any angle while minimizing glare. With the new USB type-c display port, this budget monitor can be used as both your power source and data transfer cable at the same time!
It has a widescreen IPS display and can be seen from edge to edge. You can use cables like Display Port or HDMI Port to plug the monitor into your computer. The response time is 1 millisecond, and it refreshes at 75Hz, so you will not see any blinkies on the screen! The brand is Acer, and the item model number is SA240Y Bbmipux. A weight of 4.26 Kilograms for this product should be noted as well (54.1 x 21.08 x 40.67 cm).
This IPS monitor is now on the market, and it comes with an HDMI cable and a USB Type-C cable, making this product perfect for techies.
The Elegantly Thin Design
This sleek and functional monitor makes a great addition to any space because of its thin design that takes up minimal space. The sleek base is made from a pattern of concentric circles that looks great on any surface without taking too much attention away from the screen itself.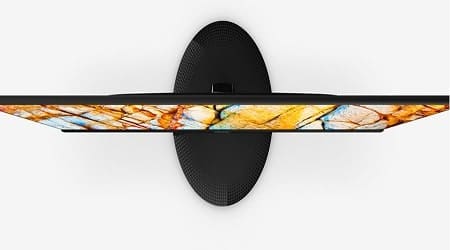 Along with this minimalist design, it also provides maximum visibility due to its elegant ultra-thin zero-frame design feature, which leaves no border around the edges, so you won't miss out on anything important happening right before your eyes. With an elegant touch like this one, you'll never need another monitor again!
Frame-less
For those of us who spend most of our time in front of a screen, it can be hard to find monitors that don't have an annoying frame around them. With the new monitor design from Acer, this will no longer be a problem. The company introduces its new SA240Y monitor, which features a thin and lightweight design without any visible borders for maximum visibility and enjoyment.
This innovative technology features IPS (in-plane switching) panels with wide viewing angles, meaning colors are always true to life no matter where you're sitting. It's time to go beyond what's expected of a typical display by upgrading today with the newest innovation from Acer!
Stylish
The Acer SA240Y 23.8″ Full HD Monitor offers a frameless bezel and an amazingly thin enclosure to provide you with the most immersive viewing experience possible. It also features AMD Radeon FreeSync technology that lets the frame rate be determined by your graphics card rather than being fixed at the monitor's refresh rate, leading to lower latency and more fluid gameplay for gamers who want to get a competitive edge on their opponents.
With its accurate color performance presented by IPS technology, vivid colors in every viewing angle, this is one of the best monitors around for consumers looking for.
Vibrant Resolution
Whether you're watching movies or playing games, enjoy a more dramatic, true-to-life experience with the Acer SA240Y Monitor.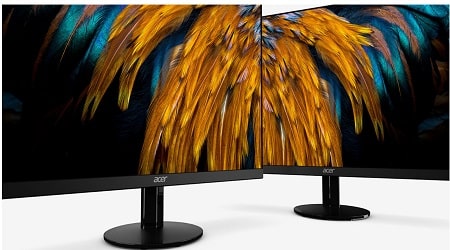 With 1920×1080 resolution and 16:9 aspect ratio, this monitor offers improved clarity for text and small details and fantastic color reproduction for an immersive viewing experience.
With Speakers
Acer SA240Y review found that the monitor's speakers, the monitor includes an integrated slimline speaker that provides superb sound from videos, games, and other multimedia content. A clear soundstage and minimal distortion by the integrated 2 Watt speakers make it perfect for multimedia use, as well as watching movies or listening to music on your PC.
The speaker is angled to direct the audio to a listener's ears. This ensures you can enjoy detailed audio without having to buy separate speakers or headsets. With the new monitor, you'll have access to high-quality sound without taking up any extra space on your desk!
IPS Technology
The SA240Y is a 24" Full HD monitor with IPS technology. It has an impressive 178-degree viewing angle and up to 16.7 million colors. It displays vivid color accurately up to 178 degrees, making it ideal for graphic designers who depend on accurate color representation in their work. The SA240Y also provides vibrant colors that are clear and lifelike, so you can enjoy your favorite movies or games without any distortion of the image quality.
With its slim profile and sleek exterior, this monitor will fit perfectly into any office environment while still providing high-performance levels that professionals need when working at peak efficiency.
AcerVisionCare Helps Reduce Eye Strain
When you stare at a computer for hours on end, your eyes can get fatigued. This is why Acer created the new AcerVisionCare monitor with several technologies to help reduce eye strain and make your workday more comfortable. The monitor features Full HD (1920 x 1080) resolution, which brings all of the detail in front of you while cutting down the glare from light sources behind you.
With Flicker-less technology, this monitor has no flickering, which will help minimize eye strain during long use. And using EyeProtect's blue-light filter, this screen will automatically adjust its brightness based on what activity it detects to prevent overexposure.
With IPS technology, the Acer SA240Y monitor displays color accurately. It also has a 178-degree viewing angle. With AcerVisionCare technology, you can reduce eye strain.
If you're looking for a way to reduce eye strain while working at home or on the go, look no further than this innovative monitor!
Acer SA240Y Monitor has AMD RADEON FreeSync Technology
Have you ever experienced choppy gameplay, stuttering, and tearing on your screen? If so, there's now a solution. The new Acer SA240Y monitor is equipped with AMD RADEON FreeSync technology that syncs the monitor's frames with the graphics card's frames to eliminate screen tearing and provide a smooth gaming experience.
With this, gamers can enjoy seamless visuals without lag or ghosting, as well as high-performance graphics that keep up with fast-moving action.
Along with its low input lag and ultrafast response time of 1 ms, it is ideal for competitive gamers. The monitor's frame rate is synced with the graphics card's frame rate, eliminating screen tearing and providing the smoothest gameplay possible. This cutting-edge technology will have you playing like never before!
Advantage
Cheap. Best in budget.
High performance
It has many different ways to get input and output.
In an IPS panel, you can see 178 degrees.
This is a monitor with a high-quality picture. It has a good refresh rate.
This monitor is slim and has the least bezel.
Disadvantages
This monitor does not have an audio port to plug-in speakers.
This monitor is not compatible with the VESA standard.
Final Words of Acer SA240Y Review
The Acer SA240Y is a great choice for anyone looking to purchase a reliable, sleek, and affordable monitor. With the quality of this product and its price point, it will be difficult not to find something you like about this monitor.
If you're in the market for an excellent all-around option that won't break your budget, then go out and get yourself one today!
---
More visit our analysis of the: MSI Optix G241