Do you want to know about the best gaming monitor? Asus VG279QM is the best gaming monitor. Asus TUF Gaming VG279QM Review discusses this monitor in detail, which will give you a clear idea about this monitor.
Asus TUF Gaming VG279QM is the new Asus monitor presented to us with the fastest IPS panel on the market with 280 Hz in overclocking mode.
Its features are purely geared towards gaming, such as its 1 ms GTG response speed and its ELMB-Sync anti-ghosting refresh technology, also compatible with Nvidia G-SYNC.
Until the arrival of the next 360 Hz monitors, this TUF is the fastest of its kind, and with all the technology and functions of Asus to enjoy a first-rate e-sports experience and Full HD resolution.
And as always, we thank Asus for trusting us and sending us this monitor for analysis.
Asus TUF Gaming VG279QM technical characteristics
Asus TUF VG279QM Gaming Monitor

Among its main features, We find
Display Technology: LCD
Screen Size: 27 Inches
Contrast Ratio: 1,000:1 static
Brightness: 400-nit peak
Aspect ratio: 16:9 (Widescreen)
Resolution: FHD 1080p
Refresh Rate: 240Hz (280Hz Overclocked)
Response Time: 1ms (GtG)
Color: Black
Weight: 12.35 pounds
Unboxing
The Asus TUF Gaming VG279QM has arrived in a thick cardboard box with a useful handle to transport it.
In this case, we do not have a too large bulk as it is a 27-inch screen, having a gross weight of 8.2 Kg. All exterior faces are finished in glossy black thanks to the vinyl-like finish that shows photos of the best monitor and specifications from behind.
The opening and extraction of the content should be done from the side with the handle as normal. In this case, we have two polystyrene molds (white cork) that hold the upper and lower part of the monitor and the rest of the content—all very simple to remove unless it is a sandwich type.
Inside the bundle, we have the following elements: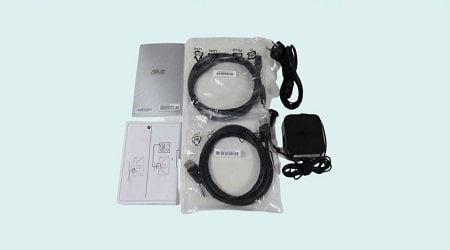 Asus TUF Gaming VG279QM Monitor
VESA variant support arm 100 × 100 mm
Support base
DisplayPort cable
HDMI cable
Power connector
External power supply
User manual
Installation sketch
In this case, we do not have any surprises in the content, so it is quite standard and with the necessary connectivity for our equipment.
---
Asus TUF Gaming VG279QM design
The design of this Asus TUF Gaming VG279QM is entirely continuous concerning the monitors belonging to this family; the Asus TUF Gaming VG27AQ that we analyzed a while ago serves as a reference.
One of the advantages of buying this monitor lies in the assembly since the support arm is completely assembled from the factory.
This has been made with 4 screws that are in turn covered with trims. The type of mounting is a variant of VESA 100 × 100 mm, so we can mount the monitor on universal brackets for multi-screen setups without major problems.
Then, we will only need to install the support base, and for this, we will screw the pre-installed screw to the arm, and it will be ready to use, easy, simple, and for the whole family.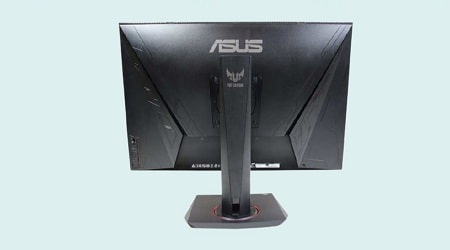 The base is quite traditional, just a rectangular element with a matte black plastic trim with a red plastic detail around the arm. We should not bother looking for RGB lighting because we are not going to have any.
Very close to the base, we have a good-sized hole covered with a trim that serves to route the monitor's power and video cables. This arm has a hydraulic mechanism to move the screen up and down.
While the base and arm joint of the Asus TUF Gaming VG279QM has the mechanism to turn to the sides, the screen support has the one that makes it rotate and orient it down or up.
We see that it is a fairly large and robust mechanism, so we will have a lot of stability on the screen without wobbling on unattractive desks.
The rear design is quite well done, all in good thickness rigid plastic and with a distinctive ROG-style silkscreen of the brand.
In one corner, we have the Kensington slot for universal locks, and they only needed to place a cover in the ports and connections area to finish the job.
On the right side, seen from the front, is where we find 4 interaction buttons and the joystick with which to navigate the menu, so it is complete in this regard.
Looking ahead, we have identical finishes in material and with small but still present physical frames, unlike other gaming monitors in the ROG family.
Their measurements are 8 mm on the side and top panels and 12 mm for the bottom, so the useful surface is quite high, which is appreciated.
Curiously, they are frames made up of two pieces, the edge that belongs to the back cover and the inner frame that belongs to the image panel, and when you touch the system, the system does not feel too robust.
Here: Wimaxit Portable Touch Monitor Review.
---
Exceptional ergonomics
We continue with the ergonomics offered by this Asus TUF Gaming VG279QM, which stands out for being complete in the four available axes.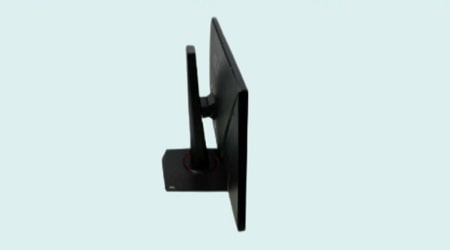 Being a compact 27-inch monitor, we have space and the possibility of rotating it on its axis to place it vertically both to the right and to the left.
The arm's length is not enough for its base or table where it is installed, so we will have to orient it a little upwards to do it with guarantees.
The arm has a hydraulic system to move, allowing vertical movement in a range of 130 mm from the lowest to the highest position.
It is the highest range that we will see in this type of monitors, so we consider it to be very good.
The clamping mechanism located directly on the screen support allows us to move in a vertical orientation, which would be the Y-axis, for example.
So we can orient the screen down -5 ⁰ or up about 33 ⁰, also being one of the highest ranges that we find.
Finally, in the arm-base union, we will have the rotation in a horizontal orientation or the Z-axis (towards the sides) in a range of 180⁰, 90 to the right and 90 to the left.
In short, one of the best monitors in terms of mobility that we can find, so a very good job from Asus in this field.
Connectivity
We now continue with the bottom of the Asus TUF Gaming VG279QM, where we find the monitor's video connectivity. In this case, we will have few surprises.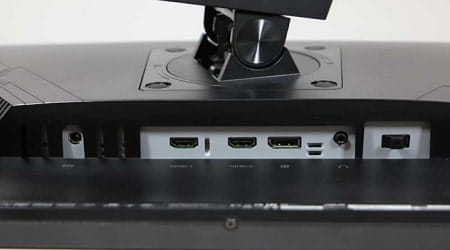 This is what we found:
1x Display Port 1.2
2x HDMI 2.0
1x 3.5mm Mini-Jack for sound output
Kensington slot for universal lock
Jack type power connector
Service connector (plugged)
From what we see, no USB connectivity, being in this case quite basic and concise. Both the HDMI and DisplayPort connectors will be perfectly functional with this Full HD resolution even at 280 Hz, although the standard includes up to 240 Hz.
Read Here: What is a Portable Monitor?
---
IPS panel with 280 Hz Full HD
We will continue this analysis by now, citing all the specifications of the Asus TUF Gaming VG279QM before getting into the testing and calibration section.
In this case, we have a panel with 27-inch IPS technology that offers us a Full HD resolution of 1920x1080p and, consequently, a panoramic 16: 9 format.
In this case, the pixel pitch is 0.311 mm, so the panel's density is low due to its wide pitch and low resolution.
With it, we can achieve 400 nits of brightness, with DisplayHDR 400 certification and a normal 1000: 1 contrast.
But what interests us most are its gaming features since it is a monitor built to play. The first time the manufacturer has marketed an IPS monitor with a refresh rate of 280 Hz in overclocking mode, although if we do not activate it from the OSD (first menu), we will have 240 Hz of a base refresh.
Likewise, its response is 1 ms GTG, thus being one of the most powerful IPS on the market. This technology does not give a great advantage over TN panels, and this is its greater coverage and color quality, being 99% sRGB and 95% DCI-P3.
As an aid to this 280 Hz refreshment, we have the ELMB SYNC or Asus Extreme Low Motion Blur Sync technology that will work together with Nvidia G-SYNC compatible certification to eliminate ghosting tearing, and flickering of this screen as much as possible.
Still, we also have a monitor flicker-free as it should be. In this case, we will have to activate the ELMB SYNC mode from the OSD menu.
It will automatically choose some brightness parameters and deactivate the HDR and the overdrive function, thus offering a little less versatility.
In the tests we have done, we have kept it disabled since ghosting with an overdrive of 60 disappears completely.
Of course, we will also have a panel with a little more latency since the 1 ms response will increase. Therefore, we have to find the sweet spot that suits us at all times.
We're not done yet, because the Asus TUF Gaming VG279QM also has all the typical Asus gaming-oriented features.
Blue light filter with up to 5 different levels to protect our eyes from the blue light generated by the LED panel.
GamePlus is a series of options and modes oriented to gaming, such as crosshairs, timers, automatic alignment, etc.
GameVisual is another option that allows us to select up to 7 different image modes.
Shadow Boost intelligently brightens especially dark areas in games without overexposing the brightest areas.
Of course, Flicker-Free to reduce image flicker while we play, also with TÜVRheinlandquality certification.
This monitor has excellent viewing angles that, in theory, are 178 or as in all IPS types and that are effectively fulfilled to perfection.
Finally, we cannot ignore the two 2W speakers installed in the back that will serve us in emergencies, and we do not have headphones available. 
Its sound is quite standard, loud enough, and obviously with little bass.
---
Calibration and Performance Testing
We will analyze the calibration characteristics of the Asus TUF Gaming VG279QM, verifying that the manufacturer's technical parameters are met.
For this, we will use the X-Rite Colormunki Display colorimeter together with the DisplayCAL 3 and HCFR software for calibration and profiling, verifying these properties with the sRGB color space and also DCI-P3.
Also, we have used the Flickering and Ghosting tests on the Testufo page to verify that the monitor does not have these types of problems and plays tests and performing benchmarks.
Flickering, Ghosting, and Glow IPS
In this case, we have carried out several tests with the UFO test for different refresh rate values and mainly overdrive. In this way, we have been able to find the panel's sweet spot to avoid having any kind of problem with the ghost image.
We have configured the test at 960 pixels per second and separated 240 pixels between the UFOs, always with a Cyan background.
The images taken have been made with UFO tracking at the same speed as they appear on the screen to capture the ghosting trail they may leave behind.
In the previous images, we see that the differences between 240 Hz and 280 Hz are practically non-existent.
Where the difference is most noticeable is with the different overdrive values. At 0%, we have small ghosting with a black trail in the UFOs, while at 100%, we do better notice its presence with this white trail.
For this reason, the point where we have the best benefits is with 60%, where we see that there is no wake.
Regarding flickering, with this 280 Hz, we will not have any type of flickering in the games or the tests on this website. Not for nothing is it a gaming-oriented panel, and these problems are more than solved.
We have also not noticed the IPS glow on the panel, which we should expect from Asus, seeing that the panel is very uniform and without bleeding in the corners.
We have not noticed any of the problems mentioned in the screenshots that we have taken on a benchmark in Metro Exodus.
---
Contrast and Brightness
For the brightness tests of the Asus TUF Gaming VG279QM, we have used 100% of its capacity. With this small table, we already have a preview of the panel's excellent quality in terms of specifications.
We meet more than enough the normal contrast exceeding 1100: 1 with a very tight gamma value of 2.2 that we would consider ideal.
Asus has not neglected the calibration either, seeing that the color temperature is quite close to the 6500K that we believe is neutral white, surely with a good profile, we leave it perfect.
In the brightness distribution, we generally see more discrete values since we are not reaching those 400 nits in HDR, although we are very close to the panel's central part.
The values ​​are around 350-360 nits in the corners, so the uniformity is not perfect.
SRGB Color Space
In reality, we can verify that at least in this unit analyzed, that the coverage in this space is 94.8%, remaining a little below what was promised.
In absolute values, ​​we have 113%, but we see that it does not completely cover the part of cold and warm colors.
The mean Delta E value in this space with the comparison table is 2.28, showing the worst value in blue. Fortunately, the grayscale values are very good, and practically all the calibration curves we have in the following images.
We are only a little out of the way in the gamma; the IPS is always more closely adjusted to DCI-P3. The RGB levels are close together and perfect, as are the black and white graphics.
DCI-P3 Color Space
In this space, the coverage we have obtained is 78.3%, which we consider simply correct if we take into account that it is a panel for gaming.
We see in the triangle that both green and red are far from the more saturated extremes, while in the cold colors, we do have a good performance. With a LUT table, we should have no problem covering a larger area of ​​the spectrum.
The Delta E calibration, in this case, gets a bit worse for most saturated colors, keeping in shape with the grayscale.
In this way, we obtain a value of 2.57, and blue continues to be the color furthest from the ideal. The calibration graphs are very well adjusted.
Calibration
We have carried out the Asus TUF Gaming VG279QM with DisplayCAL with the monitor at 240 Hz, overdrive at 60%, and the rest of the factory settings, adjusting the brightness to about 300 nits.
In sRGB, we have improved to place it below 1, while in DCI-P3, it has cost us a little more and has remained on the edge of 2. Once again, this is not a panel for designers that is clear from specifications, and calibration will take a backseat.
However, we like to see how far it is capable of going in terms of quality, and in this Asus TUF Gaming VG279QM, we have left very satisfied.
OSD Menu
The Asus TUF Gaming VG279QM menu consists of the main menu that we will remove by pressing directly on the joystick and another two with direct access from two of the 4 independent buttons.
One of these buttons is for the GamePlus, in which we can choose between various crosshairs for FPS games and access screen statistics.
With the second button, we will access GameVisual, where we can choose between the different pre-defined image modes.
The main OSD menu has 6 sections, of which the most important are always the first three, especially the first.
In it, we find the functions of overclocking the screen, overdrive, ELMB SYNC, Shadow Boost, and other previously seen gaming options.
In the second menu, we find everything that has to do with the basic aspects of image, brightness, contrast, HDR, etc.
The third menu contains the RGB calibration levels to which we will access when we want to profile the monitor or manually modify the image on the screen.
The remaining three have typical options such as image port selection, assigning profiles to favorites, and various options for how the OSD is displayed.
It is a fairly complete panel and very suitable and accessible to users thanks to the joystick, so good work from Asus in this regard too.
---
Use Experience
We will finish as usual by contributing our final experience of use with the Asus TUF Gaming VG279QM, which we have been testing for a few days.
In this monitor, it is not worth making sections since it is purely designed for gaming and, in any case, for the day-to-day life of a user who most of the time will use the console to play.
Because, of course, we can also plug it directly into a PS4 or Xbox, although without taking advantage of its high refresh rate.
The best thing about this monitor is that it offers us a good diagonal of 27 "in Full HD, which means that its refresh rate will be able to be used by most of the current graphics cards on the market and much more the high-end ones such as the Nvidia RTX or the Radeon XT 5700 from AMD.
Most FPS games exceed the 200 Hz limit in their graphics engine, so it is a matter of lowering the graphics until you are as competitive as possible against other players.
And for those who like to play alone, it will also be a perfectly valid monitor, but perhaps in this sense, a panel with 2K resolution and 144 Hz would be more coherent.
For the simple fact that a solo campaign is more enjoyable with high/ultra quality graphics at the sacrifice of FPS. Although, of course, it is different if we use it for racing simulators, which in this case 280 Hz will be wonderful.
The monitor comes as always full of technology to provide us with an image that lives up to expectations, with ELMB SYNC and Nvidia G-SYNC compatible.
It will not be difficult to find a perfect point to eliminate ghosting thanks to its overdrive and shadow boost function.
In this case, the behavior has seemed impeccable, and in the absence of a mechanism that allows us to measure its response time, we see it very fast in all circumstances.
---
Final Words of Asus TUF Gaming VG279QM Review
The Asus TUF Gaming VG279QM can be a monitor almost designed for those gamers who move in the world of e-sports, that is, games at a competitive level against other players.
Here what matters most is fluidity without artifacts that tarnish graphic performance, and this monitor gives us that and more.
In terms of design, we highlight its panel with the right measure for gaming: 27 inches without curvature and with exceptional ergonomics that allow it to adopt practically any position on the table. Additionally, it is VESA 100 × 100mm compliant for universal mounts.
What we liked the most is its performance, which is clear, with 280 Hz of maximum refreshment. Full HD resolution ideal for achieving fluency under any current moderately good hardware.
It is G-SYNC compatible and with Asus's ELMB SYNC technology that will prevent ghosting from appearing. It would not even have been necessary since it is easy to find a sweet spot where the image is perfect and without this phenomenon.
We have not found any flickering or tearing on the screen either, with a very well-controlled IPS glow, and corners in perfect condition are bleeding.
Its image quality is more than correct for the use that we will give it, having a good factory calibration and 95% RGB coverage and DisplayHDR 400 certification.
The OSD menu is complete, always with Asus' gaming functions that will give us different predefined image modes, crosshairs for FPS games, and even advanced image alignment. In this sense, we cannot ask much more of you.
While it is true, the HDR 400 is not usually a very differential aspect for a monitor, since after all, it is improved in contrast and with greater color saturation.
Finally, the Asus TUF Gaming VG279QM will be available very soon, although we still do not know the price for which it will go on the market; knowing the TUF family, its quality/price ratio will be very good.
In any case, we see it as an excellent option for gamers who make a living by competing, so we leave it as recommended for this type of audience.
We hope you find the information on the Asus VG279QM monitor sufficient. If you have any feedback about this monitor, please let us know in the comments below. Thank you so much for reading our Asus TUF Gaming VG279QM review.
Advantage
Design for pure and hard E-sports
IPS Panel 280Hz, 1ms, and G-Sync supported
Good calibration and color coverage
Exceptional ergonomics
Enough gaming functions in your menu
Disadvantages
Improved frame finishes
Not managed by software
---
Read Also: Gigabyte Aorus Fi27q-p Review