Another of the monitors that we saw at MSI's sneak peek during our stay at Computer was precisely this MSI Optix MPG341CQR. Well, we have also been allowed to MSI Optix MPG341CQR Review thoroughly for all of you.
It is the only monitor in the MPG series with an ultra-wide 34-inch panel in 21: 9 format and a UWQHD resolution of 3440x1440p, no less.
A team built for the gaming world with the most demanding players in the segment, thanks to its 144 Hz and 1 ms, we will only have to find a graphics card to match.
We will see how this beast turned monitor behaves because it is the most potent MSI has for gamers. So, let's start the review.
But before we start, we must not miss our thanks to MSI for always trusting us as a partner, for assigning us their products, and for being able to do our analyzes.
MSI Optix MPG341CQR technical characteristics
MSI Non-Glare Ultra-Wide 144Hz 1ms Curved Gaming Monitor

Among its main features, We find
Display Type: LED
Screen Size: 34 inches
Contrast Ratio: 3,000:1 ANSI and 100,000,000:1 in DCR
Brightness: 400 nits in HDR mode
Aspect ratio:  21:9
Resolution: QHD UltraWide 1440p
Refresh Rate: 144 Hz
Response Time: 1ms
Color: Black
Weight: 30.1 pounds
Unboxing
We start the MSI Optix MPG341CQR review with its respective Unboxing, which is quite essential on monitors due to the large amount of gossip they usually bring. But we start with the box, which is very long, although quite narrow.
This is because the monitor comes completely disassembled into pieces, so the base and stand will not take up the bundle size. In any case, it is better to transport it between two people, even if it does not weigh too much.
All of it comes painted in glossy black with photos of the monitor in front and behind, along with information from its technical data sheet on the sides.
So let's open it, always from the top, although we highly recommend that it be lying on the floor. In this way, we can perfectly remove the expanded polystyrene cork case that stores all things, including its screen.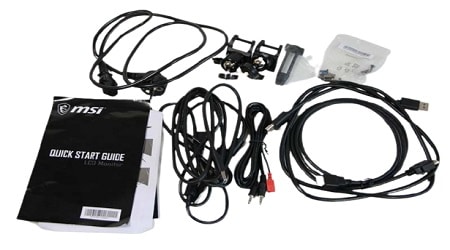 Let's see then what this bundle brings:
Screen MSI Optix MPG341CQR
Metal legs
Support arm
Mounting bolts
HDMI cable
DisplayPort cable
USB Type-B for data connections
Power cord
Splitter Jack that divides/unifies audio and mic
user's Guide
Bungee to hold mouse cable
Two camera mounts
Well, there are many things that this MSI Optix MPG341CQR brings. Undoubtedly the most exciting and peculiar is the support to hold a webcam on top of the monitor, which we will see how to do later, and the flexible bungee to route the mouse cable so that it does not rub against the ground.
---
Design
As with other MSI monitors, the MSI Optix MPG341CQR comes disassembled into three pieces, namely legs, stand base, and display.
We will mount the support arm on the legs, simply attaching it and hand tightening the screw in these legs.
With these two elements mounted, we see a configuration similar to that used in other best monitors in the Optix series.
The manufacturer has used all metal to make the legs and a metal chassis with a rugged plastic housing for the support arm. Said arm is enabled to move to the sides by the inner joint.
Nor is it missing the cable router's detail in the lower part, although you do not look for any lighting in it because there is none.
It is a support that occupies a lot of space for the monitor since its legs are considerably closed to provide further stability to the vast equipment, and the clamping mechanism is entirely separate from the arm.
This mechanism is the same as other MSI computers, so if we have an unstable desktop, the monitor will suffer many wobbles.
In any case, I think it is one of the safest and most reliable options out there for such an extensive monitor.
The next step will be to mount the screen on the arm, and in this case, we will have to use the four screws that come in the bundle. 
MSI could have used the same system as their other monitors, just docking and fixing with a click. We imagine that it will be to give more reliability to the set.
Know that this monitor is compatible with the VESA 100 × 100 mm support, whose metal plate is not included in the bundle, a pity.
With the MSI Optix MPG341CQR beast mounted, let's see what we find in design details. And we start with its screen, which stands out for two things, its curved design in an 1800 mm radius (1800R), and for the absence of frames.
Undoubtedly, frameless monitors give us a feeling of quality and "all screen," especially ultra-wide monitors like this one.
We have practically no frames made of very thick rigid plastic, only one in the lower 30 mm thick area.
The sides and top measure 9 mm and are part of the image panel itself, so the usable space is over 90%. In the lower frame, we have a webcam and a microphone array that we will see later.
Before that, let's see what we have both in the back and the lower part of the frame since this MSI Optix MPG341CQR has some surprise or detail that may go unnoticed.
The first thing we see is a hard plastic casing with rough, smooth, shiny areas and also simulating brushed metal. MSI has taken into account every corner to give a sense of quality to the user.
As always, we have an OSD control via joystick, without any buttons. We only have two of them, located at the bottom and each end of the monitor.
The right is used to turn the monitor on and off, while the left is used to open the MSI Gaming OSD software if we have it installed.
We still have two design details. The first is located in the upper area, in the form of a rail to attach one of the two supports for Webcam included in the bundle.
The second one is next to the buttons; they are two holes that serve to install the bungee to hold the mouse cable. We will have one at each end of the monitor.
The monitor's cooling system is entirely passive, with no fans. So that grille that we see in close-up detail on this rear part implements Mystic Light lighting.
The aesthetic information just below does not have it, as it happens in other Optix models.
---
Ergonomics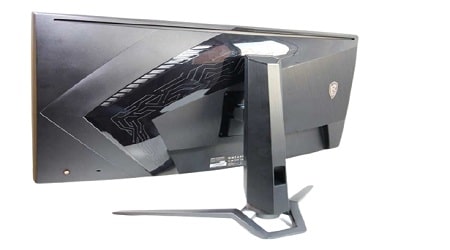 MSI Optix MPG341CQR supports movement in all three axes of space. It first allows the screen's vertical movement in a range of 100 mm from the lowest to the highest position.
As is usual, we will not be able to rotate the monitor to put it vertically. The arm's attachment to the base allows the rotation in the Z-axis with 30 ° to the right and the left.
Finally, the screen support will modify the front orientation at an angle of 5 ° downwards and 15 ° upwards.
In general, they are slightly more limiting angles than, for example, the Optix MPG27CQ2, although it is perfectly understandable because it is a much wider screen and takes up more space.
As in the other models, this arm has a hydraulic system to carry out the movement.
---
Ports and connections
We have not yet seen the configuration of connections that this monitor has, and they are pretty interesting.
First, this connectivity has been divided into two areas, a lower one, where the video ports are, and a left side for USB and sound.
This means that it is the exact and accurate distribution as the rest of Optix. So we have:
Three-pin 230V power connector
2x HDMI 2.0
1x DisplayPort 1.4
USB Type-C port with DisplayPort 1.4 support
USB 3.0 Type-B port for data
3x USB 3.1 Gen1, one bottom, and two sides
3.5mm jack connectors for separate audio and microphone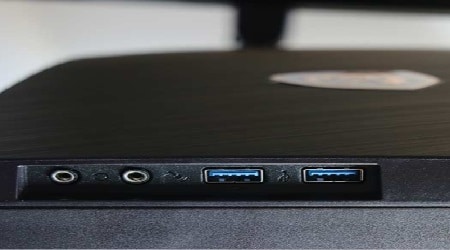 As you can see, a lot of connectivity increased to 3 USB for storage units and the inclusion of a USB Type-C that supports DisplayPort.
We take this opportunity to inform you that both the USB-C and the dedicated DisplayPort support a resolution of 3440 × 1440 @ 144 Hz, while the two HDMI connectors only support 3440 × 1440 @ 100 Hz. This means that the most recommended port to use will be the DisplayPort.
Remember also that AMD FreeSync is compatible with DP and HDMI. We will need to have the USB-B connected to the computer to take advantage of the software management and the data USB that the monitor supports.
Nor do we forget that this time the power supply is integrated into the monitor, so we will have one more small flask getting dirty on the floor.
---
Screen and features
We already entered the on-screen section features, as well as its calibration. The 34-inch MSI Optix MPG341CQR has a native resolution of 3440 × 1440 pixels.
Similarly, we know that its design is ultra panoramic or Ultra Wide with an aspect ratio of 21: 9 and a mink surface of 797.22 mm in the nacho and 333.72 mm in height.
This configuration is ideal, for example, to watch movies or gaming, mainly simulators.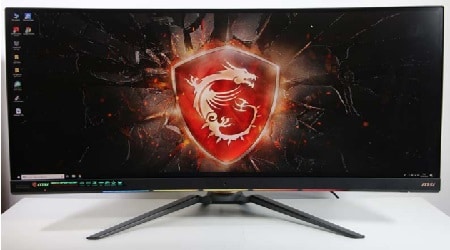 With this large diagonal, we have a pixel pitch of 0.2317 x 0.2317 mm, thus generating a great sensation of sharpness in the image even at small distances.
The maximum refresh rate that MSI has implemented in the monitor is 144 Hz, being available natively if we have a compatible GPU and DisplayPort port.
The response speed is no less than 1 ms, thanks to a high-quality VA-type panel. Its contrast ratio is 3,000: 1 ANSI and 100,000,000: 1 in DCR. The specified brightness is 400 nits in HDR mode. Also, DisplayHDR 400 is certified.
When it comes to color depth, we have an 8-bit panel, albeit with a 10-bit wheel that generates 1.07 billion colors. 
This allows a color space of 84% DCI-P3 and 105% sRGB, slightly less than monitors like the MPG27CQ2, recently reviewed by us. And among its gaming features, we also have AMD FreeSync technology implemented as it should be, for a dynamic refresh rate, thus eliminating image blur.
Finally, the viewing angle remains at 178 degrees both vertically and horizontally, not as defined as in an IPS panel, but with little color distortion, I must say.
This has been the technical sheet of the screen, although some MSI technologies allow the user to have a better gaming experience, or at least that is what they want.
We have, for example, Anti-Flicker and Less Blue Light to eliminate flickering and eliminate blue light, reducing eye strain after hours of vice.
Other attractive solutions are the Smart Brightness, to adapt the brightness of the screen to the ambient light, and the PIP (Picture In Picture) and PBP (Picture By Picture) functions together with split-screen mode.
These solutions serve to optimize the workspace or games and place different elements in different boxes.
We will see them in a separate section regarding management programs because they are quite a few and quite enjoyable.
We don't have on this monitor unless the manufacturer specifies a design-oriented Delta E calibration. So let's look at all of this below.
---
Color testing and calibration
We continue with the calibration section for this MSI Optix MPG341CQR review. We will see the color characteristics of the monitor, evaluating the calibration available from the factory and the brightness capacity.
To do this, we are going to use the X-Rite Colormunki Display colorimeter together with our calibration software for its adjustment and the free HCFR software to monitor the color characteristics.
As always, we are going to extract the results in the sRGB and DCI-P3 color spaces. Bear in mind that the color palette we compare is activated by default in HCFR, GCD Classic, or CIE 2000.
---
Brightness and Contrast
To begin with, we have proceeded to measure the actual brightness and contrast characteristics of the monitor.
Due to its large size, we have divided the panel into a 3 × 4 grid to see its maximum brightness, which must be 400 nits in HDR mode, as certified by VESA. We will also measure the contrast in both HDR and normal mode.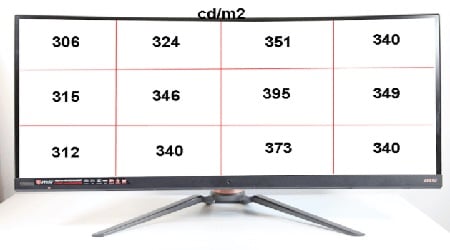 Keep in mind that the brightness captured has been at the maximum of what the monitor gives and in HDR. 
The values ​​are almost nowhere near 400 nits, just slightly in the center of the panel, so having a DisplayHDR 400 certification, we think, does not justify the low brightness.
Continuing with HDR, we get a maximum of 2423: 1 ANSI contrast on this unit, dropping a bit in normal mode. Recall that the specs said that the maximum was 3000: 1, so we continued a bit far from what was promised.
---
SRGB color space
In the first color check table, we see a Delta E = 4.44, which is relatively fine considering that we do not have a comprehensive calibration from the manufacturer. It is precisely in the blacks that we find the best fit of all.
In the captures collected from the graphs, in general, we also see good results, although they can still be improved, for example, in luminance or Gamma.
But we are comforted to see an excellent level in the RGB graph with the colors very close together and a D65 point quite adjusted to the ideal, both in its specific graph and in the CIE sRGB diagram.
By the way, we can say that it comfortably exceeds the sRGB space, although it fails in the blue extreme.
DCI-P3 color space
MSI Optix MPG341CQR ensures 84% ​​in this space, and this is noticeable when seeing a Delta E of 4.70, slightly higher than in the previous case.
We see the rest of the graphs practically the same, quite adjusted to what is considered ideal, especially in the level of blacks and whites, very good we must say.
Integrated webcam and microphones
First of all, know that to use these components, you will need to have the monitor's USB connected to your computer and have the monitor driver installed.
You can download it from the monitor's support page, where you will find a PDF tutorial on how to install it.
The capture system that this MSI Optix MPG341CQR has is not different from what we see in any laptop since, in almost all, the image quality of the camera is just as bad.
So we have a 1280 × 720 pixel sensor capable of capturing videos at 30 FPS and photos at the exact resolution, although at least it has face detection.
On both sides, we have a pair of microphones capable of stereo recording in practically the same quality as a laptop.
It captures the sound in a dignifiedly clear and better quality than the image, even at quite a distance. Here you have a representative photo of this webcam.
Lighting and software
So let's take a look at the lighting features of the MSI Optix MPG341CQR and then all the software behind it to enhance the experience.
We have a lighting system with MSI Mystic Light technology that is composed of 5 bands in the lower front area and another band in the rear, quite discreet, we must say.
In total, there will be 52 addressable LEDs that we can manage almost as we want through the SteelSeries GameSense software. We can also install MSI Mystic Light so that this system is synchronized with our MSI ecosystem.
The following program that we will see offers quite complete functions for managing the monitor and some other novelty for the camera that it has implemented.
It is MSI Gaming OSD, a program with which we will expand the OSD panel characteristics, being able to customize the image output in up to 8 different modes shown in the left list.
We will have a series of advanced tools to customize the split-screen mode and monitor interaction options in the right area.
If we go to the options wheel, we will find some of the OSD panel, such as selecting input signal, layout, and transparency of the OSD and the possible configuration of navigation keys and direct access.
But if we continue to the left in this top list, we have the Smart RGB function for lighting, activation of the automatic brightness mode, and a so-called Smart Profile.
The latter allows the creation of independent image profiles for each user based on facial recognition.
The program saves our face and shape, and when we log in, the camera will check who we are to load the personal profile.
The following program that we will see is the one that allows us to modify the monitor's image properties from our Smartphone.
This application is called MSI Remote Display. We can download it from Google Play without a problem and use it as long as we have the PC connected to the same internal network as the terminal and the monitor itself connected to the USB of the PC.
We have many options in the monitor's native OSD panel, modifying brightness, contrast, image mode, HDR, etc. Highly useful and recommended.
Here: What is a Portable Monitor?
---
Use experience
From our perspective, these are the keys and strengths or disadvantages of the MSI Optix MPG341CQR for each of the main use sections.
Multimedia and Cinema
It is undoubtedly a field in which that monitor will perform wonderfully since we have all the key ingredients that an enthusiast needs. A 21: 9 aspect ratio to watch movies in full screen, a 4K resolution, or this 1800R curvature allows us a fantastic immersion.
And that's not all, because it also allows you to view content in HDR, and we have 34 inches to see all the details of the content we play.
Gaming
It is what is meant, is not it? So it is obvious that we will get experience at the highest level in gaming. All the characteristics of the monitor are aimed at this segment, VA panel, 144 Hz frequency in a huge resolution, and only 1 ms of response with anti-flicker technology and other details.
The only drawback will be not being able to use this 144 Hz in high resolution since no GPU reaches this extreme, but we can always lower it, that yes, worsening the image quality.
I do not consider it an e-Sports oriented monitor for obvious reasons, and that is that no professional gamer will use UWQHD in competitive mode. 
For this, it is better to buy a 27-inch monitor such as the MSI Optix MPG27CQ2 or the MSI Optix MPG27C. Also, the ultra-panoramic design overextends the battlefield, and it will be quite difficult to keep it under control. Of course, for RPG, and simulators it will be a real delight.
Design
This monitor has three key features in this area: a high resolution, a 21: 9 aspect ratio, and a 10-bit color wheel. 
Its professional use drawback is that its Delta E calibration and image graphics are optimal, which is very important in graphic design. But for creators of multimedia and sound content, it will be a great option.
---
OSD panel
The OSD menu is practically the same that we find in other monitors of the manufacturer, although obviously with more or fewer options depending on the model.
To control it, we only use a joystick with a central button with which to move it through all the options in the four directions of space.
Without a doubt, the easiest, most intuitive, and fastest method that a monitor can have. Fortunately, practically all the new models use it.
In this case, we once again have a list of 7 sections with the PIP and PBP mode inclusion. In addition, an option is included to activate or deactivate the HDR mode directly from the monitor, which we appreciate to save us from using the painful option of Windows.
Otherwise, the same options as practically any Optix, so in these screenshots, you can see practically all the options in detail.
We also have four drop-down menus that will respond to the four directions in which the joystick moves, set the alarm, select input signal, image mode, and on-screen crosshair activation.
Here Details About: Best Monitor Calibrator.
---
Final words and conclusion about MSI Optix MPG341CQR Review
We reached the end of another monitor review with the MSI Optix MPG341CQR as the protagonist. It's not for nothing that MSI has been awarded 2018's Most Improved Manufacturer of Monitors.
The manufacturer was missing a MEG Ultra Wide UWQHD model on its list, and here we have it, with a continuous design, but with details that make it rank very high on the table.
Those details already arrive in the external aspect, with a webcam with facial recognition and microphones included, along with a camera support system on top.
We have sensors to adapt the brightness to the lighting conditions and an even smarter RGB system that adapts to the color representation of the screen.
Another of its strengths coincides with other recently released models and management with external programs. 
We are talking about Gaming OSD, SteelSeries GameSense, or the new Remote Display application to control Android.
It is a monitor built for gaming, although we think not for competitive gaming. We will enjoy any content, games, and multimedia with this 34-inch curved screen, 144 Hz and 1 ms response, but alone, calm, and enjoying the graphic quality.
Obviously, you will have your opinion, but for e-sports, we already have more affordable 27-inch monitors with a smaller resolution that can handle the graphics card more easily.
One aspect in which it has not met our expectations is in the raw power of its panel. It's great, we know, but we're not getting those 400 nits that it promises and that contrast of 3000: 1. Nor is the calibration optimal for design, although its delta is acceptable.
The black and white adjustment is perfect—a good option for multimedia content creation work, especially video and audio.
In short, a monitor aimed at the most enthusiastic of games and who have enough pocket money to cover their cost.
MSI Optix MPG341CQR Review concludes that, the truth is that the Optix family maintains its good quality/price ratio. Hopefully, this top-of-the-range model does as well.
Read Also About: Wimaxit Portable Touch Monitor Review.
---
Advantage
ULTRA WIDE DESIGN AND 34 "CURVED SCREEN
RESOLUTION 3440X1440P + 144 HZ + 1 MS
COMPLETE MANAGEMENT BY SOFTWARE AND SMARTPHONE
INCLUDES CAMERA WITH FACIAL RECOGNITION AND MICROPHONES
INTENDED FOR ENTHUSIASTIC GAMING AT A RATIONAL PRICE
---
Read More: MSI Optix MAG27CQ Review